The 'Return to the Office' Should Be a Tailwind for This Midwestern Company
Thursday, August 19, 2021
Using monastic lessons to guide the transition from WFH to the office...
Although many companies continue to push back their return dates due to the recent surge of the delta variant of the coronavirus, it seems inevitable that at some point in the future, corporate America will return to in-person work – at least for a few days a week.
Those who are now used to attending meetings in T-shirts and sweatpants may need to go back to wearing proper office attire, resume their daily commute, and reengage with colleagues.
But after more than a year, the transition may prove more difficult than expected.
A July article from 1843, a sister magazine of The Economist, offers advice from an unsuspecting source on how to handle the process – monks:
A monastic life may sound surprisingly familiar. Each day, [monks] put on drab work clothes to turn up for duty, same time, same place. They embraced the nine-to-five (or to be precise, the 6 a.m. to 7 p.m. Tough boss). If going back to the office reminds you how annoying your colleagues are, spare a thought for the monks who had the same ones – and endured their same noxious habits – until the day they died (and, assuming they'd laid their bet in Pascal's wager correctly, after it, too).
After all, monks are like the first office workers. For thousands of years, they have cohabited with their "colleagues" day in and day out. This offers an ironic proxy to the life of office workers before the pandemic sent them packing to work from home.
Some of their key advice includes not letting our excitement about seeing those we haven't seen for an extended period overwhelm us and reestablishing boundaries between work and our personal lives.
The office creates a work environment separate from the home, forcing us to respect people's off-hours, an important long-standing concept.
Finally, as a return to the office means the resumption of office parties and cocktail hours, be mindful not to overindulge – especially if you're out of practice – and say or do something you'll later regret, especially when it comes to gossip.
Good advice to live by, and after all, it's worked for monks for nearly two millennia.
Companies are changing work areas in the post-pandemic era...
As we all start heading back to the office, many companies are undertaking changes to space out work areas, ensuring that employees have personal space, and abiding by new post-pandemic norms in social behavior.
Some of the big winners of this shift will be companies that make the work furniture needed for adjusting, replacing, and renovating office space in a post-pandemic world.
One of the biggest players in this industry is HNI (HNI). The Iowa-based company makes office furniture and workspaces, such as chairs, tables, desks, filing cabinets, and cubicles.
According to as-reported financials, the pandemic crushed the company, with its return on assets ("ROA") falling from respectable 7% levels in 2019 to just 5% in 2020. A 5% figure is less than the long-term global average, and it's likely not enough for the company to keep up with its cost of capital.
However, by utilizing Uniform Accounting – which adjusts for distortions inherent in as-reported numbers – The Altimeter shows users easily digestible grades to rank stocks based on their real financials.
As The Altimeter shows, even in the midst of the worst of the pandemic, awareness of the coming office space transformation meant modest demand for the company's products.
So while ROA fell in 2020, it only dropped from 13% to 9% using Uniform metrics, not down to the 5% figure as reported data suggests.
Importantly, HNI's Uniform ROA is forecast to rebound to 11% this year, driving the company's "C" grade for Earning Power and "A" grade for Earning Power Trend.
This means the company has a good quality, improving business, warranting a "B" grade for overall performance.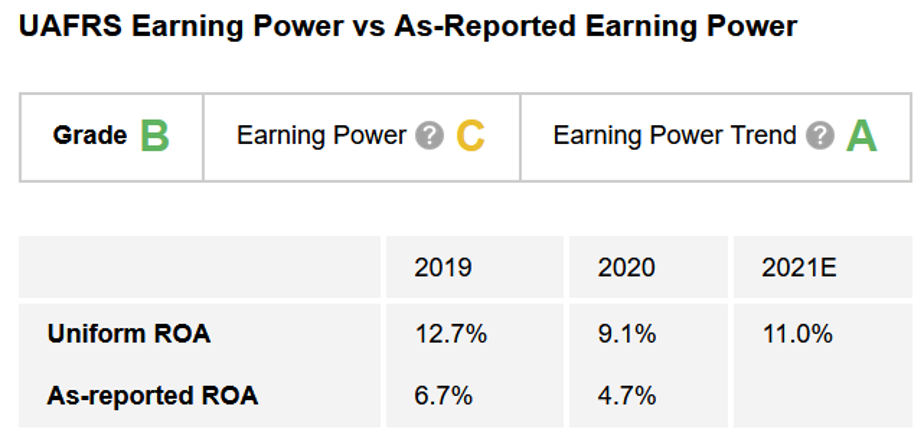 Thanks to The Altimeter, we can see that this company is in a much better position than as-reported metrics suggest.
Does this mean HNI is a buy?
We need to look at valuations and expectations for the company's future to understand if this stock is a buy or not.
Altimeter subscribers can click here to see how HNI is valued based on Uniform Accounting... and if the post-pandemic office transformation will drive future returns for the company.
If you want to hear more about similar stories and aren't subscribed to Altimetry, click here to find out how to gain immediate access to the full gradings of more than 4,400 other publicly traded companies, including HNI.
Regards,
Rob Spivey
August 19, 2021