Out of all the different research services we provide, this monthly report could be the one you appreciate the most.
And I think I can sum it up for you in three words...
Peace of mind.
The Timetable Investor provides a straightforward system for understanding where the market is going next... and what that means for your portfolio.
This monthly report comes straight from the desk of Rob Spivey, our director of research.
Once a month, our team gathers all the key data to identify market trends. We produce a detailed report with grades for the four most important market factors – credit risk, earnings growth, momentum, and valuations.
We then recommend an approach for putting money into the market.
This is why we believe the Timetable Investor is the ultimate companion to our forensic analysis work. Each month, our team lays out for you in clear detail...
What percentage of your assets should be in cash, stocks, and bonds
The optimal length of time to deploy your assets into a new investment
A forensic analysis of the credit market… earnings growth… momentum… and valuations... to arrive at an overall "grade" for the market's health
You'll know what's best for your money, month in and month out.
Our goal is to help you put your portfolio in the best possible position for the current market environment... so you can rest easy at night.
Following the Timetable Investor means you don't need to chase headlines from the financial media. You don't need to panic about what might be happening next.
Our other products and services are designed to help you build wealth and leverage incredible opportunities whenever we find them.
But there's more to being wealthy and feeling secure than just finding huge gains in the markets.
If you win big on one of our recommendations...
Or if you find that one of our investing strategies is helping you make money hand over fist...
It's going to be up to you to figure out what to do with your gains.
Because remember... we're not money managers.
And this is why we believe the Timetable Investor is such an important companion to any of our other services.
It's always going to give you a crystal-clear, up-to-date take on the best course of action for your money...
Ensuring you're able to achieve the best possible outcome for your safety, your sanity... and of course, your family.
Because after all... that's what it's all about.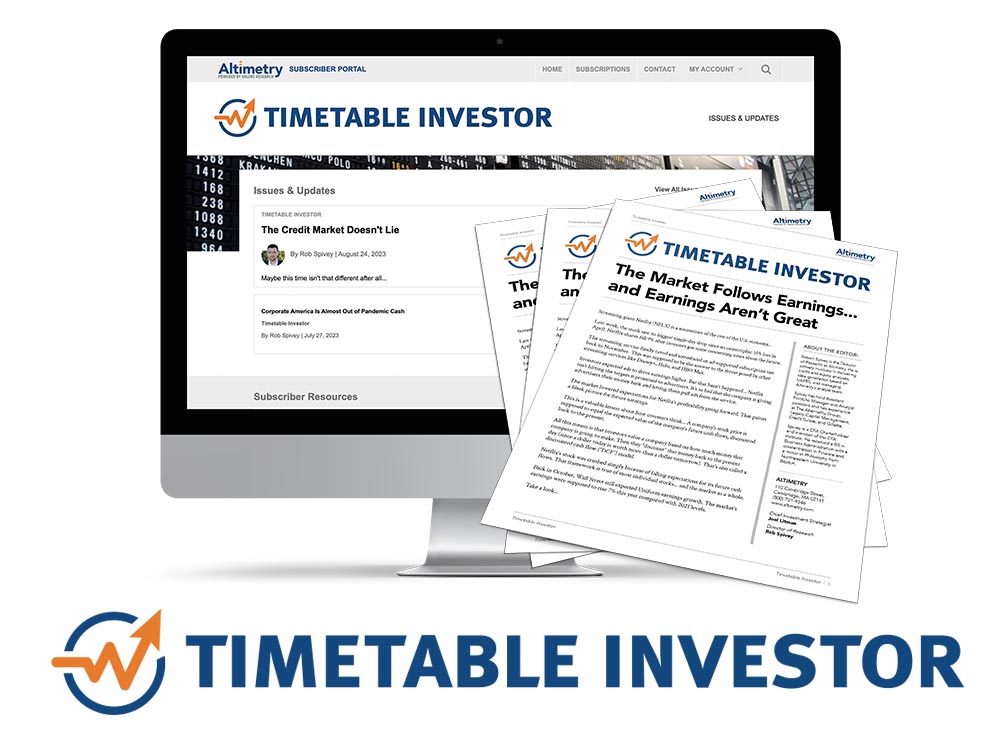 Click here to subscribe to Timetable Investor