Exchange-traded funds ("ETFs") can be a great way to diversify your portfolio without having to choose individual stocks or bonds.
There are tons of these "baskets" across most major asset classes and sectors.
And many brokerages won't even charge you when you trade an ETF.
We developed this one-of-a-kind software tool to give you a window into which mutual funds and ETFs are worth your hard-earned investment dollars.
And the best part is, we don't share it with anyone else... Not even our institutional clients.
Simply enter an ETF name or ticker symbol and our ETF Analyzer instantly shows you grades across metrics like performance, valuations, and liquidity – all using forensic analysis of the fund's investment earnings.
We make adjustments to the more than 130 inconsistencies between as-reported numbers and reality.
And just like with individual stocks... understanding these inconsistencies and the true earnings picture can help you make a fortune on funds that Wall Street is incorrectly pricing.
For every fund, our team of more than 100 professionals – including financial analysts and accountants – breaks down the numbers. We look at as-reported financials across the fund's holdings, then reconstruct the financial statements under Uniform Accounting.
We then load that data into our ETF Analyzer, allowing you to see the true earning power of any fund.
With access to this software, you can instantly see grades on most U.S.-listed ETFs and publicly listed mutual funds. You can compare, side by side, the "as reported" numbers with the TRUE earnings.
And you can easily see if Wall Street is mispricing these funds.
Again, in the past, we charged our institutional clients as much as $100,000 per month for this kind of work.
But this specific tool isn't available to anyone other than our subscribers.
We created the ETF Analyzer to give our readers even more independence and control over their own financial destinies.
Our goal was to make everything as simple as possible.
You can identify which ETFs will outperform and which will fail... without having to wade through the minutiae yourself.
Once you see the grades (and the numbers behind them), you can make shrewd moves into ETFs that look like stone cold moneymakers… and ditch the funds that seem destined to lose money.
It really couldn't be any easier to use – or any more empowering.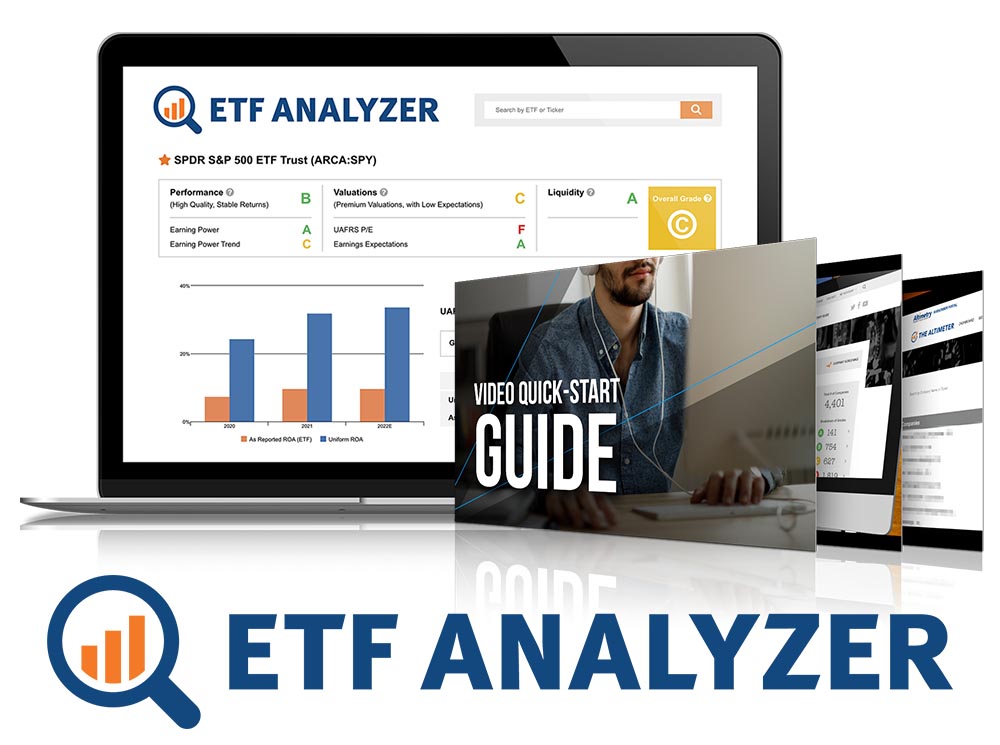 Click here to subscribe to ETF Analyzer