This Firm Helps Companies Navigate 'Return to Office' Plans
Thursday, September 9, 2021
Concerns about productivity aren't driving the debate...
There's been so much dialogue and controversy about getting people back to the office because employees can be just as productive at home.
The past 18 months have thoroughly disproved that working from home is less productive. Many white-collar workers even made the transition to remote work more seamlessly than anticipated.
Working from home saves many people valuable hours otherwise spent commuting while potentially saving businesses large sums of money spent on office space.
Not to mention, many people enjoy the work-from-home lifestyle and feel they are more efficient and productive than when they worked at the office full time.
But the debate about going back continues, driven by the real concerns of management teams: restoring the culture, mentorship, and collaboration opportunities fostered in a shared work environment.
As we wrap up this week's theme on the delayed "return to the office," also known as the "Great Wait," we wanted to highlight an interesting piece from Charterworks. The article features Laszlo Bock, CEO of Humu, a workplace behavioral change company, on the risks companies face as businesses look to bring people back to the workplace and how to avoid the biggest potential pitfalls.
Bock offers a few pieces of advice for any team looking to bring colleagues back. The first is that a hybrid setting seems to be the most productive workplace structure.
Based on Humu's research, between one and two days a week spent working from home appears to be the most effective and sustainable way to increase productivity and happiness among workers.
It's important to ensure that time is being used productively when people are in the office. That means collaboration, which is the most valuable way to work efficiently, according to Bock.
While a hybrid model looks optimal, Bock says many managers may struggle to execute communication, transparency, and team building effectively. This increases the risk that we'll all be back in the office full time in two years, a suboptimal outcome.
That's why it's critically important for managers to access the tools and training they need to help them navigate this environment...
With so much importance placed on getting the return to office right for the sake of company culture and overall business performance, executive search firms like Heidrick & Struggles International (HSII) will become more important.
Along with providing executive-level recruitment services for companies, Heidrick & Struggles also specializes in leadership assessment and development, talent strategy, culture shaping, and organizational transformation consulting.
Companies rely on firms like Heidrick & Struggles to find new leadership talent and maximize team performance. With the major disruptions that so many of the world's largest businesses are now going through, like managing hybrid-work models and "return to office" plans, Heidrick & Struggles' services are more relevant than ever.
Despite this, looking at as-reported numbers, it doesn't seem like Heidrick & Struggles' clients value their work all that much, with return on assets ("ROA") for the company a meager 4% last year and 6% in 2019.
By utilizing Uniform Accounting, which adjusts for distortions inherent in as-reported numbers, we can uncover the real story behind Heidrick & Struggles' business.
The Altimeter, a tool we developed here at Altimetry, shows users easily digestible grades to rank stocks based on their real financials. As it shows, when companies struggled to figure out how to manage the workplace disruption unleashed by the coronavirus pandemic, businesses came running to Heidrick & Struggles. This pushed the company's Uniform ROA up to nearly 33% from 19% before the crisis.
Heidrick & Struggles guides management teams through massive changes in corporate culture. In 2021, with much of this transformation still underway, it is likely to fulfill this role for clients, with Uniform ROA sustaining levels around 25%.
Thanks to the vital service it provides, the company earns an "A" grade for Earning Power and a "B" grade overall, with the "C" grade for Earning Power Trend merely a reflection of how much of a banner year 2020 was for the business, not a disruption to its fundamentals.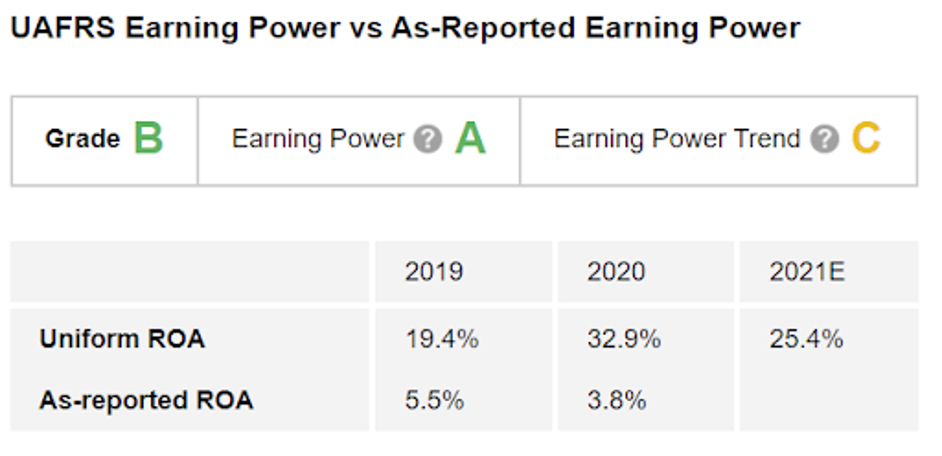 The Altimeter shows how essential this company is to steer the workplace transformation facing businesses across almost every industry.
Without its services, management teams may fail to adapt, leading to talent drains and declining company morale and business performance.
Altimeter subscribers can click here to see how Heidrick & Struggles is valued based on Uniform Accounting... and if the continuation of workplace transformation trends will drive future returns for the company.
Here at Altimetry, we center our research around big investment themes like the At-Home Revolution and more...
To understand if a stock is a buy or not, we need to look at valuations and expectations for the company's future.
Uniform Accounting helps us identify which stocks could be poised for big upside due to the market's misunderstanding.
And we have found several great winners for our "At-Home Revolution" investment theme in Altimetry's Hidden Alpha portfolio. Subscribers who followed our advice for this theme have seen an average return of more than 70% among our six open picks in this category.
To learn more about Hidden Alpha and find out how to gain instant access to the full portfolio of open stock recommendations, click here.
Regards,
Rob Spivey
September 9, 2021