A Big-Box Retailer With Moneymaking Moves
The dust settles around a lawsuit between Costco and Tiffany... But questions around branding remain… 
American luxury jeweler Tiffany & Co. has a long and storied past.
Founded more than 180 years ago, the company's iconic brand of diamond jewelry has always found itself entwined with American history – from the Civil War to the Gilded Age and up through the 21st century. 
It's unsurprising that when Costco Wholesale (COST) started marketing engagement rings at its big-box retail locations as Tiffany engagement rings, the company fought back.
Tiffany & Co. filed a lawsuit against Costco in 2013 for trademark infringements and the wholesale company's branding of engagement rings bearing the Tiffany name.
Costco's responded to the lawsuit by asserting that Tiffany's brand is so iconic that the specific type of diamond mount on a ring had become a common phrase – not one attached to Tiffany's brand itself.
The two sides finally resolved their differences last week, with settlement details undisclosed. But it remains unclear where the branding question of the rings falls.
It looks like Costco wants customers to go into their stores to find out…
Given the above-average income of Costco's customer base, it's not surprising that the company would attempt to take this position with its "fake" rings.
Higher-income customers are likely to be interested in Tiffany engagement rings, especially if they can purchase that jewelry style at their local Costco.
Considering the wholesaler's scale, some suppliers and partners – which lack Tiffany's brand recognition and the protection of LVMH Moët Hennessy Louis Vuitton (LVMUY), Tiffany's parent company – may have caved and allowed the practice to continue.
So, while Costco may not have won this battle outright, its size and scale have historically served it well, despite what as-reported financial metrics would suggest.
To understand why, we need to look at Costco's historical performance… which we can do with The Altimeter...
The $187 billion wholesaler doesn't operate like a typical retailer. It requires its customers to pay for a membership before walking in the door. Once inside, this means Costco can offer even lower prices than competitors, thanks to its membership revenue and wholesale model. 
While Costco had seen widespread success since its start nearly 40 years ago, GAAP would tell us this strategy is bearing no fruit.
Of course, the as-reported financial metrics are distorting the true economic picture of the company.
By utilizing Uniform Accounting – which adjusts for these distortions – The Altimeter shows users easily digestible grades to rank stocks based on their real financials. 
As The Altimeter highlights, Costco is a profitable business, generating a "B" for Earning Power with its double-digit return on assets ("ROA") over the past few years. Costco expanded its ROA from nearly 12% in 2019 to 14% in 2020, culminating with an expected 16% in 2021.
The Uniform metrics show that Costco is consistently about twice as profitable as as-reported metrics would suggest.
And with its steadily increasing returns in recent years, Costco earns an "A" for Earning Power Trend.
Combining the two, the wholesale conglomerate earns an overall "B" for performance.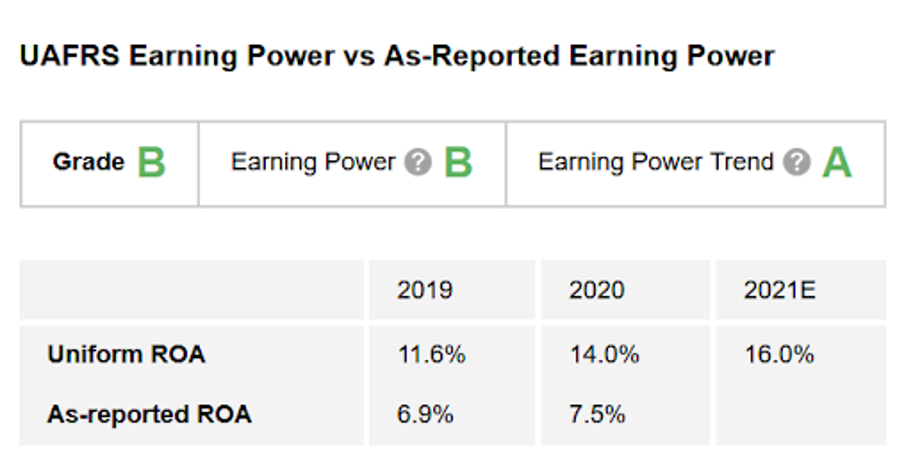 Despite as-reported metrics failing to capture its true returns, thanks to The Altimeter, we can see that Costco's profitability is higher than most investors understand.
As customers want more of its products, Costco's suppliers need it as a channel to sell their products, allowing the wholesale club operator to use its power and scale to sustain high returns. Clearly, the exclusive membership strategy is bearing fruit.
Does this mean Costco is a buy?
Great companies aren't always great stocks to buy. 
What drives stock prices are expectations of what the company will do in the future.
Altimeter subscribers can click here to see how Costco is valued based on Uniform Accounting... and if it's an interesting stock as opposed to just a great business.
If you want to hear more about similar stories and aren't yet an Altimeter subscriber, click here to find out how to gain immediate access to the full grading for more than 4,400 other publicly traded companies, including Costco.
Regards,
Rob Spivey
July 29, 2021