After Years of Denial, Kohl's Is Ready for a Sale
Technology is wiping out one of America's favorite pastimes...
Local malls used to be bustling hubs of activity. Folks would come for an enjoyable shopping experience – and stay to hang out with their friends.
Even before the pandemic, this trend was changing. It's easier than ever to get together without leaving your home. More and more people are comfortable communicating across the planet with the touch of a button.
And the same is true for retailers.
Features like one-click shipping and next-day delivery changed the online-shopping game... And for many traditional brick-and-mortar stores, COVID-19 was the last straw.
Companies that offer high-end or unique shopping excursions have fared better than most. The companies that have truly struggled are those that offer low-frills, high-value experiences.
Kohl's (KSS) is the poster child for the no-frills shopping era...
The department-store chain has struggled in recent years. And this has shown up in its profitability. Its Uniform return on assets ("ROA") has steadily declined from 10% in 2013 to less than 2% last year.

Now, it seems like Kohl's is finally ready to take drastic action.
Management knew it had to make some changes. It has tried – and failed – to keep up with the times. It revamped its website and developed a phone app. But these efforts were just too little, too late.
In recent years, activist investors have targeted the company. They've pushed for Kohl's to spin off its online business... or to sell completely.
Kohl's fought off these activists at first. But recently, the company admitted it was time to consider a sale. It even started bringing on investment banks.
Those preparations led to an offer from Franchise Group (FRG) for $60 per share. That's nearly a 60% premium from today's price.
Franchise Group buys struggling retailers and tries to turn them around. It owns The Vitamin Shoppe and Pet Supplies Plus, along with several smaller franchises.
Franchise Group believes it can turn around these struggling businesses.
But Franchise Group knows the sale price is important...
The company is much smaller than Kohl's. Last year, its revenue was less than one-sixth of what Kohl's reported. So buying such a big company is a tall order.
That may be why Franchise Group is reconsidering. Last week, it announced it might lower its bid to $50 per share.
Kohl's stock is down significantly in recent months. But it traded above Franchise Group's current $60-per-share offer price as recently as April.
So what is Kohl's actually worth?
Experienced investors know that you can't rely on a company's past performance alone. You also need to consider how the company's future lines up with what the market thinks about it.
By utilizing our Embedded Expectations Analysis ("EEA") framework, we can see what investors expect these companies to do at a certain stock price.
At $60 per share, the market expects Uniform ROA for Kohl's to settle to around 4%. That's way less profitable than it was before 2022...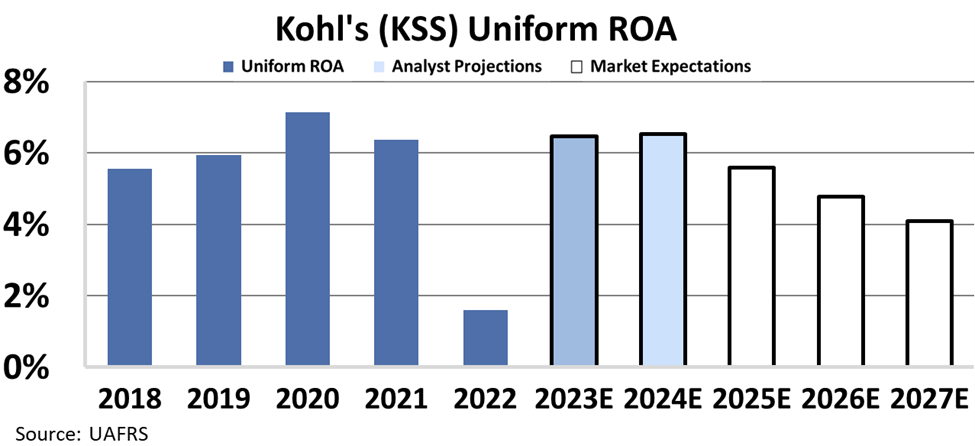 Even at $60 per share, Kohl's could be a good deal. As long as Franchise Group thinks it can get returns back above 4%, it's getting a discount.
Our EEA shows that Franchise Group can capture upside, even if Kohl's can't return to its previous highs.
On the other hand, the deal could still fall through. If Kohl's can bounce back to prior levels in the next two years like analysts expect, investors might be pleasantly surprised.
Best,
Joel Litman
June 29, 2022