Securities Analyzed
AMZN
BA
EADSY
LMT
NOC
SPR
America's Aerospace Giant Faces an Uncertain Future
Securities Analyzed
AMZN
BA
EADSY
LMT
NOC
SPR
Many challenges plague one of America's historic titans of ingenuity...
Over the past decade, a glance at U.S. international trade data would reveal one name as the country's largest exporter: Boeing (BA).
The aerospace giant's fleet of planes, from the classic 737 to the new 787 Dreamliner, has been purchased by airlines worldwide for years. The company dominated a duopoly in global commercial aviation alongside its European rival, Airbus SE (EADSY).
However, Boeing's glory days may be at an end.
The company faces headwinds on all fronts, ranging from its lingering 737 Max crisis, its unwillingness to reinvest into the business, and a brain drain of its talented workforce to companies like SpaceX and Amazon (AMZN).
The result is battering Boeing's global reputation and its recent performance over the past month.
As its engineering credentials continue to suffer, the intellectual property and innovation-dependent business is in a vicious downward spiral. Meanwhile, the competition is quickly rising in many of the areas it used to dominate.
From Chinese plane-makers to SpaceX and Blue Origin competition, Boeing faces a difficult road ahead in many of its core business areas.
This is not to mention the potential declining importance of human-crewed flights – instead of drones and other standoff weapons like missiles for U.S. and Allied air forces. It potentially jeopardizes future contracts with one of Boeing's biggest customers: the U.S. government. 
In any case, it is a challenging time for this former American national champion.
Unfortunately, The Altimeter appears to confirm this bearish story...
As-reported financial metrics distort the true economic picture of a company.
By utilizing Uniform Accounting – which adjusts for these distortions – The Altimeter shows users easily digestible grades to rank stocks based on their real financials.
At a glance, Boeing's Uniform profitability shows that returns were negative even before the pandemic crippled the demand for its commercial aviation business.
The return on assets ("ROA") was negative 1% in 2019, primarily due to the company having to ground its 737 Max jetliners and delay production and delivery because of safety issues.
In 2020, ROA cratered to negative 9% amid the pandemic. Boeing's old saving grace – its impressive order book that gives investors some confidence in its future cash flows – showed signs of weakness and lost more than 600 customer orders.
As The Altimeter shows, even with the economic recovery this year, ROA is only expected to rise to 3%. That generates an "F" for Earning Power and a "C" for Earning Power Trend.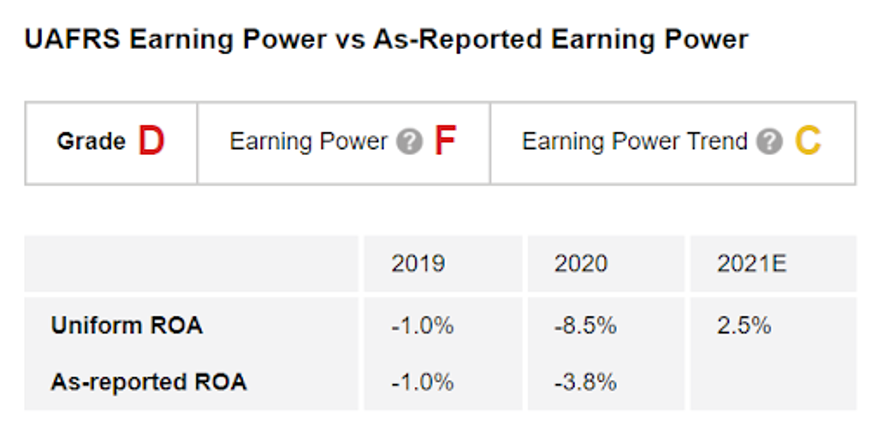 Even though earnings are turning positive, the company is barely driving a "D" for performance.
The Altimeter appears to be confirming what meets the eye... America's aerospace giant is under pressure.
Does this mean you should avoid Boeing shares?
Of course, even battered companies can be buys if those firms are cheap enough to become bargains.
To evaluate whether Boeing is dead in the water, check out its valuation grades in The Altimeter. Our Altimeter tool breaks down the true fundamentals. Using the power of Uniform Accounting, the tool shows users easily digestible grades, ranking stocks based on their real financials.
Altimeter subscribers can also see gradings for aerospace and defense sector competitors like Lockheed Martin (LMT), Northrop Grumman (NOC), and Spirit AeroSystems (SPR), among others.
If you aren't already an Altimetry subscriber, click here to learn how to gain immediate access to the full grading for more than 4,400 other publicly traded companies.
Regards,
Rob Spivey
August 5, 2021