Despite the World's Best Efforts, We Just Can't Quit Coal
The crisis in Ukraine revived coal demand... 
As the world has gradually shifted to greener energy sources, coal has taken a backseat. 
For a few years, everyone was referring to the world's dirtiest power source, coal, as a power source of the past. 
However, the war in Ukraine has forced many western countries to rethink their energy suppliers after implementing sanctions against Russia's oil and natural gas. 
To fill the energy gap left by Russian natural gas, coal power plants have been brought out of retirement and fired up across Europe and the U.S. 
Furthermore, even without missing out on Russia's natural gas, coal was also needed to satisfy post-pandemic demand. Before the war, in 2021, the world burned 9% more coal than in 2020, and coal consumption is expected to hit an all-time record of 8 billion metric tons through at least 2024. 
This move back to coal has terrible implications for the goal to reach net zero emissions, but it has become an essential power commodity that will continue to be relevant. 
While environmental activists aren't celebrating, coal miners sure are... 
Not only does increased coal demand spell disaster for environmental causes, but historically cheap coal prices have started reversing with the spike in demand, making inflation in the energy sector even worse. 
However, there's always someone who stands to benefit from a major shakeup. 
One big beneficiary of this crisis is U.S. coal miner Arch Resources (ARCH), formerly known as Arch Coal. 
Arch Resources is one of the largest coal suppliers in the U.S. 
The company produces coal across many of the major U.S basins, including the Central Appalachian Basin, Northern Appalachian Basin, and the Powder River Basin. 
Arch Resources is also investing organically to expand its business, and the company's recent acquisitions have started to pay off. 
Arch Resources has commenced an operation at the Leer South longwall mine, adding up to 4 million tons per year in metallurgical coal production capacity. 
As demand surges for coal, Arch Resources is well prepared to ride higher prices with its now sizable supply. 
Let's check The Altimeter to see just how well Arch Resources is doing...
We can use The Altimeter, which shows users easily digestible grades to rank stocks on their real financials, to see how Arch Resources is performing. 
The company has been riding a profitability trend in the past five years, excluding 2020 when pandemic lockdowns lowered demand for energy. 
The Altimeter indicates that Arch Resources' high return on assets ("ROA"), a respectable 26% in 2021, earns the company an exceptional "A" Earning Power grade. 
However, returns aren't stopping there. The company also got an "A" grade in Earning Power Trend based on ROA expectations rising to a sizable 87% in 2022...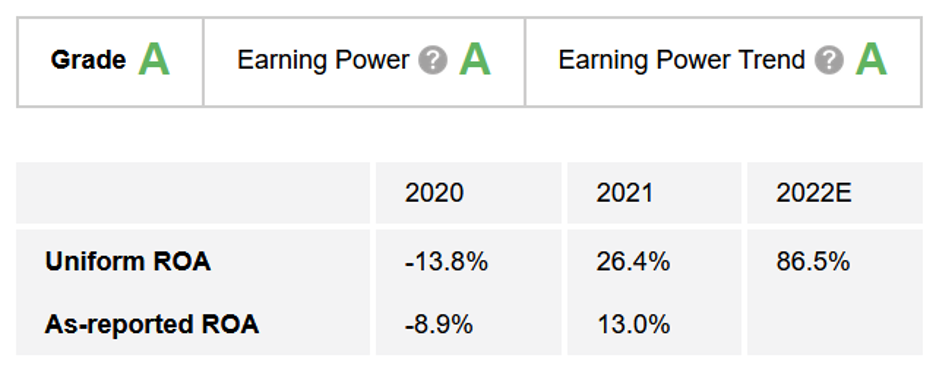 As coal demand grew in 2021 and 2022, Arch Resources has been able to ride these tailwinds to huge profitability. 
If you think that coal demand will last for longer, Arch Resources could be one of the winners... 
However, before jumping in on Arch Resources, the next step is to see if the market has already priced in this high demand for coal and any potential upside. 
Altimeter subscribers can click here to see how Arch Resources is valued based on Uniform Accounting and if the story is being correctly priced in. Using The Altimeter, you can see how Arch Resources stacks up with over 5,000 other U.S.-listed companies. 
Regards, 
Rob Spivey
May 12, 2022