This Airline Is a Surprise Winner From the Return of Business Class
A summer of travel is coming…
You've likely said it yourself or know someone who has said something along the lines of:
I didn't travel at all last year… So, I'm going to travel this summer, and splurge when I do.
And as Bloomberg recently explained, one of the big ways people are splurging is by upgrading where they're sitting on a plane.
As customers of all stripes have saved up money and miles over the past year, they're looking to spend on more expensive tickets outside of coach. Many folks also want some more space to breathe due to lingering coronavirus concerns.
That's why business class seats are likely to be full of leisure travelers this summer. And this might last past August.
Business customers still aren't in a rush to pay top dollar for front-of-the-airplane seats in the near term. Few people are returning to in-person business meetings in earnest, especially as many offices still are a long ways from reopening. So leisure travelers are filling in the opened-up space on airplanes.
With a lack of competition from business travelers, leisure travelers might have some time to get accustomed to the front of the airplane.
And that means the airline market is primed for a comeback…
After a year of holding on for dear life, airlines are set up to make a triumphant return in 2021 thanks to the recovery in the most profitable part of the aircraft.
Carriers make much more money from the front of the plane – business class and premium economy – than they make for standard economy-class tickets. If they can keep the front of the plane full even before business travel recovers, the airlines are set up for a stronger recovery than anyone may anticipate.
And, if leisure travelers get so accustomed to the trappings of business class that they want to stick around, it means that once business travelers return, airlines will have the front of the plane consistently full. That will mean even higher fares… and even greater profitability.
With this upcoming boost to the industry, many investors will likely be thinking of the big legacy carriers, as coach tickets are their bread and butter. However, this overlooks the dark-horse winner JetBlue Airways (JBLU), which is often thought of as a budget carrier.
In 2014, the company launched its Mint premium class to a great deal of fanfare and positive feedback in the industry. Now, with the world reopening, JetBlue is launching its first transatlantic service.
With JetBlue tapping into this new business, let's see what the company looks like from a Uniform Accounting perspective…
For this, we'll turn to our Altimeter software. By removing the distortions in as-reported financial metrics, The Altimeter leverages Uniform Accounting to show users easily digestible grades to rank stocks based on their real financials.
After we clean up the numbers, we can see that similar to other airlines, JetBlue isn't expected to get a total clean bill of health in 2021. Its Uniform return on assets ("ROA") is forecast to come in at less than 1% as the company still makes progress recovering from the pandemic. This gives JetBlue an "F" for Earning Power.
However, while its Uniform ROA is expected to be weak this year, this is still a significant recovery from the negative 10% level in 2020. This recovery means JetBlue gets a "C" for Earning Power Trend.
Putting it all together, JetBlue earns an overall "D" for Performance in The Altimeter. But even this might understate the strength of the recovery, especially if the company can fill up those front-of-the-plane seats.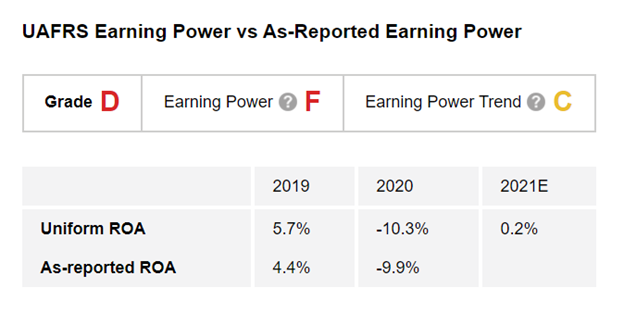 With The Altimeter, we can see JetBlue's performance and get a better understanding of the scope of the upcoming recovery.
However, this doesn't tell the full story of whether JetBlue is a buy or a stock to avoid…
We also need to look at valuations. Then, we can see if the market is already pricing in a turnaround in profitability… or if investors aren't yet clued in. If the stock is undervalued based on Uniform Accounting, it could be primed to move higher if profitability recovers.
Altimeter subscribers can click here to see how JetBlue is valued based on Uniform Accounting and if the market is pricing in the beginning of this turnaround.
If you aren't an Altimeter subscriber, click here to find out how to gain access to the rest of the Uniform data for JetBlue. You can also compare the company to the other legacy air carriers such as Delta Air Lines (DAL) and American Airlines (AAL)… and check out the full grading for more than 4,000 other publicly traded companies.
Make sure you're making your investing decisions based on the right, Uniform data.
Regards,
Rob Spivey
May 27, 2021