Wall Street Is Getting This Health Care Stock Completely Wrong
Wednesday, October 9, 2019
Dear reader,
If you've been tuning in for a while, you should know I don't trust Wall Street for stock advice.
Regular readers know by now that my goal in Altimetry Daily Authority is to give you a different opinion from what you'll find elsewhere.
Don't get me wrong – there are plenty of intelligent analysts on Wall Street... But their jobs aren't to pick stocks.
Analysts at big banks aren't ranked based on how well their recommendations perform. Rather, they're ranked on industry knowledge. If you want to find the top experts on a company or industry, seek out one of these analysts. If you want stock advice, keep searching.
We don't see this advice play out in the market, though. Every day, headlines scroll across your screen about what analysts think about this stock or that.
Just recently, BMO Capital Markets announced it was downgrading two health care companies: UnitedHealth (UNH) and Humana (HUM). BMO analyst Matt Borsch cited concerns about potential risks with the upcoming election and uncertainty about the future of our health care system.
Borsch isn't alone... sentiment on Wall Street has turned more negative for UnitedHealth recently. Three months ago, upward revisions outnumbered downward revisions by 15 to two. Two months ago, just one analyst upgraded UnitedHealth, compared to three downgrades. And within the last month, four analysts downgraded their price targets... while only one issued an upward revision.
I'm not going to tell you Borsch and the rest of Wall Street are wrong about the health care industry. As I said, these analysts are paid to know everything about their sectors. However, this does not always translate into stock performance.
Look at UnitedHealth's performance... Over the past year, the company has seen its stock fall about 20%. Following BMO's downgrade, UNH shares hit a new 52-week low. It looks like the stock has already peaked and industry headwinds are beginning to take their toll...

But there's much more to the story...
UnitedHealth is one of the nation's leading diversified health care companies. It specializes in offering innovative health care solutions driven by data and technology.
Since the company created its Optum brand in 2011, it has focused heavily on leveraging big data to improve the quality of its solutions.
This has been a massively successful initiative. UnitedHealth was already one of the country's largest health care firms, but introducing big data took things to the next level.
The company has been able to leverage its massive amount of claim and benefit data to create more efficient solutions for patients and care providers. In turn, UnitedHealth has grown its position as the largest health care company in the world. This has only helped grow the company's available data, allowing it to further improve its network and offerings.
I don't blame Wall Street for missing out on UnitedHealth's success. When looking at the company's as-reported numbers, it looks like its investment in Optum's technology and data-driven solutions has done very little. In fact, the UnitedHealth's as-reported return on assets ("ROA") has been basically flat for the past five years...
But once we apply our Uniform Accounting metrics, the distortions from as-reported accounting statements are removed – including treatment of goodwill and acquisition distortions – we can see the true value of UnitedHealth's data and technology investments...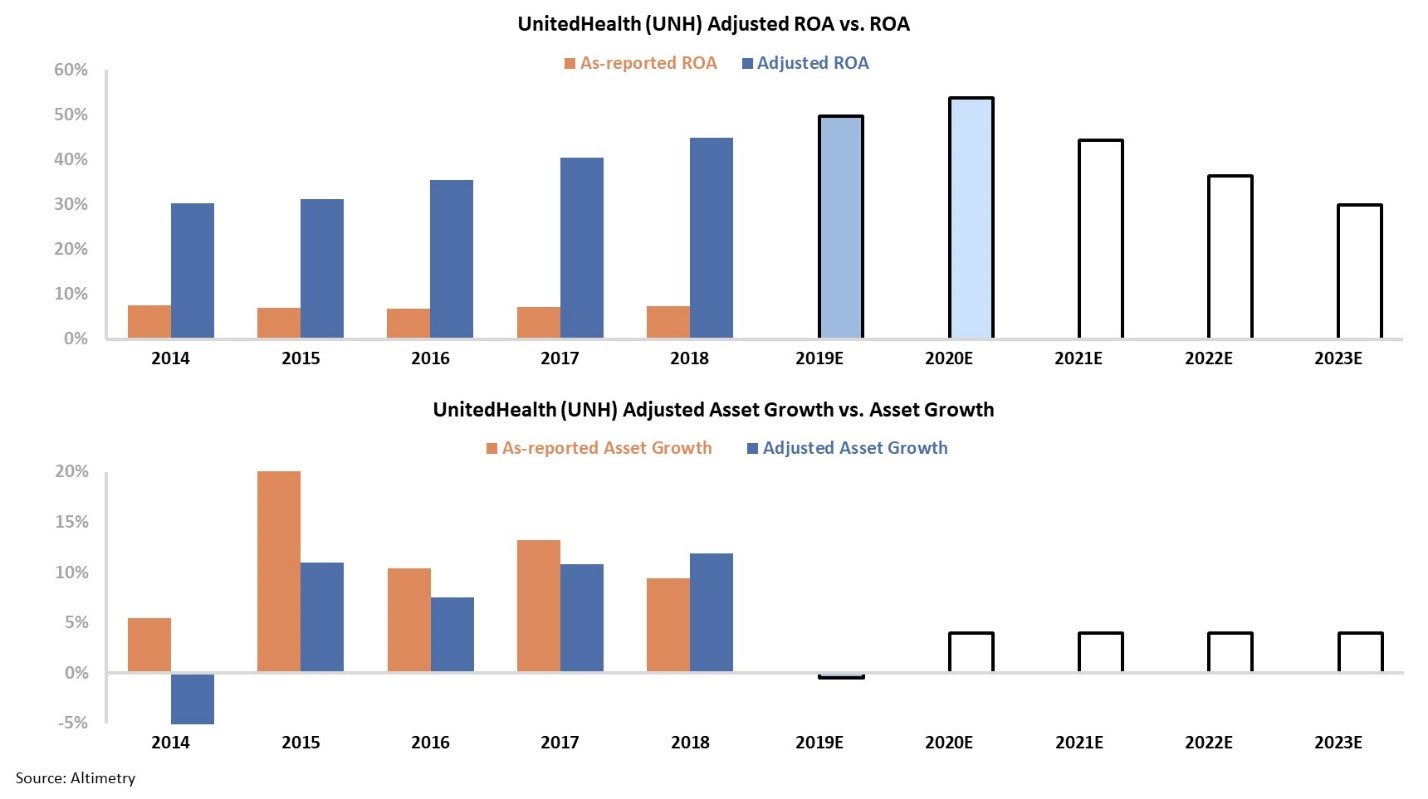 The two panels above explain the company's historical corporate performance levels in terms of ROA and asset growth (dark blue bars) versus what sell-side analysts think the company is going to do in the next two years (light blue bars) and what the market is pricing in at current valuations (white bars).
Traditional accounting metrics (orange bars) can distort how investors view a stock. Without understanding a company's true profitability, it's impossible to properly analyze its stock.
The above chart highlights the dislocation between UnitedHealth's historical performance and its recent stock price. Not only is the company's real ROA more than six times higher than as-reported metrics would have you believe, it has improved in each of the past five years to an all-time high of 45%.
After this past year's roughly 20% drop in stock price, the market expects to see UnitedHealth's ROA drop back down to pre-2014 levels – almost as if those technology investments were to disappear overnight.
Even if Wall Street's concerns about health care reform come to fruition, current stock prices are missing the bigger point.
If you're looking to sell-side analysts for stock advice, you're relying on misleading as-reported financials. Moreover, their job isn't stock picking.
Make sure you're looking at the right numbers and taking advice from the street with a grain of salt.
Regards,
Joel Litman
October 9, 2019