A Closer Look at an Investing Great's Favorite Biotech Stock
Going back to our Uniform Accounting roots...
Here at Altimetry, we take a disciplined and systematic approach to stock picking and company analysis. Although not many others in the business go to such lengths to unlock alpha for retail investors, we can't take full credit for how we do what we do. We also stand on the shoulders of many giants. 
Bartley Madden is one such giant. Our Uniform Accounting process is influenced by Madden's "Cash Flow Return on Investment" framework. He built and conducted research on it from the 1970s up until today. 
At Credit Suisse, Joel Litman crossed paths with Madden, who was an important adviser for the segment of bank Joel worked at. 
From their many conversations emerged the concept of Uniform Accounting. And that now powers Altimetry.
While Madden is not a fund manager, his son Jeff carries the mantle of his framework and is a portfolio manager at RMD. 
Unsurprisingly, his son leans on his father's research to cut through the extraneous accounting noise. Jeff Madden was named 2020 small/mid-cap manager of the year by Envestnet and Investment Advisor Magazine.
He runs a few funds. His RMB SMID Cap Fund (RMBMX), invests in small- and mid-cap firms, following a similar process to how we pick stocks for our Hidden Alpha subscribers: a focus on real economic productivity. 
And his smaller U.S. Alpha Fund applies the same strategy across the entire U.S. investible universe of companies.
Jeff Madden thinks like we do, so let's see how well it worked for him... 
Distinguishing luck from skill for an investment manager is a challenge. Over the short-term, returns tend to follow a random walk – skill and luck blend together. But over the long term, this skill becomes more evident. 
We can see that Jeff Madden's strategy for his U.S. Alpha fund compares favorably with 300 institutional peers for the compounding of capital. At the same, time U.S. Alpha incurs less risk, delivering attractive risk-adjusted returns from 2014 through 2020.
Let's look at some quick stats: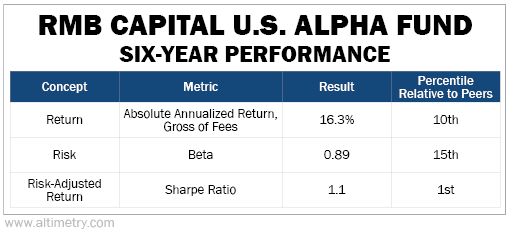 The fund ranks among the top for return and risk individually. But it's those two components put together that show how Jeff Madden's methodology shines. On a risk-adjusted basis, the U.S. Alpha Fund ranks in the top percentile.
We can't fully see what type of companies are in the U.S. Alpha fund, its too small to list all its holdings. But we know that he applies a similar strategy in the larger listed RMB SMID Cap Fund.
To understand what sets his strategy apart, we conducted an audit of its largest holdings. 
Our findings show that the companies held by RMBMX offer better true economic productivity than their own as-reported metrics suggest. The companies selected by the fund are undervalued by the market.
So, although Jeff Madden runs a process independently of ours, he's tracking for similar metrics.
Just by looking at the right numbers, stock selection steps farther away from gambling and gets closer to quantitative reasoning.
Let's dive and look at one company among the top holdings of the fund.
Let's look at one of the fund's holdings using The Altimeter...
With around $6 million invested into Repligen (RGEN), it's among the top 10 holdings for RMBMX. 
Repligen is a biotechnology company that sells bioprocessing tools to drug developers.  
In yesterday's Altimetry Daily Authority article, we showed that pharma is a tough business, reliant on expensive research and development (R&D) pipelines that can take a decade or longer to become profitable.
Although biotech is in a slightly different vein than the chemical pharma industry, you might assume it's the same for Repligen. 
To the untrained eye, RGEN looks like an awful business. Return on assets ("ROA") have collapsed over the past eight years, plunging from 13% to 3%. That's well below the cost of capital, driven by dismal asset utilization. 
But the reality is completely different.
According to Uniform ROA, which represents actual economic productivity, RGEN has skyrocketed from 11% in 2013 to nearly 31% in 2020. At a projected 30% in 2021, Repligen gets an "A" for its Earnings Power. 
With returns trending up over the past few years, Repligen earns an "A" for Earnings Power Trend, too. Altogether, this gives the company an "A" for Performance.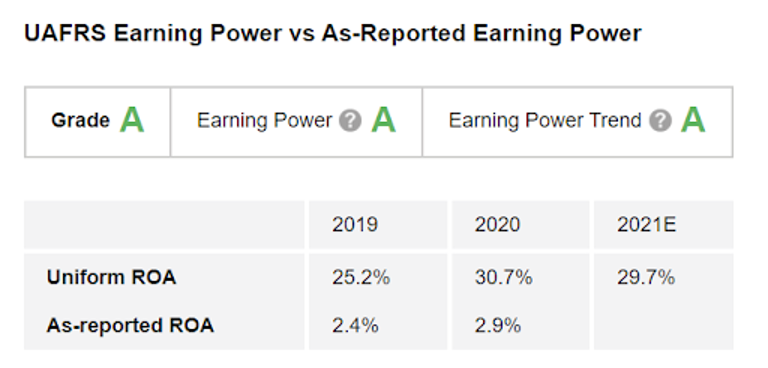 Although Repligen is in the biotech space, it's not a drug developer. Nor is it subject to the same pipeline failure risks. It develops and manufactures products for the biopharmaceutical industry.
Think of it this way with this economic history lesson. During the California gold rush of 1849, those who sold pickaxes to the miners made more money than the miners. 
This is Repligen's business model, but for the drug development industry.
Uniform Accounting metrics can dispel false narratives and help investors make strong stock-picking choices...
At Altimetry, we love these "pickaxe supplier type" business models because they're often safer than their downstream stablemates. And these models typically offer similar or better returns.
To understand if a stock is a buy or not, you need to look at what the company is priced to do given its current valuation. 
Altimeter subscribers can see how Repligen is valued based on Uniform Accounting... and if the market is clued into the strength of this biotech company. 
If you aren't yet an Altimetry subscriber, you can click here to find out how to gain immediate access to more than 4,000 other publicly traded companies.
Regards, 
Rob Spivey
July 22, 2021