A Deeper Dive Into an Anchor of the E-Commerce Boom
Online retail was massive in 2020...
A recent Economist article captured the sentiment of last year for online retailers: "It was like Christmas every day." 
Due to lockdowns and social distancing regulations, consumers were trapped inside. Folks couldn't go to stores, and were forced to adopt e-commerce to purchase the goods they needed. 
Consumers also couldn't spend money on experiences like travel, dining out at restaurants, and other in-person entertainment options. This meant income went to things instead... and the best way to get these goods was online.
According to some estimates, e-commerce adoption had been pulled forward five years as a result of the coronavirus pandemic.
This was a boon for online retailers. From giants like Amazon (AMZN), Target (TGT), and Walmart (WMT) to smaller niche businesses, companies with an online presence reaped the benefits. 
Now that the world is reopening, physical stores are open for business again... and consumers' spending habits are shifting back to normal. 
While increased online shopping will continue, we can't expect the same dramatic growth rates. Last year, many online retailers saw 50%-plus year-over-year growth – an unsustainable surge. 
With the economy reopening, consumers will also have a slew of other options for how to spend their money.
Spending on experiences should meaningfully recover. Consumers can travel, go to concerts, sit down in restaurants, and do other in-person activities. The more money folks spend on experiences, the less they will have to spend on physical goods.
With these big shifts in mind, let's take a closer look at one of the winners of online retail... and it isn't even a retailer. 
One of the biggest beneficiaries from last year's surge in e-commerce wasn't a new blockbuster retailer. Instead, it was a company that gives smaller retailers a platform to sell for themselves.
Shopify (SHOP) is the leading e-commerce as a service provider. It enables small retailers to build their own online sales channels. And as you can imagine, the company's services were incredibly valuable during the global lockdowns.
Small retailers were forced to close their stores and look for other ways to sell products. Thousands of businesses needed to move online to try to stay afloat, and Shopify was there to save them.
Shopify kept many small retailers' doors open – essentially helping to save small businesses.
The company was an anchor for the entire industry last year... But looking at the as-reported financials, it appears that Shopify barely turned a profit in 2020. 
Based on the GAAP metrics, the company only improved its return on assets ("ROA") from negative 3% in 2019 to 2% last year. Despite the inflection into positive territory, this is still well below long-term corporate averages of 6%. Take a look...

However, as regular Altimetry Daily Authority readers know, as-reported accounting metrics are misleading... 
The GAAP numbers tend to significantly distort a company's financials. To find out the real story, we can use Uniform Accounting to clean up the financial statements and determine the true performance. 
In the case of Shopify, by making adjustments such as taking out excess cash and capitalizing research and development (R&D) spending, we can get a more accurate picture of the company's profitability.
When we clean up the numbers, we can see that Shopify has historically been a profitable company... and saw a dramatic increase in ROA in 2020. 
Shopify's Uniform ROA came in at 40% last year – far greater than the 2% as-reported figure. Proving how much the e-commerce boom benefitted the company, the 40% Uniform ROA was also nearly triple the company's 2019 Uniform ROA of 14%.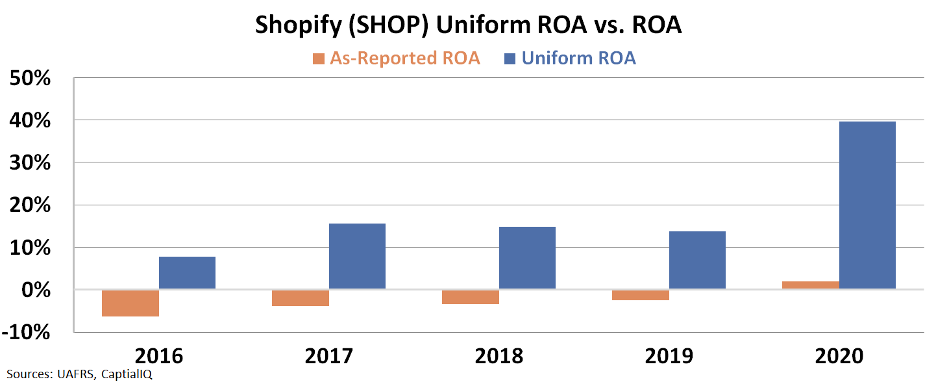 Shopify was clearly in the right place at the right time. As the online enabler for small businesses, the company saved thousands of retailers and made strong returns in the process.
Without Uniform Accounting, investors wouldn't have seen the real story. Not only would they assume Shopify hadn't earned money before the pandemic, but they would also think that the company barely turned profitable during a gangbusters year.
While historical returns can put Shopify in context, they can't tell investors whether the stock is a buy...
Despite the shift back to spending on experiences versus things, Shopify is still poised to benefit from an overall increase in e-commerce spending – even if the growth rates slow down. But to understand if Shopify could be an investing opportunity, we need to look at what the company is priced to do. 
Our Altimeter software tool uses Uniform Accounting and breaks down the numbers into easily digestible grades based on the real financials. By grading a stock's Uniform valuations, this shows whether the market is already pricing in expected future performance... or missing the picture.
For Shopify, if the market is pricing in continued outperformance, SHOP shares could fall if the company fails to live up to expectations. Don't miss out on the full Uniform Accounting picture... Find out how to gain instant access to Shopify's Uniform breakdown – as well as the Uniform numbers for more than 4,000 other publicly traded companies – right here.  
Regards,
Joel Litman
July 28, 2021