As the Classroom Shifts Online, One Education Services Provider Is Set to Benefit
Wednesday, October 21, 2020
Education is evolving on the fly…
Across the globe, teachers are coping with classroom challenges in the wake of the coronavirus pandemic. Some of these changes will be temporary, while others may have long-lasting effects.
Earlier this month, market-research firm CB Insights examined some of the many innovations that have emerged during the crisis – such as fever scanning devices and monitoring "wearables."
Some schools are experimenting with wearable devices to track students' vital signs. These devices use temperature, breathing rate, and heart rate to monitor for coronavirus symptoms.
Schools are also using these tools to help with contact tracing. They measure exposure to those who have tested positive for the virus. 
Other changes have been made around learning itself. Some school districts have "hybrid" solutions where students are only in the classroom part-time. Meanwhile, augmented reality ("AR") and virtual reality ("VR") are being tested as options for bringing labs and science classes to life.
Schools are also using safety measures like no-touch bathrooms and self-cleaning features. These include things such as soap-dispensing toilet seats and automatic hand-washing stations.
In the cafeteria, schools have experimented with voice-enabled kitchens as well as grab-and-go meals. This can prevent students gathering in crowds. 
These innovations can hopefully create a safer environment for both students and staff… and some may likely remain in place even after the pandemic recedes. Additionally, a hybrid learning environment and increased digital focus can help continue to improve learning models. 
One company that offers technology for the future of learning is Grand Canyon Education (LOPE)…
Grand Canyon provides education services to colleges and universities in the U.S. The company's offerings include learning management systems ("LMSs"), simulated lab sites, and marketing and media services.
LMSs are used for administration, automation, and delivery of educational courses.
An LMS can also help find learning gaps using its analytical tools. Teachers can post course content, tests, PowerPoint presentations, and other tools for students to freely access. An LMS bridges the gap between teachers and students by allowing for easy communication.
I've seen firsthand how online tools can transform teaching. One of the schools I teach at, Hult International Business School, has always used some LMS technology. 
Student tests happen online in the classroom… and I see live how they're doing. I can also grade the tests and find out what questions are problem ones. 
This summer, Hult partially moved online, and the combination of Zoom and Hult's LMS made teaching even easier than normal. The students also still gave positive feedback. 
I was worried they wouldn't feel as engaged… but it was the opposite. At times, we even had more conversations than we would have had in a normal class setting. 
Schools will have to continue adapting to online learning due to the pandemic… and Grand Canyon is set to benefit with its array of learning tools and largely online university. Schools need to be able to connect teachers and students digitally.
And it appears schools know the value of what Grand Canyon provides… and will pay a premium for management of their digital needs and services. Last year, Grand Canyon produced an 11% as-reported return on assets ("ROA").
And yet, the company's returns have dropped from their peak of 23% in 2009. Using GAAP metrics, it looks like Grand Canyon isn't creating the value it used to… Perhaps the company has been unable to distinguish its offerings from competitors, which means it would lose pricing power.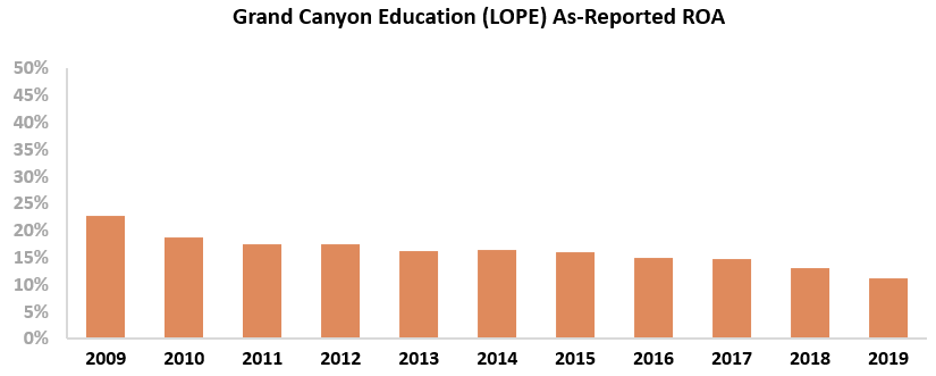 However, this picture of Grand Canyon's performance is inaccurate… and it's due to distortions in as-reported accounting. Thanks to how GAAP accounts for line items such as goodwill and excess cash, the market has missed the mark on the strength of Grand Canyon's returns.
In reality, the company's profitability is almost twice as high as as-reported metrics would have investors believe. Grand Canyon's Uniform ROA was 19% in 2019, compared to an 11% as-reported ROA.
The company has differentiated itself from competitors and has the added benefit of Grand Canyon University revenue. This is the fourth-largest online university in the U.S… and it translates to a stable revenue stream when combined with the company's LMS offerings.

However, understanding past returns doesn't tell us if a company's stock is a buy.
In this case, we need to determine what investor expectations are for the future. If investors see through the accounting "noise," they already know that Grand Canyon is producing strong returns. If they expect this to continue, then the company's stock isn't as compelling. 
The chart below shows Grand Canyon's historical performance, in terms of ROA (dark blue bars) versus what Wall Street analysts think the company is going to do in the next two years (light blue bars). The white bars are what the market is pricing into the current stock price.
As you can see, Wall Street is projecting Grand Canyon's returns to grow slightly from 19% in 2019 to 21% in 2021. Despite this, the market is pricing in returns to fall to 13% by 2024. This is well below Grand Canyon's level of returns in any of the previous 10 years.

These expectations are likely too pessimistic.
Grand Canyon University should be able to continue growing enrollment. Additionally, Grand Canyon Education should continue adding schools that are seeking to transition to increased online learning. 
Looking at just the as-reported numbers, investors would likely see Grand Canyon as a company with average returns. On the other hand, Uniform Accounting demonstrates how the company has above-average profitability that's unlikely to fade. 
Additionally, the market is pricing in returns to collapse to all-time lows. If Grand Canyon can continue to add schools looking to transition digitally, these poor expectations mean that the company's stock could be primed to move higher.
Regards,
Joel Litman
October 21, 2020