Securities Analyzed
ATVI
BABA
BBY
COST
DASH
DPZ
FDX
PTON
SWBI
TTWO
UPS
WMT
ZM
Avoid These 'At-Home Revolution' Stocks
Securities Analyzed
ATVI
BABA
BBY
COST
DASH
DPZ
FDX
PTON
SWBI
TTWO
UPS
WMT
ZM
Peloton (PTON) had a tough fourth quarter...
The exercise bike company reported a worse outlook for the next year on its first-quarter earnings, which sent investors running for the hills... The stock tumbled from $86 to $55 on November 5, slashing the firm's total valuation by 36%.
And then, a bizarre PR nightmare struck. HBO's And Just Like That aired as the official return of the much-loved Sex and the City franchise, a show with one of Peloton's ideal demographics.
Spoiler alert for the first episode, the show featured a Peloton bike as the murderer of one of the franchise's most memorable characters: Mr. Big dies of a heart attack after a ride.
While the company tried to recover in time for holiday spending sprees with a clever ad, management was still ready to wave goodbye to a year that saw the stock drop from more than $150 to less than $50.
Peloton was a classic "At-Home Revolution" beneficiary. People still needed to exercise when the pandemic hit, and Peloton offered an attractive and classy solution. The stock ran up by 500% during 2020 on the premise that the company was more than just a stationary bike maker but also a lucrative subscription service.
Throughout 2021, investors realized the bull thesis on the Software as a Service ("SaaS") exercise streaming community was more talk than reality. Excessive market hype pedaled by the established financial news media and even venues like Reddit's WallStreetBets community sent the stock flying too close to the sun.
It turned out that Peloton is a seller of premium stationary bikes with a smaller subscription component, not the other way around.
While some investors lost out big by the dislocation between the hype and the reality of Peloton, we had been warning people since early last year.
We recognized the importance of the At-Home Revolution as early as April and May 2020 and told investors to be exposed to the power of these names. But we also knew that not all companies exposed to this tailwind were created equal.
Some would see long-lived secular increases in demand. Others would see demand come crashing down once pandemic restrictions abated.
Peloton wasn't the only At-Home Revolution superstar name that we told subscribers to avoid.
We released a special report to our Hidden Alpha readers last February on several At-Home Revolution names we thought they should avoid...
Some of these companies had great stories but unsustainably high valuations. Others were more precarious, with serious problems being swept under the rug by the At-Home Revolution hype.
Look at their performance since we published the list of these 14 names: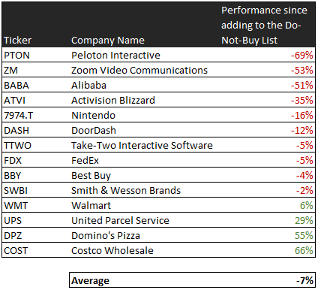 As you can see, these companies strongly underperformed in the market – with an average loss of 7% among these 14 stocks. In 2021, the S&P 500 Index returned nearly 29%, including dividends.
It is yet another reminder that macroeconomic tailwinds and themes like the At-Home Revolution could make part of a bull case, but never the whole investment idea. Investors always need to do company-specific research as well.
But research is hard when you're looking at the wrong numbers. Like we've discussed so many times before, GAAP accounting shows a completely wrong picture of real company performance, yet so many investors rely on it for company-specific research.
That's why the Altimetry team uses Uniform Accounting instead. With better data, we've been able to handpick the best investment ideas on the market.
Our research shows that despite stocks like Peloton, the At-Home Revolution is still alive and well... if you know where to look.
You can use The Altimeter to see if a particular stock, whether it's an At-Home Revolution name or a different name, fits your portfolio. The Altimeter shows users easily digestible grades to rank stocks on companies' real financials. So, you can see how profitable stocks such as Peloton and Zoom Video Communications (ZM) are...
With the tool, you can look up nearly 5,000 stocks and see how they grade out using our proprietary database.
For a limited-time offer, you can access The Altimeter to see the grades of your favorite stock ideas and avoid investments like some of these At-Home Revolution names.
Normally, we charge $1,200 a year for a subscription to The Altimeter. But with this special limited-time offer, you can try out The Altimeter on a risk-free trial basis.
Learn more by clicking here.
Regards,
Joel Litman
January 4, 2022