Backed Into the Corner of the Streaming Wars, This Tech Firm Is Playing Its Final Gambit
Roku is making one last play to stay relevant in the streaming wars...
When movie theaters suffered immensely during the coronavirus pandemic lockdowns, home streaming services of all stripes picked up the slack.
Even before 2020, the streaming market was already saturated in what has been called the "streaming wars." With so many competitors in the field, only some streaming companies were able to capture these new customers and secure revenues, while others were left behind.
One of the companies that lost the battle of the streaming wars and failed to bring in customers was Roku (ROKU).
The company is well-known for its set-top boxes and equipment that support streaming applications. Despite this, the brand lacks any significant original content to power its own Roku Channel.
Roku's historical strength has been its hardware. However, as smart TVs continue to bundle streaming hardware from off the shelf, Roku has needed to pivot. The company's move to streaming is a Hail Mary to stay relevant.
This lack of original content hasn't given the company an edge, meaning returns have only continued to stagnate.
That is why Roku announced late last year that it would be releasing more than 50 original shows over the next two years.
In line with these plans to bolster its catalogue, the company is exploring buying a minority stake in Starz from Lions Gate Entertainment (LGF-A), along with Apollo Global Management (APO).
With this move, the company hopes it can create more exclusive content to put on its Roku Channel to draw in more customers to its streaming services to supplement and eventually replace its hardware business.
If buying a minority stake in Starz is Roku's final play to remain relevant in the streaming wars, potential Roku investors will be looking closely at both the Starz portfolio and the potential for a return to grace.
Today, Starz has almost 20 million subscribers globally, with successful shows in its content portfolio such as Outlander and Power. For context, this is just one-seventh the amount of subscribers that the newest darling of the streaming wars, Disney's (DIS) Disney+, has.
This means Roku will need to pair its original content with the Starz platform to drive further subscriber growth.
Let's have a look at The Altimeter to examine Roku's situation in the world of streaming...
We can use The Altimeter, which shows users easily digestible grades to rank stocks on their real financials, to see how Roku is performing.
As The Altimeter shows, Roku's lack of content or strong differentiation in its offerings have meant that after a brief surge during the pandemic, returns are once again collapsing.
Thanks to expectations for just 3% returns throughout this year, the company earns an "F" grade for Earning Power. Furthermore, this inability to defend its returns is why it gets an "F" in Earning Power Trend as well, giving the company an "F" grade overall.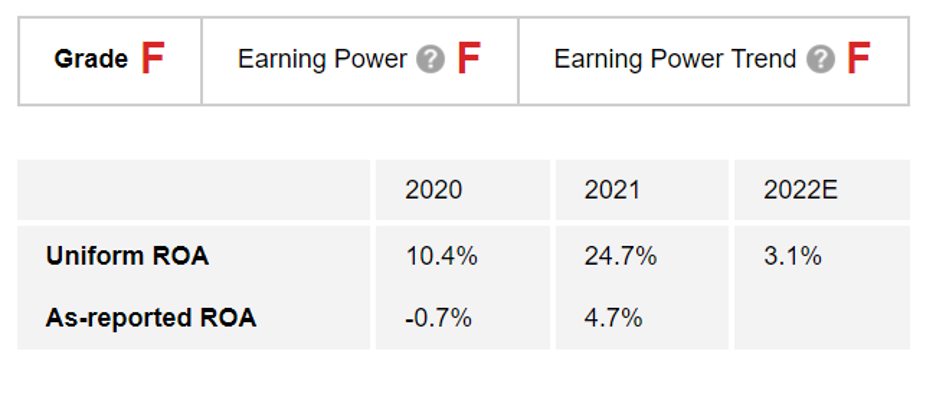 However, before closing the doors on Roku, we should see what investors are currently pricing in. If the market is expecting Roku to be like any other streaming player, the stock will be in trouble. However, if the market is completely overlooking any benefit from the Starz purchase, the stock may even be a buy.
Altimeter subscribers can click here to see how Roku is valued based on Uniform Accounting and if the story is being correctly priced in. Using The Altimeter, you can see how Roku stacks up with nearly 5,000 other U.S.-listed companies.
Regards,
Rob Spivey
May 19, 2022