Coal Isn't Dead Yet
Wednesday, January 12, 2022
The world is ready to consign coal to the history books...
Once a commodity essential to powering the Industrial Revolution, coal is now the largest source of carbon emissions. But think tanks, policymakers, and activists are looking to get the world off coal as the long-term health of the planet becomes more of a priority.
At the United Nations Climate Change Conference in late 2021, world leaders declared a goal to move away from coal and toward renewable energy sources.
In the past three years, big miners like Rio Tinto (RTNTF), BHP (BHP), and Anglo American (NGLOY) have made plans to exit the coal business. More emphasis is being placed on natural gas and zero-carbon sources of electricity.
But the use of coal isn't stopping, as big miners aren't shutting down their coal mines.
In the past year, the world used more coal-fired electricity than ever before, according to the Paris-based International Energy Agency. Prices have soared to record levels, and this surge is expected to continue into 2022.
Rather than shutting down mines, the big mining companies are spinning off or selling their assets. This is an attempt to keep balance sheets attractive for their shareholders while still pleasing environmental, social, and governance ("ESG") investors.
One company is taking advantage of everyone leaving the coal industry...
One company taking advantage of these spin-offs is the minerals-and-metals producer Glencore (GLEN.L). The commodity trader and coal miner is picking up divestitures from big miners and betting on the idea that coal is here to stay, at least for the time being.
Glencore views coal as a "vital transition fuel" and still an important commodity in Asia.
This move has received pushback from some ESG investors, who worry about the effect of this harmful fossil fuel.
Activist fund Bluebell Capital believes Glencore's actions are morally unacceptable. The fund managers think it will cause its return on assets ("ROA") to collapse and hurt it from an ESG and valuation perspective.
However, Glencore has proved it doesn't worry too much about ESG.
Past actions like oil embargo busting led its founder Marc Rich to be indicted on federal charges. Marc Rich was only saved by a controversial presidential pardon from President Bill Clinton on his last day in office in January 2001.
Concerns regarding climate change won't stop Glencore from taking advantage of potential investment opportunities to improve performance.
Yet, looking at as-reported financials, it appears Glencore's ROA is doing exactly as Bluebell said it would – collapsing from less than 4% in 2018 to 1% in 2019, and then again to just 0.5% in 2020.
To investors, it looks as though Glencore's decision to continue to stay in the coal business is failing the company.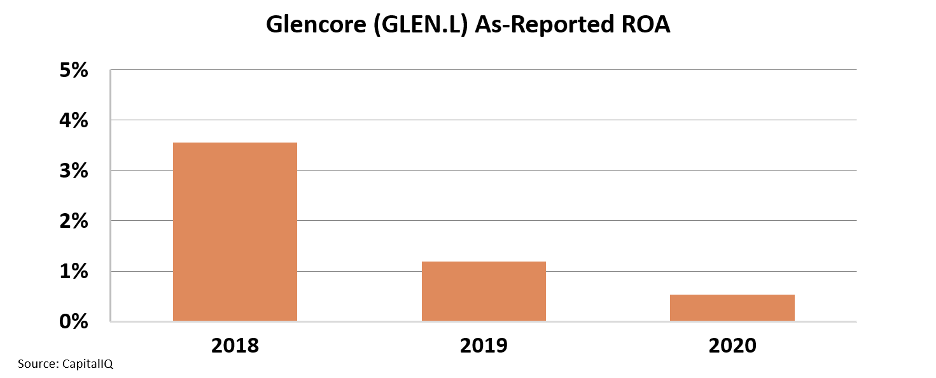 However, Uniform Accounting tells us a different story. We can see that staying in the coal business is positive. Thanks to special after-tax items artificially deflating net income, the company's real earnings are much higher than they appear.
While Uniform ROA fell from 5% in 2018 to 2% in 2019, returns rebounded in 2020. Furthermore, analysts expect this to be the firm's beginning, with returns leaping to 9% through fiscal year 2021.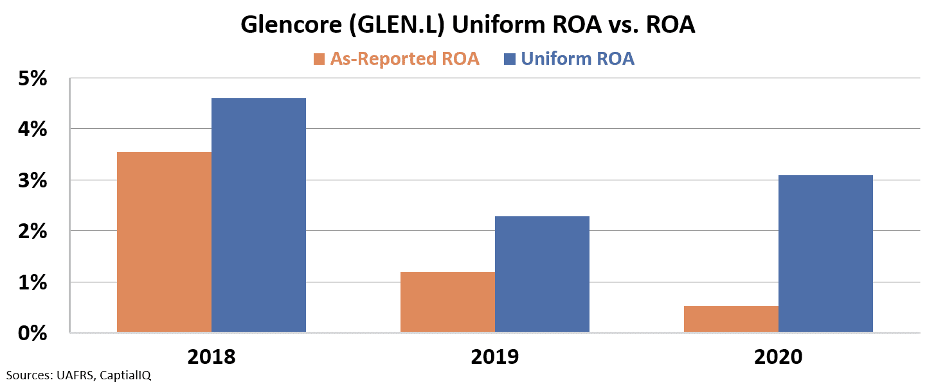 As many coal companies leave their coal assets behind, Glencore has been taking advantage by scooping them up for discount prices. Furthermore, this performance jump is reflected in the stock price, as the ticker has risen more than 50% since early 2021.
As this past year has shown us, the use of coal isn't going away any time soon, despite the common goal around the world. As long as this commodity is still a necessity, mining companies will be able to perform, and investors will make a profit.
For Glencore, its commodity isn't dying as quickly as most people may think...
Performance alone doesn't make a company a good stock to buy...
Savvy investors also look at valuations... 
Our Altimeter database of nearly 5,000 publicly listed companies cuts through the "noise" and gives companies a valuation grade, showing whether a company's stock valuation is too cheap or expensive.
Great investors know that as-reported numbers can lead you to make the wrong stock picks. A stock's real profitability can often be obscured by its accounting department... That's why we make more than 130 adjustments to thousands of stocks in our Altimeter tool using Uniform Accounting, so we can see the true financial picture of a stock.
And right now, you can try the Altimeter tool for absolutely free under a special limited-time trial.
Learn more about this risk-free trial by clicking here...
Regards,
Joel Litman
January 12, 2022