Don't Get Eaten by Corporate 'Wolves'
When you hear the word 'fraud,' you probably think of something out of a Hollywood movie...
And you almost certainly picture a setting more exciting than a bunch of folks lounging around their executive offices.
But in the real world, fraud isn't all smoke-filled rooms, shady people skulking in alleyways, and SUVs meeting in quiet parking lots in the rain. If someone is trying to take you for a ride, he'll do his best to make it look like that's exactly what he's not doing.
Regular readers have heard all about our "Do Not Buy List" in recent weeks. As we often tell subscribers of our Microcap Confidential advisory, even the most "healthy" and "successful" business can actually be wearing sheep's clothing.
And by the time unwitting investors realize their mistake, their money has been devoured by a hungry wolf.
Today, we'll look at a recent example of one such "wolflike" company... and how you can protect your money from similar situations.
In the 'Wild West' of microcaps, investors could easily get caught in fraudulent activities and scams...
The allure of high returns and the fear of missing out can cause investors to ignore warning signs... or rationalize away red flags. And these smaller companies often get overlooked by regulators and Wall Street.
That means we have to police them ourselves. So we've created a framework to determine whether these small companies are trustworthy. It looks something like this...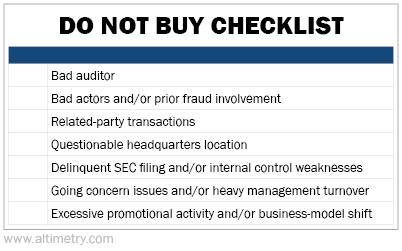 As you can see, this checklist runs the gamut of major warning signs for most companies. That's exactly how electric-vehicle company Nikola (NKLA) appeared on our radar last December...
Nikola went public via a special purpose acquisition company ("SPAC") transaction in June 2020.
As investors and industry experts rushed to find the next Tesla (TSLA), Nikola founder and former CEO Trevor Milton was happy to oblige. He came on the scene proclaiming that Nikola was going to revolutionize the U.S. transportation industry.
The company was going to launch a wave of electric- and hydrogen-powered tractor trailers and build out stations to fuel them around the U.S.
Milton pushed the story of Nikola's innovation through much of the 2010s...
His hype finally caught up with him once the company went public.
He was convicted of fraud in October for lying about the progress of research and innovation at Nikola. Milton repeatedly staged false promotional events about the company's trucks, including a fake "road test" where a truck was just pushed down a slight slope.
His lies were so endemic that even the CEO who helped take the company public, Mark Russell, didn't find out the company's trucks had no power until after he'd been hired.
The company's red flags triggered three items on our checklist. Here's how it turned out...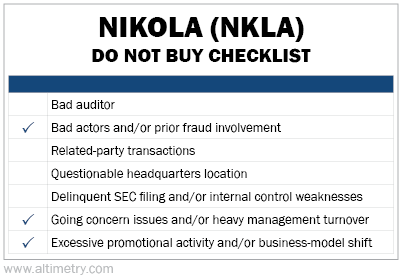 Companies that engage in fraudulent activities mostly end up losing significant market value. Nikola was no exception...
The stock fell from its $80-per-share peak to $12 per share by the time Milton was charged with wire fraud in July 2021. Today, it's trading for less than $1 per share.
Since Milton has been kicked out of the company, management has made progress. Investors might be tempted to give it the benefit of the doubt under new leadership.
But as we flagged in December, Nikola still has lots of issues.
Russell – who didn't even know the trucks didn't work when he signed on as CEO in 2019 – helped the company sell its first trucks. You might assume that bringing the company to revenue would be cause for celebration.
Instead, almost immediately, he announced he would step down from Nikola at the end of 2022. And he has unloaded roughly 80% of his shares in the company.
That's not exactly a vote of confidence.
As we said, we warned investors to stay away from the company in December. Shares are down 68% in less than five months. And we don't expect a miraculous turnaround anytime soon.
When putting money to work, make sure to heed the warning signs. Red-flag checklists can help you identify stocks that could tank your portfolio... before you buy in.
That's why, particularly with smaller companies, it's critical to take a closer look behind the curtain.
Regards,
Joel Litman
May 16, 2023
Editor's note: Joel recently warned of a major event that could move more than half the market next month... and released his latest "blacklist" of stocks to avoid when this critical catalyst hits.
For a limited time only, you can still catch his latest briefing – including the names and ticker symbols of two important stocks, one of which could be a "ticking time bomb." Plus, he shares how to access Microcap Confidential for 60% off the regular list price. Get the details here.