Even Sketchy Ethics Couldn't Make This Ride-Hailing Business Profitable
Uber Technologies (UBER) claims it's turning over a new leaf...
The company disrupted the transportation industry in a big way when it introduced modern ride-hailing in 2009. These days, the gap is so wide that Uber alone services more customers per day than the entire New York taxi industry.
The situation has gotten so bad for taxis that they've actually partnered with Uber in New York City.
It's no secret that Uber grew aggressively. But it turns out the company cut some corners on its way to the top.
A number of leaked documents known as the "Uber Files," released last month by the International Consortium of Investigative Journalists, claim the company openly broke the law as it pursued growth in key cities.
Between 2013 and 2017, under co-founder and former CEO Travis Kalanick, Uber allegedly hid data from authorities... undermined its own drivers' earnings... and sought the help of billionaires, politicians, and oligarchs to bypass political obstacles in key cities. Even French President Emmanuel Macron helped the company overthrow the taxi empire.
The report also alleges that Uber didn't prioritize safety, repeatedly putting drivers and passengers at risk.
Uber has not denied the allegations. Instead, management says the company has changed. CEO Dara Khosrowshahi claims safety is now a top priority for all drivers and passengers.
But even after years of cutting corners, it seems like Uber's growth efforts were futile...
The company never got the market share it needed. Uber might be the largest ride-hailing company in the country... But the industry may be doomed to collapse as swiftly as it began.
To understand why, we can use our Altimeter tool to take a closer look at Uber...
Using the power of Uniform Accounting, the Altimeter shows us easily digestible grades to rank stocks based on their real financials. It does this by eliminating the distortions in generally accepted accounting principles ("GAAP") financial metrics.
As-reported metrics show that Uber is still searching for profitability. Its as-reported return on assets ("ROA") was negative 8% in 2020, and it hardly rose in 2021... hitting negative 7%.
These numbers aren't great. They're already far below the corporate average of 12%. But they don't send any significant red flags.
However, Uniform Accounting shows a different picture. Uber's Uniform ROA was a whopping negative 45% in 2020. And even in 2021, as the number of rides increased after the pandemic, ROA sat at negative 33%.
These distressing returns are why we give the company an "F" Earning Power rating.
And things likely won't improve, either. Uber's ROA is expected to be negative 45.5% this year, earning it a "C" grade for Earning Power Trend.
It looks like the company's questionable growth tactics haven't paid off...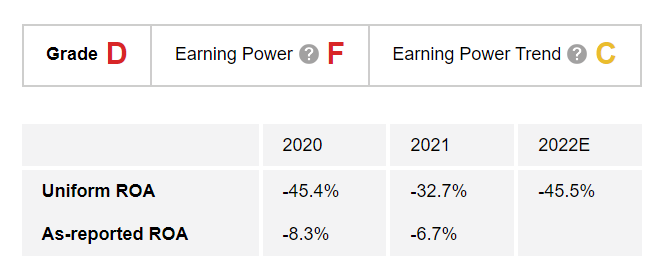 If Uber couldn't become profitable while cheating, we doubt it can now that it's on a level playing field. It seems like the company never took enough market share from peers like Lyft (LYFT).
Uber has a long road ahead... and all signs point to it being a rocky one. Until the ride-hailing industry proves it can turn things around, it's wiser to watch from the sidelines.
Regards,
Rob Spivey
August 4, 2022