Everyone's Favorite Boss Is... Themselves
The COVID-19 pandemic gave power back to the workers...
One of the biggest movements to come from the pandemic was the "At-Home Revolution."
With COVID-19 spreading in early 2020, folks around the world fled their offices and started working in their homes. People quickly realized you don't need to be in an office to be productive.
The pandemic sparked the At-Home Revolution. And in turn, it spurred another trend – the rise of the independent contractor.
Here at Altimetry, we've spoken a lot about the growing power of independent contractors...
In the two-plus years since the pandemic, the number of self-employed workers has grown by 1.4 million people. Now, more than 10% of Americans report that they're self-employed. That's the highest percentage since the Great Recession.
In short, people like to be able to work where they want and when they want.
No one appreciates the independent-contractor boom more than staffing companies...
These companies specialize in pairing contractors with businesses that need an extra hand or two. And with the At-Home Revolution in full swing, this workforce shift gained steam...
Self-employed Americans realized they might need help finding the right connections. So collectively, they turned to staffing companies. And that led to a large uptick in demand.
That's a big reason why we recommended ASGN (ASGN) in the January 2021 issue of our Altimetry's High Alpha.
Uniform Accounting helped us see the value in ASGN...
To the average investor, ASGN doesn't look like anything special. In fact, it looks well below average at face value...
As-reported figures show that ASGN's return on assets ("ROA") equals 7%. For context, the average company's as-reported ROA is around 12%.
Using generally accepted accounting principles ("GAAP") and as-reported numbers, ASGN looks like a struggling company that hasn't been able to achieve returns above 8% in the past eight years.
Thankfully, we don't use as-reported numbers. Instead, Uniform Accounting guides us...
Uniform Accounting allows us to clean up companies' financial statements. It helps us fix all of the disparities that exist under GAAP regulations.
When we look at ASGN through the lens of Uniform Accounting, we see an entirely different story. Using this method, the company has a 41% ROA.
And since 2014, ASGN's Uniform ROA has consistently exceeded 30%. This is clearly a well-run company. Take a look...

As I said, we recommended ASGN in High Alpha in January 2021. And we closed the position this past March.
In a little more than a year, the stock rallied roughly 35%. That return nearly doubled the S&P 500 Index's return of around 20% over the same span.
We exited our position in ASGN because the stock's valuations started to align with the company's future potential. In other words, we didn't see as much upside moving forward.
Nonetheless, Uniform Accounting helped us find a true diamond in the rough. Take a look...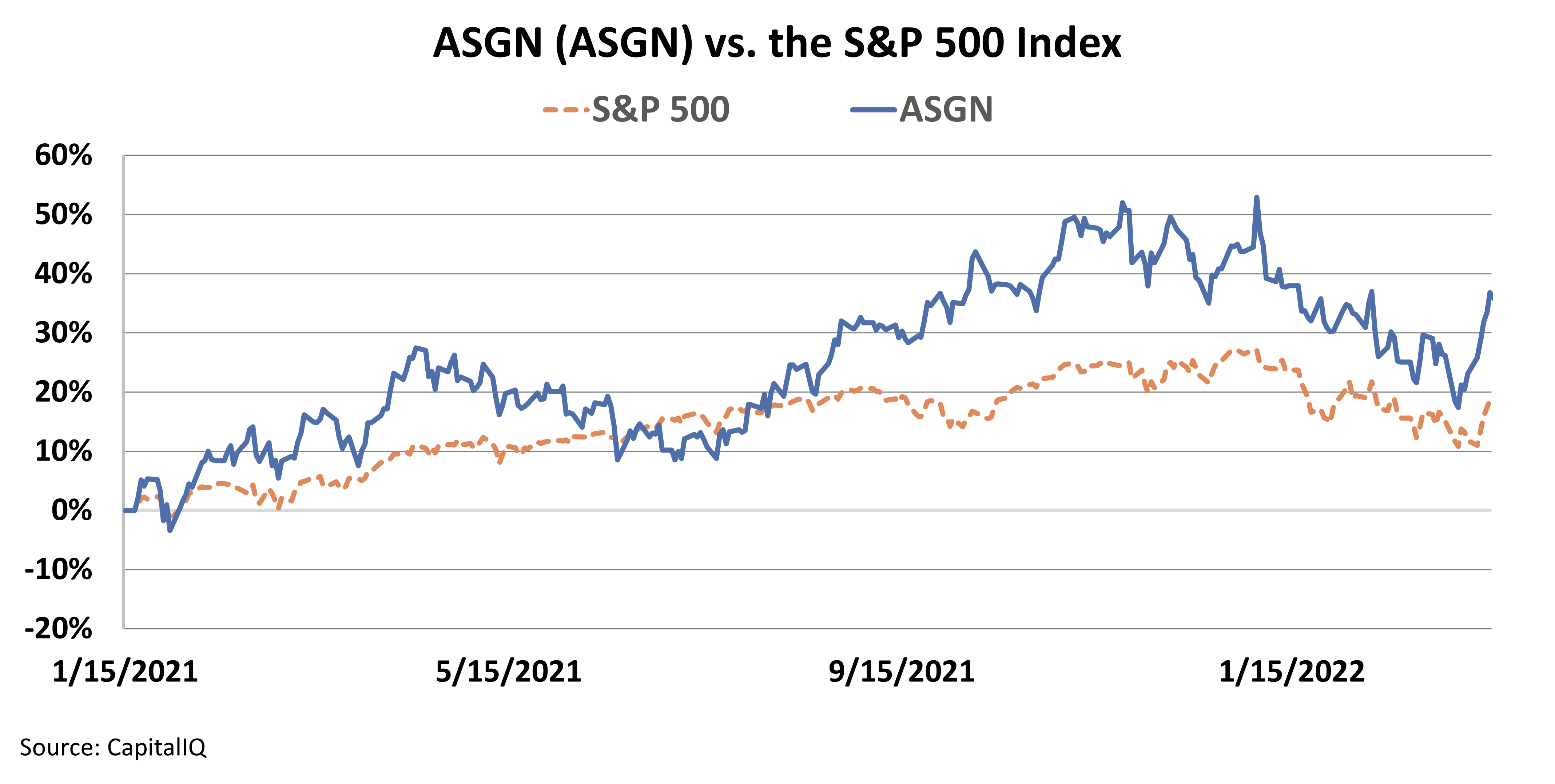 Although we've moved on from ASGN, we're still optimistic about this workforce trend...
The growth of independent contractors will continue to make staffing players incredibly compelling moving forward.
In fact, our latest Microcap Confidential recommendation is poised to benefit from this resurgence. Like ASGN in January 2021, this company is positioned in a perfect niche of the staffing industry. And we believe it could have triple-digit upside from today's prices.
Our recommendation will go live around 5 p.m. this evening. So to make sure you're one of the first people to hear about it, click here to get started with Microcap Confidential today.
Regards,
Joel Litman
August 9, 2022