'Fake Meat' Is Gaining Steam, But Read This Before Buying This Market Darling
Patrons of Taco Bell have been guessing at the meat contents for years…
With such low prices and customer expectations, it's been a long-running joke that the meat in the fast-food chain's tacos, burritos, and other menu items is not actually meat. We've heard rumors that it's only 36% actual beef, comprised of low-quality, "grade-D" beef, or even uses worms as its filler.
Over the past decade, Taco Bell has been forced to spend millions of dollars dispelling these rumors to protect the company's image and keep customers coming in the door.
For the record, Taco Bell's beef does have 88% regular-quality beef in its taco mix. The other 12% is made up of ingredients you would expect to have in seasoned taco beef, such as onions and sauces for flavor.
While the rumors over content are an exaggeration, Taco Bell's marketing team is already on the defensive for another round of rumor-quashing.
Taco Bell's management is currently exploring a meat alternative for its tacos and burritos. Made from a blend of peas and chickpeas, the Cravetarian Taco is a test item for folks who want the texture of meat without having actual meat.
Seeing the growing popularity of meat alternatives from producers like Beyond Meat (BYND), Taco Bell has joined the ranks of fast-food chains looking to expand their plant-based menu items with in-house offerings. However, Yum Brands (YUM), the owner of Taco Bell, has announced it will introduce Beyond Meat to Taco Bell kitchens instead if the Cravetarian Taco tests poorly.
Restaurants looking at Beyond Meat can't decide if they will beat the company or join it…
Either way, the menu expansion to meat alternatives is a tailwind for Beyond Meat. While the company would love to win another customer, putting a bigger spotlight on non-meat solutions is a big deal for Beyond Meat as it seeks to expand.
But to understand the potential benefits of more restaurants adopting Beyond Meat products – and to see if Beyond Meat is even profitable – we need to break down the fundamentals.
For this, let's see what our Altimeter tool has to say…
Using the power of Uniform Accounting – which removes the distortions in as-reported financial metrics – The Altimeter grades stocks based on their real financials.
After we clean up the GAAP numbers, we can see that Beyond Meat is currently struggling, with its return on assets ("ROA") turning negative over the past year as management is still planning out the path to profitability.
On a Uniform basis, Beyond Meat's ROA has fallen from an already weak 1.8% in 2019 to negative 3.7% in 2020.
Beyond Meat needs all of the attention it can get to turn this weak performance around.
Due to this poor profitability, the company gets an "F" rating for Earning Power.
However, while its Uniform ROA is negative, analysts are expecting the company's returns to begin inflecting back closer to zero. This means Beyond Meat gets a "C" for Earning Power Trend. Putting it all together, Beyond Meat earns an overall "D" for Performance.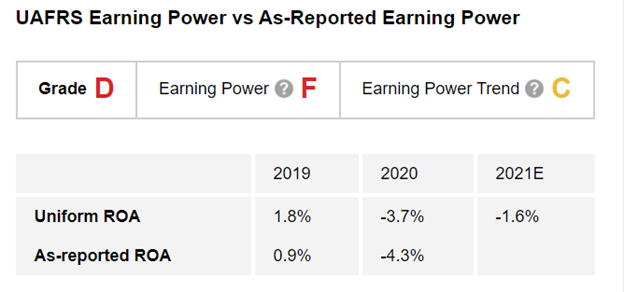 Thanks to The Altimeter, we can see Beyond Meat's real performance numbers and understand that its business of meat alternatives isn't yet profitable.
Based on the increasing popularity of meat alternatives and Beyond Meat's move back in the right direction for profitability, investors might see a buying opportunity here…
But before buying the stock, we need to understand Beyond Meat's valuations. And once again, The Altimeter cuts through the accounting "noise" to show the real story of whether BYND shares are cheap or expensive.
Altimeter subscribers can click here to see how Beyond Meat is valued – and graded – based on Uniform Accounting. The Uniform valuations show if the market already understands the weakness of the company's returns, or is letting the hype get ahead of itself.
If you aren't an Altimeter subscriber yet, click here to learn how to gain immediate access to the rest of the Uniform data for Beyond Meat. Don't let the distorted, as-reported numbers lead you into making the wrong stock picks.
Regards,
Rob Spivey
May 13, 2021