Fast Fashion's Disruptor Is Fighting the Headwinds
Tuesday, February 23, 2021
In order to thrive, the clothing industry needs constant innovation…
And Spain-based Industria de Diseño Textil (ITX.MC) – better known as Inditex – has disrupted the industry over the past 20 years in a drastic way.
Inditex brought fast fashion to the masses. This in turn disrupted the long cycles of design and delivery in the fashion retail space.
Previously, major trends were set during large fashion shows in the fall and spring. Then, stores would place orders for items that wouldn't hit shelves for at least four to six months.
Inditex actively tracks demand for new products in real time, so it can rapidly produce wanted items and hit the "pause" button on slow sellers.
Inditex reacts to what consumers really want in stores – turning the industry on its head.
Now, the retail industry has upended again… but not by Inditex. The coronavirus pandemic has put unprecedented hardship on physical retailers.
With these headwinds, as The Economist explained last month, Inditex is coming up with more creative solutions to conquer the difficulties in operating in the current climate…
Many folks believe that the transition to online operations would be much more cost-efficient. Companies in the space would logically require fewer physical stores and staff.
However, the lower-fixed-cost environment of online strategies isn't always as great of a deal as it seems…
With online operations come higher cost of delivery and more competitive pricing for products. Over the Internet, customers can easily see any competitors' offerings and prices.
Even though online operations eliminate many fixed operating costs, the benefits can quickly disappear. Because of higher marginal costs and more price competition, operating online translates into thinner margins for each product sold.
Inditex understands this dynamic in its transition to online operations. To be successful, it must make sure costs and margins are managed.
The company is trying ways to push customers to shop online while still utilizing its store base, in order to save variable costs. For instance, Inditex is spending on technology to let customers know if certain products or sizes are available in nearby stores.
This leads more customers to go to brick-and-mortar locations instead of buying online.
Additionally, Inditex is carrying out initiatives to entice customers to return items to stores instead of shipping them back. This saves the company from high shipping costs for individual labels.
By leveraging the strengths of both physical and online marketplaces, Inditex is working to stay competitive through 2021.
Fashion companies who can adapt online and in-person operations are more likely to survive and even benefit from the "At-Home Revolution" as society shifts to spending more time at home in the wake of the pandemic. Companies remaining focused only on brick-and-mortar will continue to struggle.
And yet, despite Inditex's history of disruption, it doesn't appear that its approach has led to improving profitability in recent years…
Inditex has set forth some promising strategies to help mitigate the challenges of operating in the retail industry during the pandemic. In part it has done this by relying on its approach of creating industry-disrupting strategies long before the latest industry challenges.
However, looking only at as-reported metrics, it would appear that even with all its innovation, Inditex has seen its return on assets ("ROA") steadily decline over the past 10 years from 16% to 12%.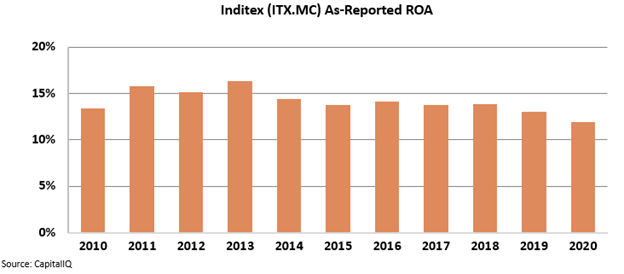 However, GAAP metrics create distortions in financial statements – including around depreciation and excess cash. For Inditex, that means investors have been misled about the company's earnings trend…
As you can see in the chart below, Inditex's returns have in fact been steady over the past decade. The company's innovative strategies are working to help it buck retail industry headwinds – including in 2020.

Inditex's success in resisting the industry's struggles is even more clear when looking at its Uniform Accounting data versus its peers.
The company operates against other powerhouses in fast fashion such as H&M (HNNMY), Gap (GPS), and Fast Retailing (FRCOY). While Inditex has been able to sustain stable returns, its competitors have seen not only more pressure on returns, but also weaker profitability overall.

Thanks to Uniform Accounting, we can see that Inditex's innovations have paid off for profitability… and that the company is a standout in its sector.
Regards,
Joel Litman
February 23, 2021