Following a Simple Rule for Success
Throughout our research in the fields of finance and accounting, as well as our own operations and organization, we realize that we stand on the shoulders of giants… 
We contribute to the world becoming greater by studying the greats who walked before us. And in some cases, they still walk among us.
One author I have found especially insightful and enlightening for so many areas of my life is Dr. David R. Hawkins, a philosopher and mathematician who worked on the Manhattan Project during World War II. 
I began reading Hawkins' works in 2008. Within a few years, I finished reading all his books and publications. I've reread several and still refer to certain chapters and passages from my Kindle or physical bookshelves.
When students, seminar participants, and employees ask me for a general book recommendation, I suggest Hawkins.
I'm not the only one… His books receive tons of five-star reviews on Amazon. Popular and influential celebrities from Oprah Winfrey to Russell Brand talk about his inspirational writing.
I hoped one day to meet Hawkins. But he passed away in 2012. It was saddening to think there wouldn't be anything else written by him.
So you can imagine my surprise when a new Hawkins book emerged in 2016, Success Is for You, Using Heart-Centered Power Principles for Lasting Abundance and Fulfillment. His editors discovered a manuscript that he wrote several years before he died.
To my surprise, the subject matter of this last work focused on career and business success…
Hawkins' prior works mainly centered around spirituality and simply living a better life.
His final tome is full of business insights that are consistent with the research we have conducted and gathered. The similarities between our findings on what makes for great, successful businesses and business leaders are uncanny. 
One remark particularly stands out: "In the real world of success, there is no competition."
That's something we hear repeatedly from great CEOs. And when considering the most successful businesses today, Hawkins' quote accurately paints why the greatest firms have created big value. These market dominators continue to fulfill unmet needs so well. There is no competition.
Despite how our world is ever-changing with new advancements in every business area, Hawkins' advice for career and business success remains timeless. 
His approach to business strategy applies just as much to personal careers and success as it does to building a great business. 
Allow me to share one extra-enlightening thought from the final chapter: "Just like happiness, success is an automatic consequence of who we are." 
It captures what we wish for all our employees, clients, and those in our greater worldwide community: "Success is for you."
Hawkins' idea about competition being absent when companies achieve incredible levels of success compels us to study the ones that have reached such a goal… 
Finding those firms helps identify truly great businesses with a straightforward path to finding stock market winners. Here are three examples of that…
iPhone maker Apple (AAPL) generates its massive profitability thanks to its complete dominance within its ecosystem.
Facebook (FB) and its powerful network effects across its various social media properties.
PayPal's (PYPL) total dominance of the online e-commerce market worldwide as a top payment platform has enabled it to have phenomenal growth and overall success. 
Understanding PayPal's competitive moats is also why we pounded the table on the name more than a year ago in Altimetry's Hidden Alpha. 
The company essentially owns its part of the market, whether it's through Venmo and direct payments or PayPal overall. It's the backbone of so much e-commerce. The company's "digital layaway" of its "Buy Now Pay Later" feature opened up new revenue for many entrepreneurs. 
PayPal's success propelled PYPL shares to more than double from when we recommended the name 13 months ago until we closed our position earlier this week. 
To better understand the fundamentals behind this performance, our Altimeter tool has the answers… 
Using the power of Uniform Accounting – which removes the distortions in as-reported financial metrics – The Altimeter grades stocks based on their real financials.
After we clean up the GAAP numbers, we can see that PayPal is thriving. The company consistently generates strong returns on assets ("ROAs").
On a Uniform basis, PayPal's ROA came in at a robust 16% in 2020. This is forecasted to rise to 18% this year. This warrants a "B" Earning Power grade and an "A" Earning Power Trend grade – good for an overall "B" grade for Performance in The Altimeter. Take a look…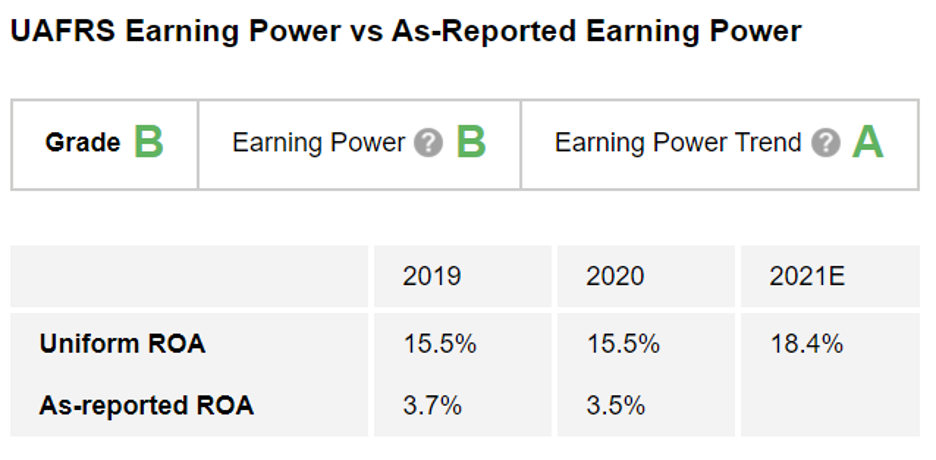 Owning the online payment world has put PayPal in a great position…
But as we told our Hidden Alpha subscribers in the recent monthly issue…
The market is now pricing PayPal to see ROA expand massively in the coming years. The company needs to execute perfectly to meet market expectations – something we didn't need to make PayPal compelling 13 months ago.
While another massive move for PayPal like the one over the past year might be unlikely, we've identified other stocks in Hidden Alpha that fit the mold of great businesses. And thanks to the power of Uniform Accounting, we can take advantage of the market's mispricing to find compelling opportunities for big moves higher – just like in the case of PayPal.
Learn more about Hidden Alpha right here.
Regards,
Joel Litman
June 11, 2021