Securities Analyzed
AAPL
AMZN
GOOGL
IBM
JPM
NLOK
Here's a Company That Wins From Biden's New Stance on Cybersecurity
Thursday, September 16, 2021
Securities Analyzed
AAPL
AMZN
GOOGL
IBM
JPM
NLOK
An important national security meeting just happened...
Considering the recent public sentiment toward corporate giants, you might have expected a tongue lashing for anticompetitive monopolistic behaviors or a stern push by the Biden administration to make them more involved with vaccination efforts.
But none of those issues were on the table. The White House called together some of the country's most important CEOs for another crisis in late August... cybersecurity.
Chief executives of Alphabet (GOOGL), IBM (IBM), Apple (AAPL), Microsoft (MSFT), Amazon (AMZN), and JPMorgan Chase (JPM), among others, joined President Joe Biden at the White House for a summit on responding to cyberthreats. 
Ransomware and spyware attacks are on the rise. Vulnerabilities in critical infrastructure have folks worried about existential threats. So, it is understandable why the White House was compelled to put aside its differences with these mega-corporations. 
After all, it was less than a year ago when a huge swath of the U.S. lost access to gasoline when a cyberattack compromised the Colonial Pipeline. We're also not far removed from the hack of a major U.S. government vendor, Microsoft. 
In the information age, enemies of the state have gained a backdoor to key information about U.S. government workers, along with secret initiatives and plans.
The U.S. doesn't see improved cyber security as a nice-to-have, but rather a need-to-have...
Events around the world have shown the real and potentially deadly impacts of well-timed cyberattacks. For example, Israel destroyed an Iranian nuclear facility in April using nothing but a well-made software bug.
Worryingly, strange and dormant sections of code have been found in dozens of American powerplants and infrastructure systems. Analysts tend to blame Russia, which has made its cyber capabilities a key military priority. A widespread attack on U.S. infrastructure could cripple the country and cause deep social unrest.
The U.S. government and military have put billions of dollars behind initiatives to help fix these vulnerabilities, and U.S. companies have also been rallying.
After the White House meeting, Google committed $10 billion over the next five years to improve the security software supply chain, and Microsoft pledged $20 billion. 
That generous spending will help keep our data, the digital "oil" of the modern economy, safer.
But investors should pay attention too. All that money also means there might be some big winners, in terms of cash, making their way in cybersecurity.
This cybersecurity nameplate is a winner...
While many have been focusing on enterprise-level cybersecurity, as The Altimeter shows, one big winner in all this is a company that will attract consumers.
Many may be familiar with the name already. As folks become more aware of the cyber risks they face, they will likely turn to NortonLifeLock (NLOK). 
Almost everyone knows Norton as a trusted antivirus shield that has proven itself over the past decade. 
In 2017, Symantec acquired LifeLock, a leading provider of identity theft monitoring and data protection. 
In a classic case of "do only what you do best," Symantec sold off its enterprise division and focused exclusively on consumer protection, renaming the company NortonLifeLock.
Amid the newfound awareness about digital safety and the company's newfound focus, returns have surged.
But most investors would completely overlook it. Sure, the company's as-reported return on assets ("ROA") rose from 3% to almost 10% last year, but that's still below the corporate average of 12%.
In actuality, Uniform ROA rose from 7% to almost 60% and is supposed to rise to 75% next year. That is why the company gets an "A" grade across the board for performance in The Altimeter.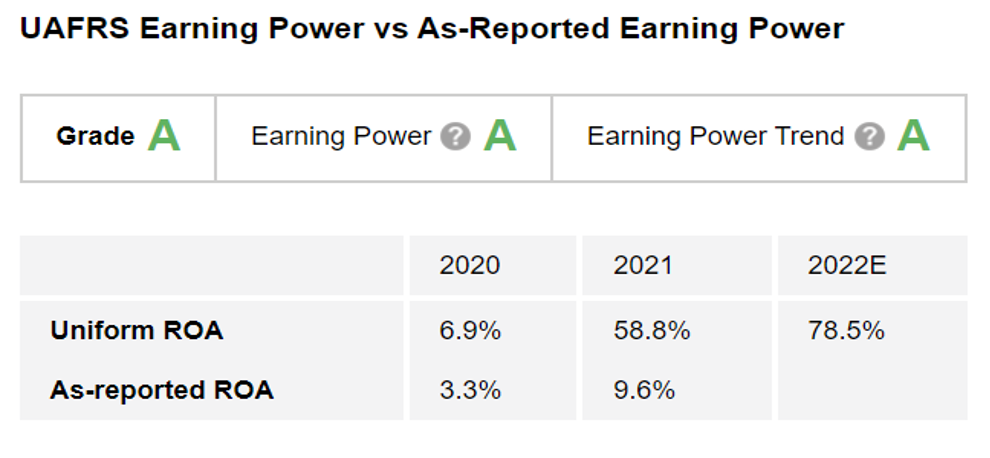 Of course, you can't just buy a company based on performance alone. A great company isn't necessarily a great investment. We need to make sure future performance improvements aren't already priced in, or the stock will never move.
For example, we can see that as Uniform ROA suddenly jumped from sub-20% levels to more than 60%, the stock hasn't budged much. It has traded sideways in the 20% range for the past five years.
At this moment, one of two things could be true. Either the market had already been pricing in this year's astounding performance for the past five years, or the story has fundamentally changed for the better, and the market hasn't realized it. 
So, how do you know when a stock is a great investment opportunity? 
At Altimetry, we use our Uniform Accounting analysis to find big opportunities from the market's mispricing of stocks due to distorted GAAP metrics.
This is a crucial part of how our research team picks the stocks that end up in our newsletters and stock portfolios.
In our recent September issue of Hidden Alpha, we've found a defense contractor that's focused on the area where the military is growing the most... And due to the market's mispricing, this stock is primed for big upside ahead.
Learn more about Hidden Alpha – and how to gain instant access to our latest recommendation – right here.
Joel Litman
September 16, 2021