Here's How Remote Work May Change Skylines Around the Country
Pretty soon, working habits will be cemented in stone...
It's no surprise that managers and workers feel differently about the future of work.
Many business leaders have been hyping up the return to the office as the grand revival of the office life that was halted in early 2020.
There are many factors that make in-office working attractive. Face-to-face interaction is a key part of career advancement, and it can unlock collaboration that couldn't happen with people working remotely.
Employees coasting, checking out, and not being part of office culture are huge fears for managers when looking at a remote work environment as the new normal.
However, the reality of the benefits and drawbacks of remote work is a bit more nuanced. Office culture and collaboration can happen in a hybrid or a mostly remote role if management does it the right way.
For that reason, workers are pushing back on the idea of having to return to the office.
We at Altimetry are exploring the pros and cons of a return to the office...
At the beginning of March, we instituted a new hybrid-work schedule in our U.S. offices. We set a target that for every 10 business days, employees should spend five in the office.
We've found that there are many days when our office is totally full because people are happy to interact, learn from each other, collaborate, and do all the things in person that leaders talk about.
But we've also noticed that many times when our employees do need to collaborate, they actually choose to do so from home.
Online, it's easy for a group to all be on screens, as opposed to in a physical meeting room where they're not in a position to work efficiently together.
We've all now lived through both models and have the judgement to know when it's better to work from home or in the office. Because of that, anyone calling for offices to return to the 2019 model is going to be in for a rude awakening from their workers.
While that may be great for workers, there's one group it won't be great for.
Yesterday, we discussed apartment real estate investment trusts ("REITs") and how a return to the city social scene and hybrid work is driving up demand for apartments.
Today, we are going to take a closer look at office REITs like Boston Properties (BXP). These are the companies that have been waiting patiently for a full return to the office to see the recovery to pre-pandemic returns.
However, if most companies maintain a hybrid or remote model, these REITs will be forced to think about downsizing office space and driving down office rents.
In that case, Boston Properties will be waiting a long time...
Great news for workers might not be good for BXP...
We can use The Altimeter, which shows users easily digestible grades to rank stocks on their real financials, to see how Boston Properties is performing.
The Altimeter indicates that earnings are improving with an excellent Earning Power Trend grade of "A" based on rising earnings expectations.
However, Boston Properties' low return on assets ("ROA") – only 4% in 2021 – is barely going to improve in 2022 and will remain weak. This earns the company an "F" for Earning Power and an overall "C" grade.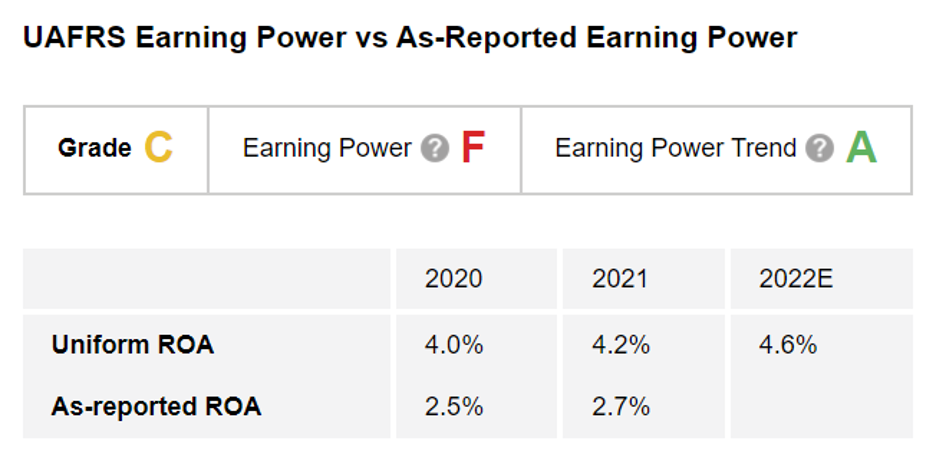 With such low returns and improving earnings, Boston Properties is set up for a recovery, even if returns won't reach pre-pandemic highs. However, whether Boston Properties is a good investment or not is completely dependent on what kind of recovery the market is already pricing into the stock.
Before making any kind of investment decision, you need to see what valuations are for the stock.
Altimeter subscribers can click here to see how Boston Properties is valued based on Uniform Accounting and if the story is being correctly priced in. Using The Altimeter, you can see how Boston Properties stacks up with nearly 5,000 other U.S.-listed companies.
Regards,
Rob Spivey
May 5, 2022