Here's What to Look for With the Real Winners of the 5G Rollout
With stiff competition and a clear race in the 5G network rollout, the big telecom companies are upping their marketing efforts...
It's hard to turn on a TV or use the Internet without getting bombarded by ads about which cellphone provider is offering the best and most reliable 5G services.
Each company is constantly trying to lure in customers with the promise of the "biggest" or "fastest" 5G offering.
In fact, in January alone, the big players in the space spent roughly $80 billion buying more 5G spectrum capabilities.
But don't be fooled by all the ads you see today... Not all 5G is created equally. And many promises regarding the 5G revolution will take some time to fulfill.
For example, AT&T's (T) "5G" network is still really just a 4G network with barely enough 5G infrastructure to qualify it for the new realm. Even though it's called "5G," the technology and speed are still largely in line with what people are used to – 4G.
Similarly, Verizon (VZ) has been claiming it has the most impressive coverage in the industry. In reality, its 5G is actually slower than most 4G solutions currently being offered because of how the company set up its 5G network.
And while most experts agree T-Mobile (TMUS) may really have the largest nationwide coverage for 5G amongst its competitors, the company's actual 5G technology is slower than both AT&T and Verizon's 4G offerings. 
Just because these major telecom companies market their new offerings with robust 5G technology, doesn't mean that this is the reality.
It's going to take a lot more investment in 5G infrastructure to get to the promised land...
All of the major telecom companies will have to spend more money on infrastructure and technology in order to keep up with competition and provide the speed and capacity they've promised.
And that means more revenue for Lumentum (LITE). The company is one of the leading suppliers of the technology that lets telecom firms transmit 5G data using fiberoptics and other photonic solutions.
And yet, the as-reported financial metrics make it look like Lumentum isn't doing anything special. Last year, the company's return on assets ("ROA") barely broke 5%.
It appears that the sleepy business of powering these networks hasn't translated into big profitability.
But a closer look with our Altimeter tool shows a very different reality...
Using the power of Uniform Accounting – which removes the distortions in GAAP financial metrics – The Altimeter breaks down stocks into grades based on the underlying companies' real financials.
After we clean up the numbers, we can see that Lumentum's ROAs have actually been strong over the past few years thanks to the company's steady business model.
Specifically, Lumentum's Uniform ROA jumped from 12% in 2019 to 22% last year. Lumentum's business of supplying the big telecom firms as they throw money at 5G is helping the company print money.
Due to this strong profitability, Lumentum gets an "A" rating for Earning Power in The Altimeter.
Additionally, the company's Uniform ROA is expected to rise to 25% this year. That means Lumentum also earns an "A" for Earning Power Trend.
Putting it all together, Lumentum grades out with an "A" for Performance.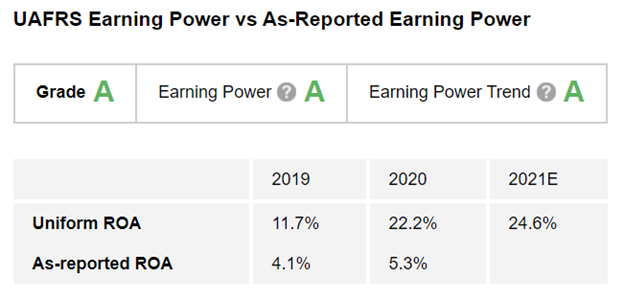 Thanks to The Altimeter, we can see Lumentum's real performance numbers and understand that the company has generated strong, double-digit ROAs.
Looking at profitability can put Lumentum in context... But it can't tell investors whether the stock is a buy...
For this, we need to turn to valuations. And once again, The Altimeter cuts through the accounting "noise" to show the real story of whether Lumentum is cheap or expensive.
Altimeter subscribers can click here to see how Lumentum is valued based on Uniform Accounting... and if the market has priced in this trend of increased 5G-technology spending yet.
If you aren't an Altimeter subscriber, click here to find out how to gain access to the full Uniform data for Lumentum... its competitors... the big telecom players like Verizon, AT&T, and T-Mobile... and the full grading for more than 4,000 other publicly traded companies.
Regards,
Rob Spivey
May 12, 2021