Here's Why America's 'Battle of the Bulge' Is a Great Investment Angle
Revisiting this great health research again...
I recently read Dr. Jason Fung's book, The Obesity Code: Unlocking the Secrets of Weight Loss, cover to cover. I hesitated to read it in the past because I'm not obese nor worried about becoming so. But that shouldn't dissuade someone from reading this amazing work about health and nutrition.
I wrote about intermittent fasting last week in our Altimetry Daily Authority, citing Fung's research. Little did I know at the time that the good doctor read our work. 
He kindly sent me a signed copy of The Obesity Code. While I felt honored to receive it, I neglected to read it!
Let me say right now that this book is about healthy living and proper nutrition and dispels and debunks so many rumors and falsely held beliefs about dieting and calories. The book's careful research delivers an awakening discussion on how our bodies work relative to what and how we eat. 
Like so many others, I fell under the spell of the long-held, incorrect adage "calories in, calories out," and "eat less, move more." Both statements ignore the importance of metabolism, insulin levels, and how different calories impact the body differently. One hundred calories of one food aren't equal to 100 calories of another food. As Fung teaches us, it greatly depends on the food. 
Once I started reading The Obesity Code, I was hooked until the final page. Obesity and many other diseases such as Type 2 diabetes are rooted in insulin resistance and blood sugar spikes. The type of foods we eat, and how often, affects those insulin issues more than simply being concerned about how much one eats. 
Fung coaches us on becoming healthier and more fit. It's more important to pay attention to the kind of calories you consume, when you consume them, and how you take care of yourself holistically. That means getting a good night's sleep consistently, working out appropriately, and, yes, meditation.
How misunderstood concepts lead to investable concepts...
In the U.S. and many Western nations, millions of people have issues with insulin resistance and eventually develop Type 2 diabetes. One company that has benefitted from this is Becton Dickinson (BDX), also known as BD.
BD makes insulin needles, care apps, needle disposal products, and many other equipment components and disposable goods for diabetics needs.
With more than $1 billion in revenue this past year, BD's diabetes care business has become so big that management plans to spin it off into its own publicly traded corporation with this focus.
A more specialized business can allow a management team to devote its focus to that business alone, without splitting their attention across 10 other verticals under the same umbrella. It's a win for existing shareholders because they can watch both companies, which are now more focused on what they do best, flourish in their portfolios.
Looking at as-reported metrics, you might wonder why investors should be excited about the new business. While its diabetes vertical has grown, BD's returns on assets ("ROA") have dropped to a dismal fraction compared to 10 years ago.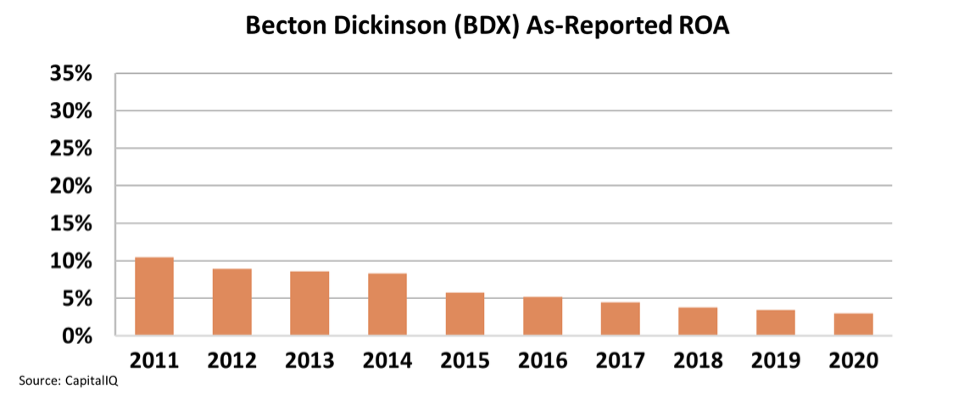 Smart investors understand why they should be excited, though... 
Regular Altimetry Daily Authority readers know that more often than not, as-reported numbers completely fail to capture the story.
In reality, as Becton Dickinson has continued to grow in care areas like diabetes, its Uniform ROA, a better proxy for true economic productivity, has risen dramatically. This highlights how important the area is and how its offerings are a value-add for patients.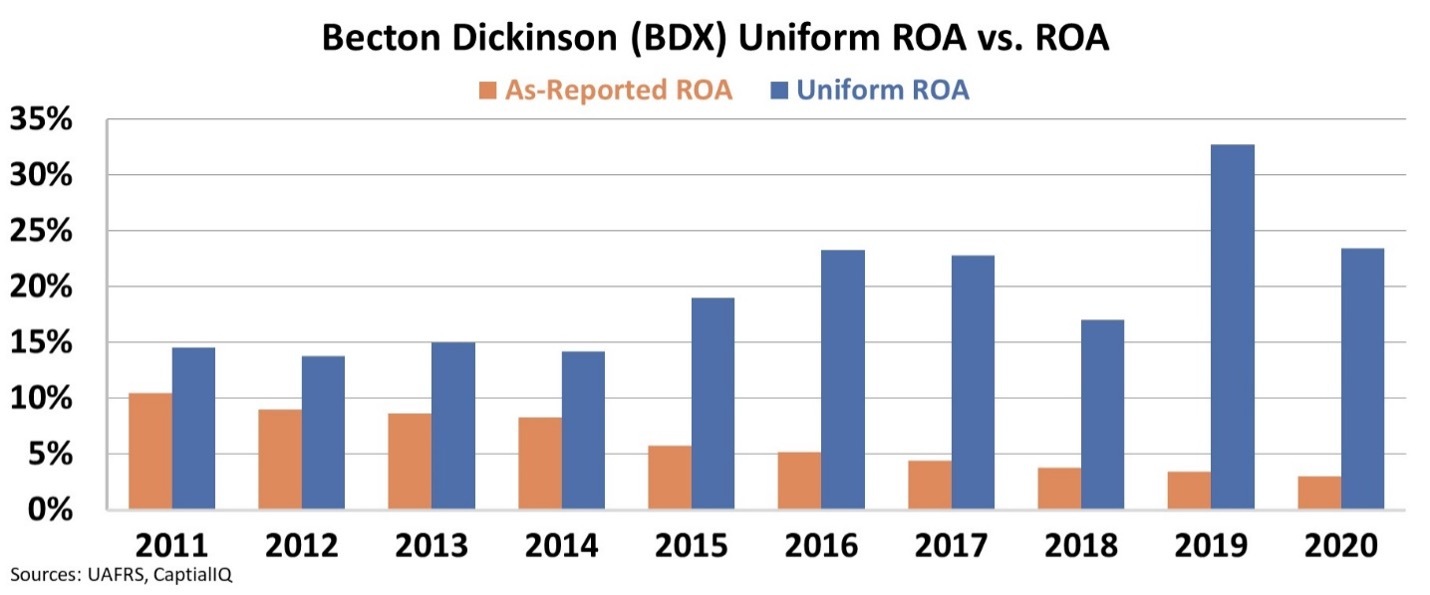 Fung's book demonstrates how the widespread diabetes phenomenon has drivers that individuals can (and should) avoid.
But it is also clear that the misconceptions and ingrained ways of thinking about the condition run so far and wide that, until people start to understand the behavioral drivers behind the health issues they face, companies like Becton can rake in billions. 
To my readers, I recommend Fung's books because of their potential value in your personal life.
Second, I recommend thinking about investments as I did here.
Find a commonly misunderstood concept, whether it's from a fascinating book you've read, a documentary you've watched, or wisdom received from a trusted friend. Then find the companies that benefit most from it.
Those niches tend to own unique slices of the market. Once you look at these ideas using the right numbers, you'll find they could be an interesting investment, too.
Here at Altimetry, we are looking for hidden financial health...
Using the power of Uniform Accounting – which removes the distortions in as-reported financial metrics – we analyze stocks based on their real financials. 
After we clean up the GAAP numbers, we can see whether a company is misunderstood in the marketplace.
This coming Monday, we are recommending shares of a leading innovator in the real estate market to our Altimetry's Hidden Alpha subscribers. This company is a global titan in its industry. But Wall Street completely misunderstands it.
While traditional GAAP accounting would suggest this company isn't dominant in its industry, it's only a matter of time before the market catches on.
To learn more about Hidden Alpha – and our portfolio recommendations – click here.
Regards,
Joel Litman
July 30, 2021