How This Big-Box Retailer Plans to Compete Against Amazon
Wednesday, September 15, 2021
Walmart is now offering a third-party, last-mile fulfillment service...
Walmart (WMT) has been doing everything in its power over the past few years to keep up with its biggest retail rival, online giant Amazon (AMZN). Despite this, Amazon surpassed Walmart as the world's largest retailer outside of China. 
One of Walmart's biggest areas of focus in this race has been taking market share from Amazon in its core e-commerce business. Despite fighting from the backfoot, it has performed quite impressively.
But just like Amazon, Walmart has realized that surging demand for online sales has created massive supply bottlenecks. Delivery carriers such as the U.S. Postal Service, United Parcel Service (UPS), and FedEx (FDX) are struggling with a heightened number of orders.
Following Amazon's footsteps, Walmart is launching its own last-mile delivery service to ensure its products are delivered to customers on time, especially as the holiday season approaches.
But that's not the only play from Amazon's playbook that Walmart is borrowing. The discount retailer is also planning to leverage the delivery network to develop a third-party merchant service called Walmart GoLocal.
This service will take some pressure off traditional couriers by picking up items from local merchants and delivering them to shoppers, all for what Walmart says will be competitive prices.
Amazon's success offers lessons for the future...
While it may come as a surprise, third-party, last-mile delivery has been a much more valuable business for Amazon than its core retail business.
So how does Amazon make money? 
When you shop on Amazon.com, you're shopping from one of two different units of the business: Amazon Retail and Amazon Marketplace.
Amazon Retail is where Amazon purchases inventory from merchants, whether from small businesses or other large corporations, and resells that inventory.
The other business is Amazon Marketplace. It's one of the company's hidden businesses that few people pay attention to. However, it has helped power the company to its dizzying heights over the past decade. 
Amazon doesn't own any inventory with this marketplace model, but it leverages its network of warehouses to offer sellers a storage place.
The e-commerce giant then lists the items on its website, and when someone makes a purchase, it receives a piece of the sale. 
Amazon doesn't tie up the inventory. Instead, it handles fulfillment or delivery of the order and collects an additional delivery fee. 
When we did a deep dive into Amazon's business model for some institutional clients back in 2019, we realized the combination of Amazon Marketplace and last-mile delivery is a powerful profit generator. Like the Amazon Web Services ("AWS") platform, Amazon Marketplace is carrying real returns. At the same time, the traditional retail business acts more as a loss-leader to sell everything else to clients.
Our analysis showed that if you were still investing in Amazon Retail alone, you would be buying into a business with a Uniform return on assets ("ROA") of negative 25% in 2018. That's according to the last year of data for when we ran the analysis.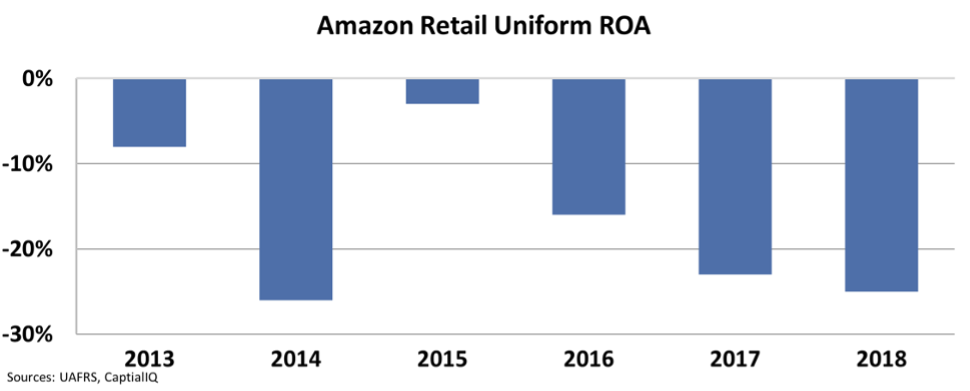 Amazon Retail from 2013 to 2018 was an unprofitable business, burning company resources and invested capital rather than generating economic value. This isn't exactly what comes to mind when we think about Amazon. 
Meanwhile, in the phenomenal business model of Amazon Marketplace, where capital isn't tied up storing inventory, Uniform ROA is a robust 42%. This is even higher than Amazon's other much-heralded business, AWS, which generated a 33% ROA, thanks to its role in powering cloud and data adoption.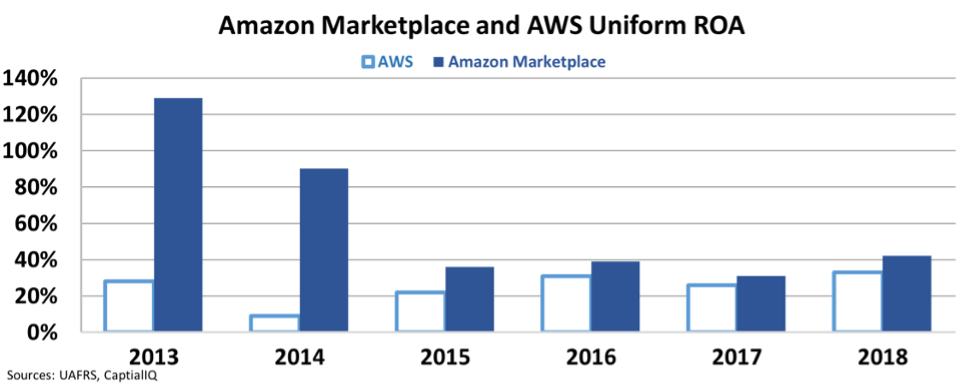 This analysis shows that Amazon has much more going on below the surface than a casual observer would guess. Its hidden businesses are the real drivers of its massive profitability and success over the past decade.
It's no wonder that as Walmart scrambles to catch up with its rival, it's looking to replicate some of these very same hidden businesses, which could be massive money makers and transform Walmart's returns.
Keep an eye out for more companies trying to follow in Amazon's footsteps...
Here at Altimetry, we don't just analyze companies, we also identify big investment themes, too... 
We use Uniform Accounting to remove the distortions in as-reported financial metrics and understand the full picture. From there, we can pinpoint great investment themes like the At-Home Revolution and more.
Altimetry's Hidden Alpha readers who followed our advice for the At-Home Revolution theme have seen an average return of more than 70% for our six open picks in that category.
To learn more about Hidden Alpha – and to find out how to gain instant access to the full portfolio of open stock recommendations – click here.
Regards,
Rob Spivey
September 15, 2021