How WFH Is Altering the Road Ahead for This NYC Icon
Wednesday, September 29, 2021
Why the 'return to office' conversation is so important...
The return to the office for white-collar workers remains a particularly pervasive debate.
This discussion is more than just a fun pseudo-intellectual one. It has a direct effect on most working professionals in the U.S.
For some, it affects where they choose to live, the investments they should make in their homes, and even pet care. For others, it entails changes in their workloads and general stress levels. For others, it changes their social life, with the absence of water-cooler conversations, Friday happy hours, and corporate holiday parties.
That's why we have been writing about this theme on a regular basis. 
While opinions on new ways of doing business run hot, it is clear that people are coming around to some structural and perpetual changes. The concept of the hybrid-remote work model might be one of the most permanent impacts of the pandemic.
All these changes have this American icon particularly worried...
While we've been reporting on the most insightful trends that can help you best navigate this complicated phenomenon, we also see value in highlighting specific examples.
U.S. cities are anchored by city-center office buildings. Let's look at one of the most recognizable office buildings in the country: The Empire State Building – "The World's Most Famous Building."
As a Sept. 15 New York Times article highlights, the Empire State Building has become particularly exposed to the nightmare that office buildings worldwide have been experiencing.
As office space renewals are approaching, some tenants are packing their things and moving elsewhere. More often than not, businesses are downsizing to smaller floor plans in less flashy locations, given that clients won't be impressed with beautiful views or stunning decor over video chat meetings.
This was the route taken by most Empire State Building tenants whose leases were up for renewal this year. But most leases are locked in for years, and tenants are obligated to pay their rents in full.
Some have opted to sublet their space to make up for their wasteful office spend, including a medical equipment company called Daxor (DXR) and an accounting firm called Funaro & Co., which occupies an entire floor of the building. 
But even subletters are moving out as their leases lapse. There is no way to get around the fact that physical office space is now less valuable than it once was. 
You may not know that there is a way to check how the Empire State Building is doing. A publicly traded real estate investment trust ("REIT"), Empire State Realty Trust (ESRT), manages the Empire State Building, along with 13 smaller properties located across New York and Connecticut.
The company's portfolio manages more than 10 million square feet of rentable retail and office space in Manhattan.
Let's look at where the market stands on the Empire State Realty Trust... 
Those who bet on ESRT pre-pandemic have been seeing red for most of the past several years. Take a look...

As new articles and data emerge every month demonstrating the numerous challenges that city-center offices face, you'd think investors would choose to stay away from these falling-knife businesses. 
But after hitting a low in late 2020, investors have poured funds into Empire State Realty Trust. Since November of 2020, the stock price has doubled.
And although the stock is still down by 30% compared with its pre-pandemic levels, it seems that investors have not fully caught up with the news about the pressure currently crushing office REITs.
But this isn't just speculation. Using Altimetry's Embedded Expectations analysis, we can see what a company's current valuations imply about investor expectations.
In the chart below, the dark blue bars represent the company's Uniform return on assets ("ROA") going back to 2018. The light blue bars represent the most likely ROA scenario for the next two years, using consensus analyst estimates for the metrics to calculate Uniform ROA.
The white bars represent the Uniform ROA that ESRT will need to achieve to justify today's stock price.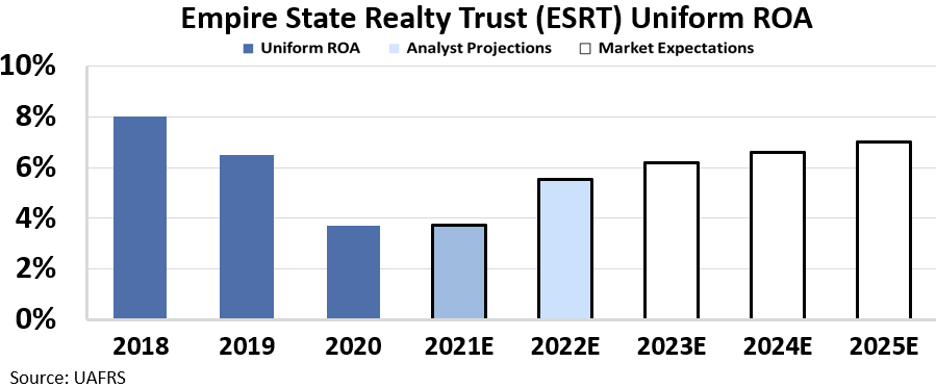 The market expects Empire State Realty Trust's Uniform ROA to make a full recovery back to pre-pandemic levels. 
Given the chatter that many of the pandemic work-from-home trends may be more permanent than expected, combined with generally lengthy lease cycles that have yet to bear the full brunt of companies moving out of office, these expectations for Empire State Realty might be too generous.
This is precisely the same type of analysis we use to grade companies on their valuations and select hidden gems that the market hasn't noticed...
At Altimetry, we use Uniform Accounting to understand financial distortions. Our method allows us to sort through the winners and the losers, and pinpoint stocks poised for big upside ahead...  
Through Uniform Accounting, our team makes more than 130 adjustments to a company's income statement, balance sheet, and cash flow statement – allowing us to determine the real earnings, assets, and liabilities.
Every month, in our Altimetry's Hidden Alpha service, we use this analysis to identify large-cap, safe stocks that have the opportunity for great gains... some of our recommendations are up as high as 106%, 120%, and 190%.
If you aren't already subscribed, you can learn more about Hidden Alpha – and how to gain instant access to the full portfolio of open stock recommendations – by clicking here.
Regards,
Joel Litman
September 29, 2021