Many Students Are Struggling Due to the 'At-Home Revolution'... But One Telecom Company Is Fixing That
Thursday, November 5, 2020
The 'At-Home Revolution' has separated the winners and losers in the business world...
Unfortunately, this massive shift to spending more time at home has also created winners and losers throughout society.
We've seen this in a big way with schooling. After parents, teachers, and the government argued all summer about whether to open schools, many districts and states have opened in at least a "hybrid" capacity – splitting time between the classroom and the home.
Some students are struggling more than others with the varied structures. While some have the option to go to school, they may not be able to for health reasons. Others are going every day. The rest are splitting time between home and the classroom.
This can cause varying degrees of education effectiveness. Additionally, many students from low-income households rely on free or subsidized school breakfasts and lunches. For these students, this food may be their only guaranteed meals.
Fortunately, many districts are still providing free lunches to students in need even if classes have moved online. Nonprofits and businesses are also trying to ensure that no student goes hungry. 
However, access to food isn't the only concern... As the New York Times recently highlighted, students need the correct equipment to attend school from home.
Not all families had enough laptops when the coronavirus pandemic began and classes moved online. In response, school systems needed to buy thousands of laptops for students.
For example, back in March, the Los Angeles Unified School District ("LAUSD") spent $100 million on computers. While the LAUSD had no delays in shipments, other districts weren't so lucky...
Demand for computers outpaced supply when the pandemic began. On top of that, global supply chains were in disarray, making the gulf between supply and demand even bigger.
Other districts, like Paterson Public Schools in New Jersey, had large delays in shipments. In May, the district ordered 14,000 Chromebooks... but they were delivered months later. 
Schools with more money have been able to fast-track supplies to students. Meanwhile, schools with less have struggled to aid students, even though those students tend to need more help.
Students need access to Wi-Fi in addition to computers. Many kids, especially those in rural areas, don't have reliable Internet access to participate in classes from home.
If they can't get access, they'll be left behind until companies and the government can get coverage extended. 
One firm trying to supply Internet access to more people is Ciena (CIEN)... 
The company makes the equipment that Internet providers need to service customers. Ciena also helps telecom firms design and optimize their networks. The company's clients include major providers such as AT&T (T) and Verizon (VZ).
Without Ciena, it would be hard for companies to expand service to places where students have trouble connecting to the Internet. Ciena is committed to ensuring people have the reliable access they need during the pandemic. 
And in addition to helping companies expand their current offerings, Ciena is at the forefront of the 5G revolution. This "fifth-generation" network technology is faster than 4G and could revolutionize Internet speeds. It could also make it easier for rural areas to get better Internet access. 
Right now, telecom firms are racing against each other to provide nationwide 5G. However, the infrastructure is expensive... and requires more sophisticated equipment than what's currently in use for 4G.
Ciena stands to gain from increased spending from telecom companies on building out more networks. As these firms race against each other to create the most robust 5G system, they'll spare no costs.
For Ciena, it doesn't matter who the ultimate winner will be... The infrastructure investment will continue to flow through the company. 
With a product so essential to helping people adapt during the pandemic – alongside positive tailwinds from the 5G rollout – investors would likely assume that Ciena is highly profitable. However, based on as-reported metrics, the company's profitability looks weak... 
Over the past three years, Ciena's as-reported return on assets ("ROA") has only improved from 4% to 6%. This is below corporate averages... and the company's cost of capital.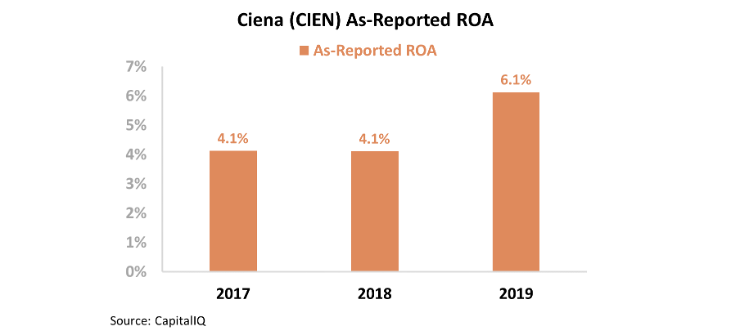 However, GAAP metrics have Ciena's performance all wrong. Stock option and interest expenses – among other distortions – are negatively affecting the company's profitability. 
Uniform Accounting shows that Ciena's ROA has been well above cost-of-capital levels – ranging between 10% and 11% over the past three years. These profitability levels show how essential the firm is to its customers and the greater telecom industry.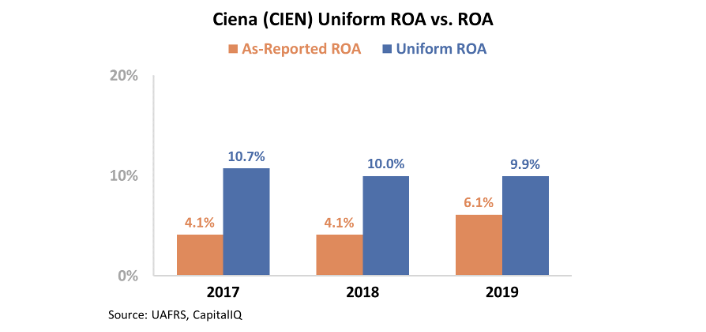 And yet, without making Uniform Accounting adjustments, investors wouldn't see the real story.
Ciena's vital position in the market provides the company with a consistent customer base. Additionally, greater investments in 5G should provide positive results going forward. 
Wall Street is missing the boat... but by knowing the real numbers, savvy investors can take advantage of knowing Ciena's strong profitability.
Regards,
Joel Litman
November 5, 2020
P.S. What other ways have you see the At-Home Revolution leave different groups behind in unexpected ways? Let us know at [email protected], and we might take a deeper dive on companies that could help fix the issue.