More Train Derailments Could Be Coming... Here's Why
Railroad operator Norfolk Southern (NSC) is under fire...
The company is facing intense scrutiny after three of its trains derailed in a little more than a month. Chemicals from the first derailment are leaking into the surrounding area, harming local residents and the environment.
Authorities are still cleaning up... and looking for places to point fingers. They launched investigations into what went wrong at Norfolk Southern. However, they might need to start with a broader conversation about an industry-wide practice.
The groundwork for these derailments was laid all the way back in 1993. It began with a man named Hunter Harrison, one of the most influential figures in the railroad industry.
Harrison, who started as a carman and an oiler, worked his way up to CEO at Illinois Central Railroad. That's where he first introduced the concept of precision scheduled railroading ("PSR").
While Harrison died five years ago, his legacy lives on through PSR... and as I'll explain, this concept is causing problems for the railroad industry today.
The switch to PSR was monumental for train operators...
Freight trains used to work based on fixed capacity. That meant waiting until enough cars were attached before the train could get underway. Under PSR, they worked on a fixed schedule. They left as soon as they were supposed to, regardless of how many cars they could hold.
This was great for cutting costs. The model works with fewer employees... It allows for more trips in a given day... And it means fewer delays, since trains don't have to wait around for more cars.
After PSR helped improve efficiency at Illinois Central, everyone wanted a piece of Hunter Harrison. He worked for the St. Louis-San Francisco Railway, Burlington Northern Railroad, Canadian National Railway (CNI), Canadian Pacific Railway (CP), and CSX Corporation (CSX).
The whole industry got a lot more efficient under Harrison's watch. Industry operating ratios, which measure how much revenue gets eaten up by costs, dropped. Before all major rail companies adopted PSR, ratios were about 71%. By 2021, they had fallen to 60%.
Railroad operators lauded PSR as a transformative strategy... and it was. However, it also comes with significant drawbacks when not properly managed.
The downside of PSR is that it focuses too much on speed... and not enough on areas like safety.
While industry officials are still working through all the data, one thing is clear. Part of the way the rail companies have boosted profits is by cutting jobs. Since 2016, the number of rail workers has fallen by about 25%.
Meanwhile, these companies have gotten more profitable. Take a look at the following chart. It shows the Uniform return on assets ("ROA") for three top railroad operators – CSX, Norfolk Southern, and Union Pacific.
As you can see, Uniform ROA originally sat around 6% cost-of-capital levels at best. After adopting PSR around 2017, returns for all three operators spiked.
Take a look...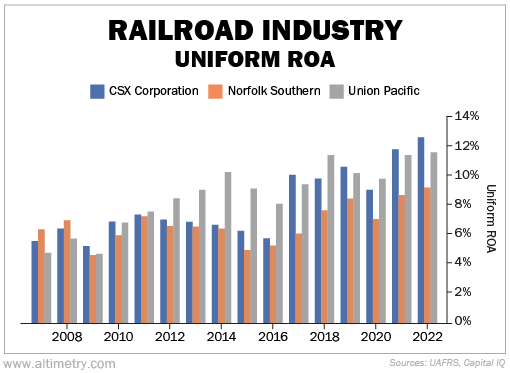 The transformation has been great for investors. Stock prices have followed Uniform ROA higher (although even that was tempered in recent months thanks to the derailments).
Check it out...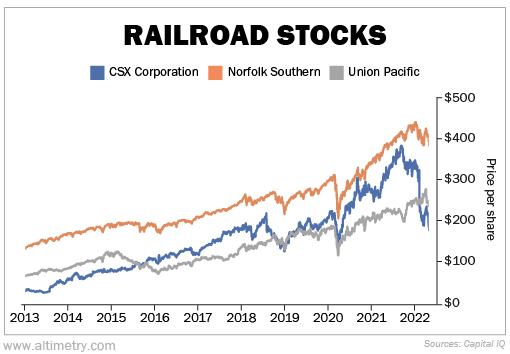 Until recently, railroad stocks were soaring. And as we mentioned, the number of rail workers is down 25%. Those who remain are concerned that it's hard to maintain the same levels of safety controls with fewer employees. This could lead to more derailments.
Sound familiar?
Norfolk Southern's recent derailments could force regulators to act...
While PSR has been around for a while, it's still in development. The big rail operators are shrinking their headcounts to improve profits... and Norfolk Southern may have found the limit.
Rail safety workers warn that PSR comes with safety risks associated with crew fatigue. Investigators would be wise to look at the practice under a microscope.
If rail operators are forced to dial back PSR strategies, returns will likely falter. And if Uniform ROA gains reverse, share prices should follow.
We'd keep away from rail operators while regulators are figuring things out.
Regards,
Joel Litman
March 21, 2023