Spotify Wants to Break the 100-Year Music Industry Cycle
The music industry is a cutthroat arms race... 
From vinyl and 8-tracks to CDs and Napster, the 20th century saw huge disruptions in music distribution... and the 21st century is showing no signs of slowing down. Each time a music format takes the world by storm, it's quickly thrown aside for the next in the rush to make music as accessible as possible. 
The Internet completely changed the game of music distribution, and the race for physical music storage became a battle of platforms, although it became no less cutthroat. 
The first commercially successful Internet music platform was Apple's (AAPL) iTunes, which allowed users to pay $0.99 to download individual tracks. 
Alongside iTunes, Pandora Media was an early-Internet music player that allowed listeners to stream music through custom radio stations based on specific artists or songs they enjoyed. 
However, a music company that stagnates risks falling behind, just like all the music technology that came before it. 
Pandora and iTunes fell out of favor because listeners wanted a way to listen to specific songs and albums without having to pay full price for them. 
Exploiting the slow change of Pandora and iTunes, Spotify (SPOT) quickly gained listeners' favor with its on-demand streaming alongside algorithms that created playlists that resonated well with listeners. 
Now that Spotify is on top, it needs to defend its crown... 
As Spotify's leadership is all too aware, it isn't easy to remain ahead of competition in the music industry. Alternative streaming services quickly emerged from tech behemoths like Apple's new Apple Music, Amazon's (AMZN) Prime Music, and even industry titans like Jay-Z's Tidal. 
To combat this increased competition, Spotify leadership realized it had to make an aggressive pivot to keep listeners coming back. 
For Spotify, the logical transition was podcasts, since repeat, new content brings listeners onto the platform. 
Spotify's head of studio and video, Courtney Holt, was the platform's architect behind the aggressive move to podcasts. Holt kicked off this transformation by signing controversial podcaster Joe Rogan to the platform with a $200 million exclusive contract in 2020. 
But it wasn't just the Joe Rogan deal that he oversaw. Holt was also behind big achievements like the Prince Harry and Meghan, the Duchess of Sussex podcast and former President Barack Obama and Bruce Springsteen podcast acquisitions that allowed Spotify to build out the podcast network with hopes of transforming the business. 
Holt was in tune with who customers wanted to hear from. By securing podcast deals with Prince Harry and Meghan Markle amid their royal troubles, along with former President Barack Obama as political tensions boiled over in the White House, Spotify was able to quickly ramp up its content mix. 
How profitable has this rapid pivot been?
This aggressive push into alternative streaming products was all in the service of finding a way to diversify from being just another music streaming platform with competitors like Apple Music, Amazon Prime Music, and others. 
However, as with most other major strategy pivots, the stakes are much higher... 
In April, amid controversy around this pivot plan, Courtney Holt announced he would be leaving the company. Many investors saw this as a sign that Spotify's transition plan was struggling and that this attempt to break the music industry's cycle had failed. 
On an as-reported basis, the company has seen no return from this strategy, with as-reported ROA stuck around zero for the past four years...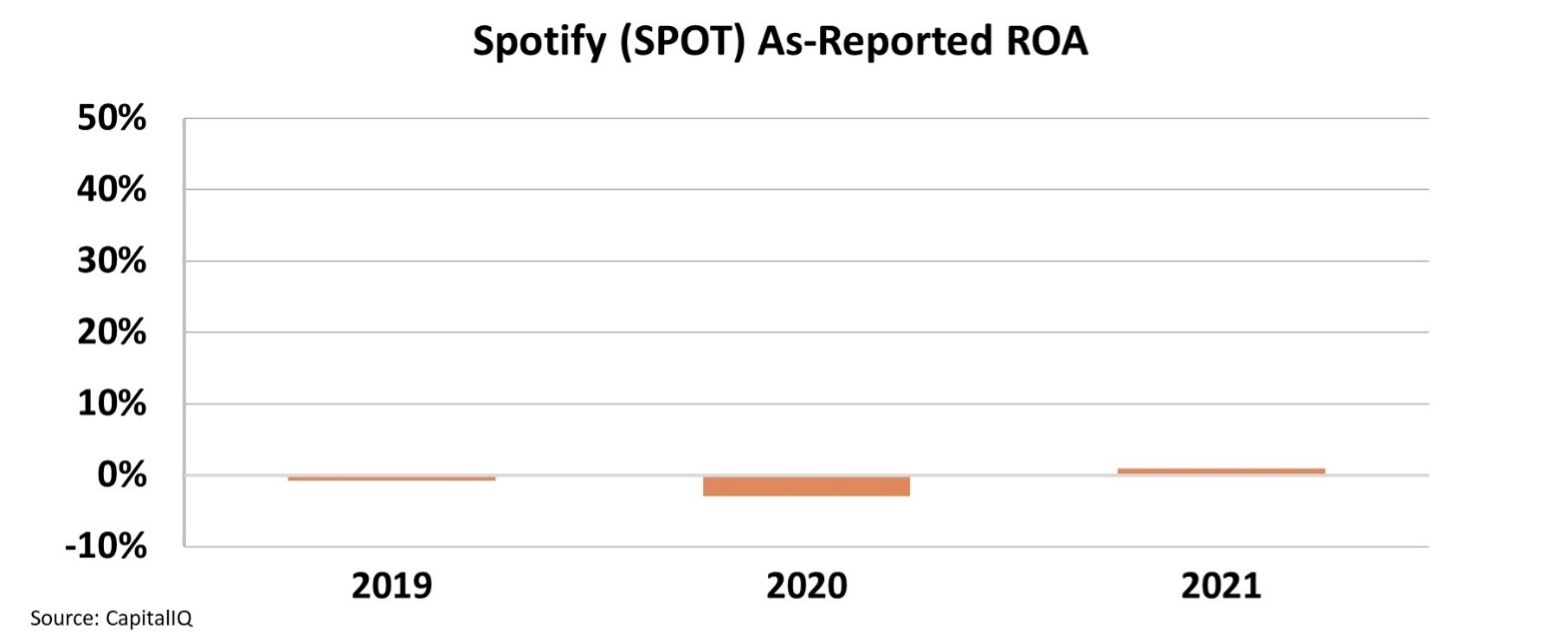 However, a look at the company's real profitability using Uniform Accounting shows the narrative beginning to shift. 
Before the pivot to podcasts in 2020, Spotify's staggeringly high returns were under serious pressure from competitors, sending profitability to near zero in 2020. However, the company saw returns inflect back positively to 50% in 2021 after the implementation of the podcast strategy. 
In 2021, Uniform ROA jumped back up to 40%, signaling that analysts were perhaps too quick to discredit Holt's strategy.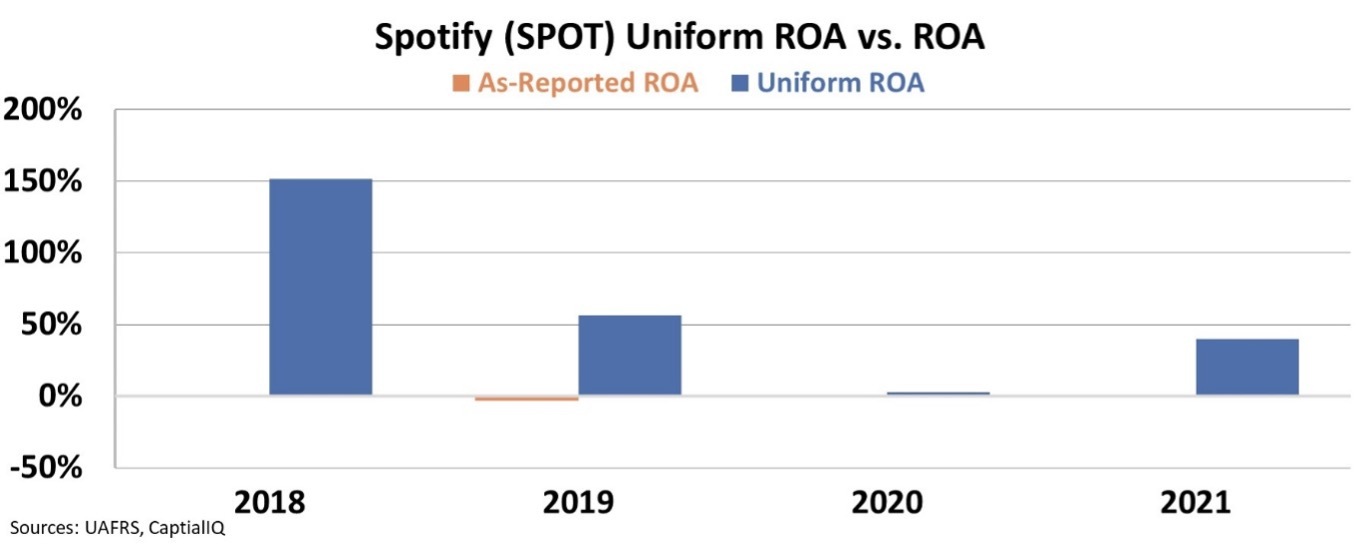 As the streaming race continues to pick up and companies claw away at claiming market share from each other, the difference will lie in what additional services they can offer. 
Spotify looks to have made the decision early to stay relevant. Unlike much of what Joe Rogan says on his podcast, it isn't controversial at all to say that Spotify is in a much better place because of its early investments in podcasts. 
However, that is a reality we wouldn't have caught without Uniform Accounting. 
P.S. We're seeing a similar type of innovation unfolding in a different corner of the market... one where BlackRock (BLK) CEO Larry Fink will be responsible for creating the next 1,000 unicorns. We just put together a presentation detailing this multibillion-dollar opportunity, including our favorite way to play it. This presentation is absolutely free, with no credit card or e-mail address required. Watch it here. 
Regards, 
Joel Litman
May 11, 2022