Taking a Closer Look at a Struggling American Auto Icon
Countries take great pride in their car makers...
Across the globe, the automotive industry is deeply ingrained in national identities.
In the mid-20th century the U.S. auto industry was dominant. At the height in the '50s, one-sixth of American workers worked for an automotive-related company. But soon, Japanese manufacturing began to compete...
From 1978 to 1979, U.S. vehicle imports increased by nearly 20% as a result of a rising dollar and the oil crisis. This forced the "Big Three" U.S. automakers – General Motors (GM), Ford Motor (F), and Chrysler – to lay off workers. The situation almost forced Chrysler into bankruptcy.
Most of these imported cars were coming from Japan. This led to nearly two decades of economic tension between Japan and the U.S.
Over in Europe, Germany also identifies strongly with its cars and automotive industry. The country places a huge amount of pride in its engineering, and folks across the globe refer to the merits of "German engineering."
This national pride in engineering is evident in the country's automotive industry, where German cars are considered some of the best in the world.
The long list of German automotive brands includes Mercedes-Benz, BMW, Audi, and Volkswagen. All these brands have a reputation for quality and are market leaders within their respective segments.
Given this clear national automotive pride, perhaps a German CEO will be able to revive a declining U.S. automotive brand...
Over the past decade, Harley-Davidson (HOG) has been struggling.
Consumer trends, especially in the U.S., have shifted... and the motorcycle maker's performance has struggled as a result.
For years, Harley-Davidson was supported by the Baby Boomer population. Boomers helped the brand thrive in the 1980s and into the millennium, but this core customer group is only getting older... and Harley-Davidson hasn't been able to catch the attention of subsequent generations in the same way.
The company has also been forced to navigate tariff headwinds in recent years.
Harley-Davidson CEO Jochen Zeitz, who took the helm in March 2020, will have to channel some German automotive pride to see if he can turn around this struggling U.S. icon.
Since becoming CEO, Zeitz has refocused the company's efforts onto its core markets, including its two largest markets: the U.S. and Germany. Rather than continuing to expand into overseas markets, Zeitz is addressing the falling demand within its core markets.
But let's dig deeper into Harley-Davidson's fundamentals...
To find out the real story, we can turn to Uniform Accounting. By removing the distortions in as-reported financial metrics, we can see a company's real financials. Then, to take it a step further, our Altimeter tool breaks down the numbers into easily digestible grades based on Uniform Accounting.
After we clean up the numbers, we can see that over the past few years, Harley-Davidson has indeed struggled. Corporate average Uniform returns on assets ("ROAs") stand at 12%, and Harley-Davidson's profitability collapsed from 9% in 2019 to 2% last year. This merits a "D" grade for Earning Power.
However, the company is expected to roar back from this record low profitability level all the way to a 9% Uniform ROA this year. This strong growth earns Harley-Davidson an "A" for Earning Power Trend.
Putting it all together, given the weak profitability in 2020 but the strong expected recovery through 2021 and beyond, Harley-Davidson earns an overall "B" for Performance.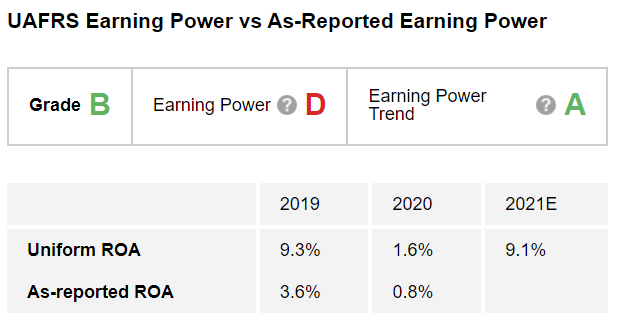 Thanks to The Altimeter, we can brush aside the misleading as-reported returns and see the real profitability of the business... but there's more to the story.
These historical returns can put Harley-Davidson in context, but they can't tell investors whether the stock is a buy.
To understand if Harley-Davidson could be an investing opportunity, we also need to look at what the company is priced to do.
Altimeter subscribers can click here to see how Harley-Davidson is valued based on Uniform Accounting... and if the market is clued in on the strength of the expected recovery. If the market is already pricing in the rebound in profitability, HOG shares could plummet if the company fails to live up to expectations.
If you aren't an Altimeter subscriber, don't miss out on the full Uniform data for Harley-Davidson... or the more than 4,000 other companies in the database. Click here to find out how to gain instant access.
Regards,
Rob Spivey
July 15, 2021