The End of Cookies May Also Mean the End of This Advertising Company
The way the Internet tracks your data is changing…
In 2018, the U.K. enacted the Data Protection Act, which updated several data protection laws in its countries.
The act complements the EU's sweeping data privacy law, which was also passed in 2018 and is known as the General Data Protection Regulation ("GDPR").
The GDPR was established with hopes that it would help give people more clarity and control over how their data was being used on the Internet.
One of the ways people most noticed this was by beginning to see questions on websites along the lines of: "Do you accept us tracking your experience on this site using cookies?"
In fact, websites are now required to disclose if they use cookies. Additionally, they must get permission from visitors to activate cookies to track activity.
And tracking activity is exactly what cookies do. The data help companies and websites tailor ads to their user base by following folks' movement on the Internet.
Put simply, cookies help companies make more money.
However, the days of those bothersome opt-in messages may be heading the way of the now-defunct Netscape…
Tech giants Apple (AAPL) and Alphabet's (GOOGL) Google are both making strides to kill the features of cookies.
Apple wants to improve its privacy credentials. On the other hand, Google's Chrome browser will target people in a whole new way. Chrome will handle tracking based on user bucketing rather than on individual user journeys…
For example, if you visit the Wall Street Journal on a Chrome browser, you'll be bucketed with people who are interested in finance and investing… And you'll get ads accordingly. They won't be exactly tailored on your specific website visits, but rather based on what user types you fit into.
Google isn't doing this for as noble of a reason as Apple. It gives Google more power over who has insights on where people go, since a company will need to get ad placements from Google and its data. Companies won't be able to track users on their own. 
For both Apple and Google, these actions could potentially send shockwaves through the ad industry.
As always, when giants such as Apple and Google totally change the competitive landscape, winners and losers will emerge…
One company that could be a big loser from the big change is Criteo (CRTO).
The company works in ad redirecting and online targeting using algorithms based on certain types of data, like cookies, to correctly place ads to its targeted users.
On an as-reported basis, Criteo looks like it has always been a bad business. Even when it had access to all the cookies, it couldn't make money.
Criteo has generated weak return-on-asset ("ROA") levels for several years. Since 2016, the company's as-reported ROA has ranged from 5% to 8% – well below the U.S. corporate average of around 12%. Take a look…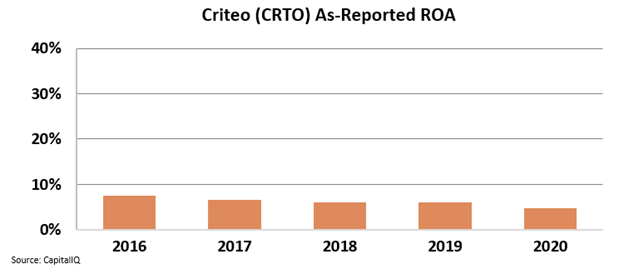 But this isn't an accurate picture of Criteo's profitability…
When we clean up the financial statements using Uniform Accounting, we can see that the company hasn't always been a poor performer. Specifically, Criteo was able to generate robust returns from 2016 to 2018 – ranging from 19% to 29%.
That said, with regulatory change from the GDPR and increased competition from big players like The Trade Desk (TTD), Criteo's returns have been significantly pressured.
The company's Uniform ROA levels faded from what used to be impressive levels from 2016 to 2018 to a weak 5% in 2020.

This recent decline in Uniform ROA shows the risk to Criteo's business with the changing environment. If Apple and Google make it even harder for Criteo to earn money, it might turn Criteo from a company in decline to one on the verge of collapse.
Using as-reported metrics, we wouldn't recognize how badly the competitive environment changes have hurt Criteo and therefore how at risk it is to the new changes regarding cookies and data. But thanks to Uniform Accounting, it's even clearer that investors should beware this stock.
Regards,
Rob Spivey
June 2, 2021