The Ride-Hailing Industry Finally Picked a Winner
Tuesday, September 19, 2023
Uber Technologies (UBER) and Lyft (LYFT) have been locked in an intense rivalry for years...
The ride-hailing apps were quick to disrupt the old-school taxi industry. Even so, neither was able to establish dominance over the other.
For years, they focused on making their rides as cheap as possible to lure in loyal customers. Uber grew from 19 million users in 2016 to about 100 million users in 2019. Lyft grew from roughly 4 million riders to more than 20 million in the same time frame.
And while both companies grew, they slowly started raising prices.
Back in 2015, the average Uber ride cost about $13 per trip... which was supposedly about 41% of the trip's "real" cost. By 2018, the average cost doubled to $26.
And since the pandemic, things have gotten much worse. Uber prices rose another 92% through 2021.
The company now controls three-quarters of the ride-hailing market. Last year, Uber generated $32 billion in revenue. Lyft generated a measly $4 billion.
And to top it all off, Uber is officially the first of the two companies to turn a profit. In the second quarter, it reported net income of $394 million – its first profit in company history.
Rising prices don't seem to be hurting Uber's business... And investors are watching the stock closely. Today, we'll take a look at whether or not Uber is finally worth your money.
Wall Street believes Uber's victory is more than symbolic...
Uber's revenue is almost 10 times higher than Lyft's. Its stock is up more than 90% this year, while Lyft shares are flat.
Analysts are betting on continued dominance for Uber. They expect its Uniform return on assets ("ROA") to reach 11% this year and 23% the following year – climbing above the 12% corporate average for the first time.
That's pretty bullish, given Uber's history of losing money every single year.
Take a look...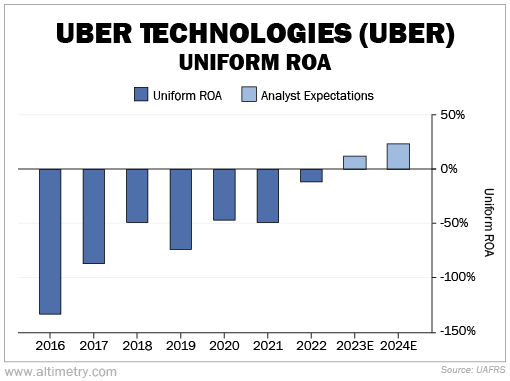 So Wall Street is painting a promising trajectory for Uber. The only problem is, the market already anticipates this momentum... and then some.
We can see this through our Embedded Expectations Analysis ("EEA") framework.
The EEA starts by looking at a company's current stock price. From there, we can calculate what the market expects from future cash flows. We then compare that with our own cash-flow projections.
In short, it tells us how well a company has to perform in the future to be worth what the market is paying for it today.
At the current stock price, investors expect Uber's Uniform ROA to rise to 25% by 2027, assuming demand continues.
Take a look...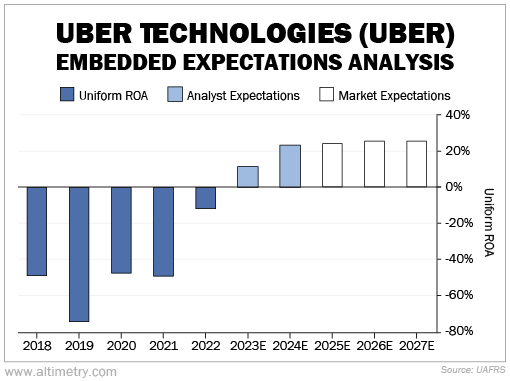 The market already believes Uber is going to become a good business... which means there's not much room to take advantage here.
Aside from that, the market's expectations are unreasonable...
Uber is finally on track to reach a positive Uniform ROA. That doesn't mean there's any reason to think a ride-hailing company will ever reach 25% returns.
Taiwan Taxi (2640.TWO) and A2B Australia (A2B.AX) are two of the best and biggest public taxi companies. They're expected to return 11% and 20% this year, respectively.
It can be a little tough to draw comparisons, since there aren't many publicly traded passenger-transportation businesses. All the same, for Uber to reach a 25% Uniform ROA, it will need to be the most profitable company in the industry by a long shot.
That's a steep hill to climb for a business that took 12 years to turn a profit.
Regards,
Joel Litman
September 19, 2023