The Secret Billion-Dollar Industry Hidden in Airports
One of the world's most popular T-shirt designs started with a crayon drawing...
As soon as you land in the LaGuardia or JFK airports, you're sure to see it. Despite how corny the saying is, you probably know someone who owns an "I Heart NY" shirt. You might even own one yourself.
It's not a particularly complex design. Yet every year, $30 million worth of these shirts are sold to tourists around the globe. (And that's just the official sales... not counting bootleggers.)
Incredibly, this iconic design was created in the back of a taxi one afternoon in New York.
Designer Milton Glaser was hired by an ad agency in 1976 to create a logo for the city. Glaser drew the original sketch with nothing but a crayon and piece of scrap paper on the way to his first meeting. He never expected to create such a popular design.
He did the work pro bono and thought the marketing campaign would last only a few months. But almost 50 years later, you can still find "I Heart NY" shirts wherever you go.
And one of the most common places to find these shirts is in airports. Today's terminals are filled with dozens of shops for travelers to stop in while waiting for their flights.
Souvenirs, restaurants, and electronic goods all make up the almost $40 billion airport-retail industry.
One of the largest players in this group is travel retailer Dufry (DUFN.SW). The Swiss company sells more than 1,000 brands across the globe.
While it primarily focuses on the retail space, Dufry is now trying to increase its market share through restaurants. Its first move was the acquisition of Italian company Autogrill (AGL.MI), which it announced on July 11.
The purchase makes Dufry the largest airport-retail player...
Whenever a company makes a large acquisition, it's important to determine what it stands to gain.
Based on as-reported metrics, Autogrill seems to be a similar company to Dufry... but better. Investors likely assume that Dufry wants to improve its returns with this deal.
Both companies have reported returns far below the corporate average of 12%. But Autogrill's return on assets ("ROA") has been higher than Dufry's for eight years running. Take a look...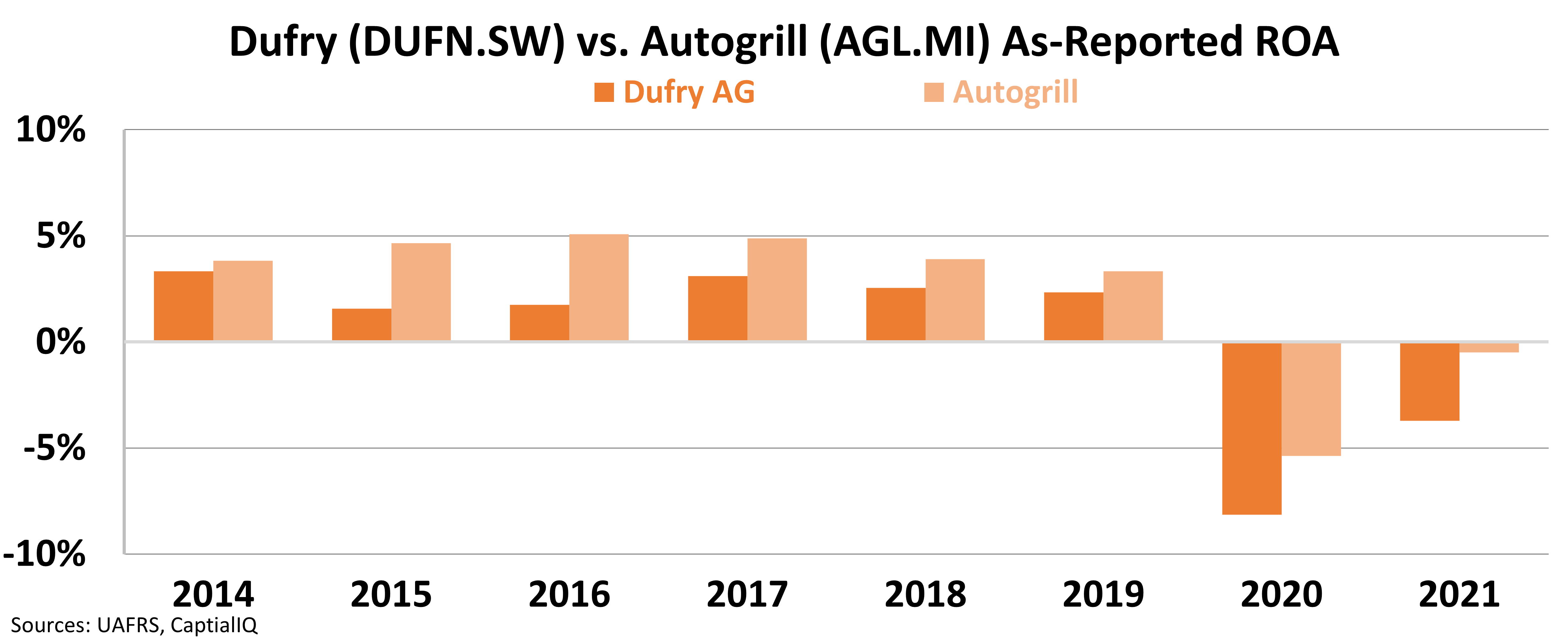 At first glance, it looks like Dufry is hoping to learn something from Autogrill. It could leverage Autogrill's assets to improve the larger business.
But we know better than to jump to conclusions...
As-reported generally accepted accounting principles ("GAAP") metrics are full of inconsistencies. Uniform Accounting tells us Dufry likely purchased Autogrill for an entirely different reason.
When we use Uniform Accounting to clean up these companies' financials, we can make a more accurate comparison.
Uniform Accounting shows us that Dufry is actually the more efficient operator. Its Uniform ROA was consistently higher than Autogrill's until the pandemic. And it's much closer to the corporate average. Check it out...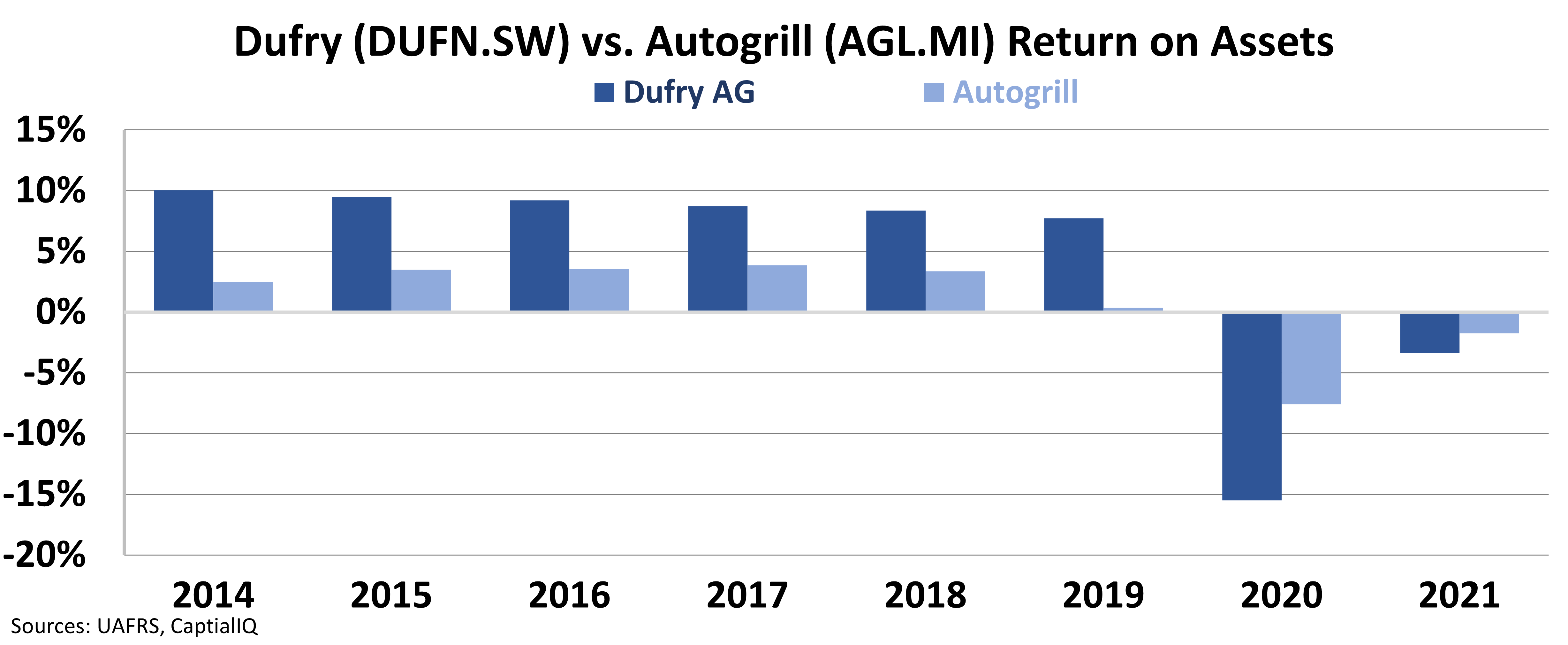 Uniform Accounting gives us a clear picture. Dufry believes that it will be able to take Autogrill's diverse portfolio and improve the business.
If Dufry can combine its resources with Autogrill's and improve its ROA further, the market might start to take notice. And if the company's new purchase can unlock value, stockholders will be set to benefit.
Regards,
Rob Spivey
August 2, 2022