The Threat of Automation Has Turned Into a Tailwind for One Staffing Company
The recent downturn has many folks fearing a dystopian future…
In most recessions, automation tends to accelerate as companies look to slash costs. When conditions are favorable, there's less incentive to change… But when every dollar counts, management teams are forced to take drastic action.
The pandemic-related downturn stood out even more from other recessions because the value in automation wasn't just in long-term cost savings… It was also in response to safety concerns. For some manufacturers, restarting an assembly line meant staffing it with robots instead of humans.
With more robots than ever manning factories and distribution centers, many folks are once again concerned about what it means for employment. As The Economist recently highlighted, even small businesses such as Canada's RC Coffee are trying to automate. The coffee shop has introduced robot baristas to prepare and serve coffee.
But the image of robots quickly taking over the labor market may not be as scary – or approaching as quickly – as it appears…
Rockwell Automation (ROK), one of the largest pure-play automation technology companies, actually saw revenue fall in 2020. Meanwhile, U.S. industrial robot imports fell by 3%. This doesn't sound like a company ramping up investment into a huge wave of automation.
Furthermore, even where automation appears to be accelerating, it's a slow process that eventually adds jobs and value to the economy.
Two centuries ago in England, textile workers called Luddites feared they would be put out of jobs by machines like the spinning jenny and other labor-saving devices. However, while the automation was a disruptive process, industrialization benefitted the English – and the world – in the long run. More factory and commercial jobs were added in 19th-century England than were lost.
As automation reduces costs, average folks' purchasing power goes up since they won't need to spend as much money on items like one shirt made by a textile worker. They can then buy services such as vacations and massages, which means the world needs travel agents and massage therapists. The wealth generated by industrialization begets more wealth and jobs.
Today, one company focused on the power of people is happy with this historical reality…
The overstatement of the short-term effect of automation was why shares of ManpowerGroup (MAN) dropped from nearly $100 to around $50 as the pandemic accelerated last year. ManpowerGroup is the third-largest staffing firm in the U.S., and investors thought businesses would be relying less than ever on the company's services.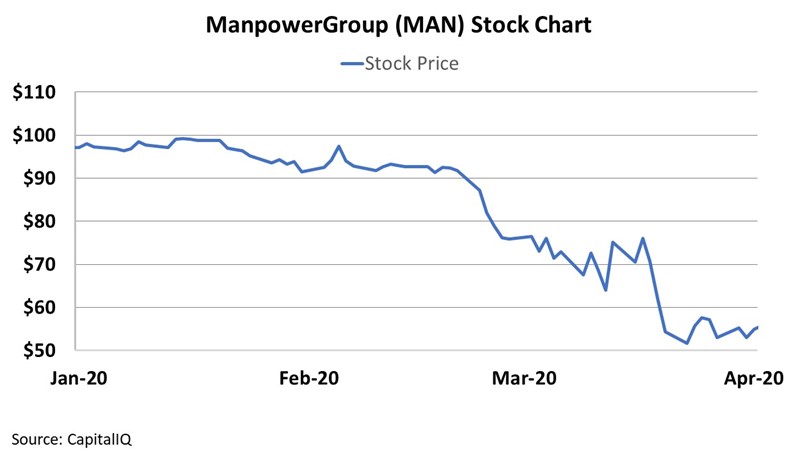 However, as the economy recovered, companies quickly rebounded… and were looking for help filling customer needs in a socially distanced environment.
In the wake of this demand, MAN shares came roaring back to new highs. Investors are realizing what the Luddites learned 200 years ago… Staffing and the need for employees are here to stay.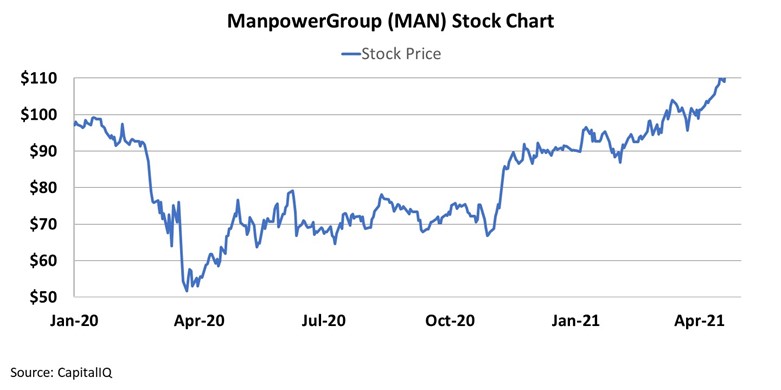 With our Altimeter tool, we can cut through the financial 'noise' for a deeper look at ManpowerGroup's fundamentals…
Using the power of Uniform Accounting – which removes the distortions in as-reported financial metrics – The Altimeter shows users easily digestible grades to rank stocks based on their real financials.
After we clean up the numbers, we can see that ManpowerGroup's profitability struggled in 2020 while hiring slowed down in the summer. The company's Uniform return on assets ("ROA") stood at only 4%. That's slightly greater than the as-reported figure, but it was a big drop from the 13% Uniform ROA in 2019. As a result, Manpower gets a "C" grade for Earning Power in The Altimeter.
However, with the tailwinds from the end of 2020 carrying into 2021, analysts are forecasting the company's ROA to jump back up to 11%.
Thanks to this quick turnaround, ManpowerGroup gets an "A" rating for Earning Power Trend. Putting it all together, The Altimeter gives the company an overall "B" for Performance.
Looking at performance can put ManpowerGroup in context for profitability… But it can't tell investors whether the stock is a buy.
For this, we need to turn to valuations. And once again, The Altimeter cuts through the accounting "noise" to show the real story of whether ManpowerGroup is cheap or expensive.
Altimeter subscribers can click here to see how ManpowerGroup is valued based on Uniform Accounting… and if the market has bought into this trend already.
If you aren't an Altimeter subscriber yet, click here to find out how to gain access to the rest of the Uniform data for ManpowerGroup, Rockwell Automation, and other winners and losers in the battle over automation. With more than 4,000 other publicly traded companies in the database, The Altimeter provides the vital context investors need before buying a stock.
Regards,
Rob Spivey
May 6, 2021