The World Reopening Won't Be Enough for This Casino Operator to Recover
Over the past few weeks, I took advantage of teaching in Boston...
I was in town in Cambridge, Massachusetts, teaching two classes at Hult University. It's a well-regarded international business school with campuses across the globe. 
We just wrapped our second class on the Sunday of Memorial Day weekend.
So, after I caught up on some work my wife Arriane and I took advantage of the city and Massachusetts as a whole opening back up.
For those who didn't know, as of May 29, Massachusetts removed just about all of its restrictions thanks to low coronavirus case counts and high vaccination rates.
That included fully opening the TD Garden arena for the Bruins and Celtics playoff games, as well as Fenway Park opening to capacity for the weekend Red Sox series against the Miami Marlins.
While I was in town, I used the reopening as an excuse to check out Wynn Resorts' (WYNN) Encore resort and casino in Boston Harbor.
Although it has a smaller footprint than its cousins in Macao and Las Vegas, the casino still has the same opulence, décor, high-end restaurants, and touch of the Wynn family. 
Here's a picture of Arriane and me at Encore Boston Harbor...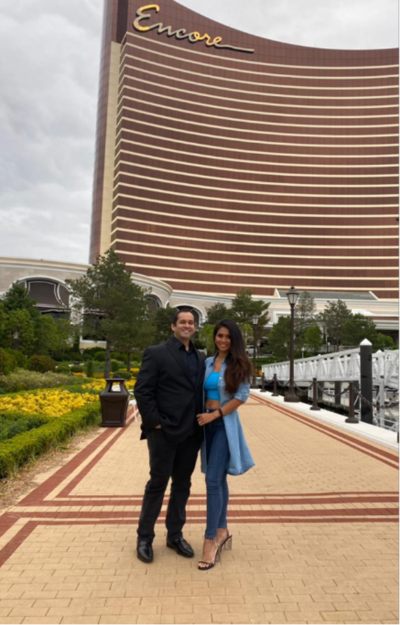 Things were slower than normal, but just the fact that Encore Boston Harbor was fully open says a lot about where the U.S. and world are headed.
It was nice to get a sense of normalcy returning on Memorial Day.
As regular Altimetry Daily Authority readers know, we've been calling for many companies that got beaten up during the pandemic to recover strongly as things start to reopen...
Businesses in industries that were punished but nevertheless survived will have the opportunity to not just recover, but to take share from weaker performers and come out stronger after the pandemic. 
We've been pounding the table on this "Survive and Thrive" theme since September 2020.
And now that the reopening is gaining steam, it's understandable that investors who have been watching certain industries may rush to make investments.
For example, the gambling industry was hit especially hard during the pandemic. With social distancing requirements in place, casinos that never used to shut off the lights were closed down... or were barely allowed to let anyone in.
But now, with the world opening back up, investors have been rushing into stocks like Wynn, which is up around 20% over the past six months. 
Folks are expecting these casino companies will take off as people get back to normalcy.
However, the recovery alone isn't enough to make a company a compelling Survive-and-Thrive name... 
Here at Altimetry, one of the biggest issues we've focused on when analyzing potential candidates for the theme is to find companies that the market isn't yet pricing the recovery for yet. 
When it comes to stock valuations, most investors use a discounted cash flow ("DCF") model. It takes assumptions about the future and produces the "intrinsic value" of the stock.
However, here at Altimetry, we know models with garbage-in assumptions will naturally come out as garbage. Instead, with our Embedded Expectations analysis and Uniform Accounting, we turn the DCF model on its head. We use the current stock price to determine what returns the market expects. 
Let's take a closer look at Wynn through this lens... 
In the chart below, the dark blue bars represent Wynn's historical corporate performance levels in terms of Uniform return on assets ("ROA"). The light blue bars are Wall Street analysts' expectations for the next two years. Finally, the white bars are the market's expectations for how the company's ROA will shift over the next five years.
Since 2016, Wynn has generated middling Uniform ROA levels around 7%. Even before the pandemic caused the company's returns to plummet to negative 10% last year, Wynn wasn't a highly profitable business.
And yet, with the market excited about a return to normalcy, investors are pricing returns to surge to 11%. Based on pre-pandemic performance, this doesn't look reasonable.
Nothing has changed about Wynn's operations since before the pandemic. It still operates the same lavishly appointed casinos... And it hasn't moved aggressively into online sports betting, iCasino gambling, or any other potential strategy to transform the business.
Wall Street analysts appear to recognize that the world's reopening won't mean Wynn starts printing money in a way it hasn't for more than half a decade. Analysts expect Wynn's Uniform ROA to only recover to negative 1% levels by 2022. 
Take a look at the breakdown...

While I'm happy to be able to swing by Encore Boston Harbor now that the world is reopening, that doesn't mean I think everyone should run out to buy Wynn's stock. The market is already pricing in a lot of good news, which may be difficult to surpass.
While Wynn doesn't look compelling, we just found a prime Survive-and-Thrive candidate with another gambling company... 
We're announcing our recommendation on Monday in the upcoming issue of Altimetry's Hidden Alpha. This company isn't priced for the opportunities it has coming out of the pandemic... And that positions it for massive upside.
Hidden Alpha subscribers will receive this brand-new recommendation on Monday after the markets close. If you're not a subscriber already – and you want to hear about one of our favorite names in gambling right now – you can sign up for Hidden Alpha for 75% off the first year... Learn more here. 
Regards,
Joel Litman
June 4, 2021