This Agriculture Company Is Weathering the Market-Volatility Storm
Thursday, September 22, 2022
These days, many investors feel like there's no way to turn a profit...
Everywhere you look, people are worried about where the economy is headed. Inflation is soaring... stocks are plummeting... and the Federal Reserve is raising interest rates yet again.
The talking heads can't stop speculating that a recession is on the horizon. But here at Altimetry, we know the sky isn't falling.
It's important to remember that just because the market is choppy, it doesn't mean every corner of the market is struggling. And one sector in particular is thriving despite today's uncertain economic picture...
The U.S. Department of Agriculture recently released encouraging farm statistics. U.S. net cash farm income is expected to reach $168.5 billion in 2022, a 15% increase from 2021.
That's the highest farm income level since 2012. Said another way, agriculture isn't just outperforming the past year – when the market was up. It's outperforming the past decade.
Farmers aren't the only ones who benefit when farms do well...
These folks take the increased profits they earn and reinvest them back into their crops. This could be in the form of new tractors and irrigation equipment, better seeds, fertilizers, or any number of other upgrades.
Deere (DE) is one of the biggest winners when farm returns are strong. The company manufactures the best-selling John Deere tractor, making it the largest player in the agricultural-equipment industry.
As we mentioned, the last time the farming industry peaked was back in 2012. Deere's uniform returns on assets ("ROA") reached almost 20%.
To see how Deere could fare this time around, we can use our Altimeter tool to take a closer look at the company...
Using the power of Uniform Accounting, the Altimeter shows us easily digestible grades to rank stocks based on their real financials. It does this by eliminating the distortions in generally accepted accounting principles ("GAAP") financial metrics.
As-reported numbers paint a pessimistic picture for Deere. As-reported ROA was 4% in 2020 and 6% in 2021. Those are hardly impressive numbers compared to the 12% corporate average.
However, Uniform Accounting shows us Deere's true profitability. The company posted respectable Uniform returns of 21% and 15% in the past two years.
And it gets better. Right now, the Altimeter shows that analysts expect Deere's Uniform ROA to surpass 2012 levels in 2022 – reaching 25%. These numbers are good enough for "A" grades for both Earning Power (profitability) and Earning Power Trend (how fast earnings are growing).
Check it out...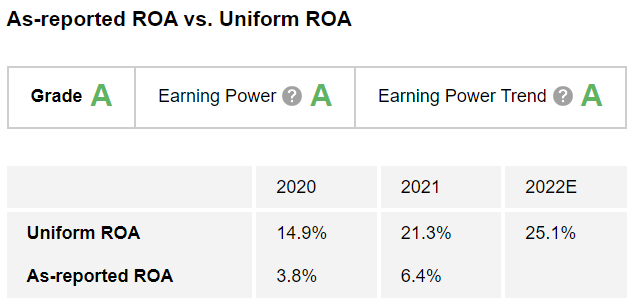 Despite Deere's promising outlook, panicked investors are pushing its stock down. But Deere's customers aren't worried. They're still its products for their farms.
This perfect storm makes Deere look cheap. That's reflected in the company's "A" Performance and Valuations grades.

The Altimeter shows us that Deere is a strong company. It's almost inevitable that the market will eventually recognize how strong its earnings are.
The question isn't whether the market will realize Deere's potential – it's when...
Using the Altimeter, we believe we can do a better job than almost anyone at identifying what to buy. So for the past several months, we turned our attention to this other key factor.
We teamed up with our corporate affiliate Chaikin Analytics to create a stock-picking system so demanding that only 133 stocks in the past decade have satisfied our criteria... so-called "Perfect Stocks."
In short, by leveraging the Altimeter's unique strengths along with the Chaikin team's award-winning "Power Gauge" software, we believe we've created the exact framework that can throw your portfolio a lifeline in an unpredictable market like this one. Not only can it tell you what stocks to buy – it can tell you when to buy them.
My colleague and Altimetry founder Joel Litman is so excited about this discovery that he's joining Chaikin Analytics founder Marc Chaikin for a special broadcast tonight at 8 p.m. Eastern time.
They'll explain exactly how this new system works – and reveal what they're calling the "boldest prediction" of their careers. If you want to protect your portfolio in challenging times like these, it's not too late. I urge you to tune in to their exclusive broadcast tonight. Learn more and RSVP right here.
Regards,
Rob Spivey
September 22, 2022