This Company Helps Identify Talent in the Human Capital Economy
Thursday, November 18, 2021
The world of blockchain technology is developing at a breakneck pace... 
We're not breaking any major news here when we say that the world of cryptocurrencies is booming as bitcoin and ethereum have become household names. 
Bitcoin prices sit near record levels around $60,000.
But investors and speculators aren't the only ones trying to profit from the rise of digital money and the blockchain technology that supports it. Now, companies big and small are vying to get in on the action, too. 
Many want to figure out how to leverage the technology cryptocurrencies are built on top of to unlock value for their businesses. Entire new industries are being created around the concept of decentralized finance ("DeFi"). 
DeFi takes out expensive middlemen like banks and clearing houses from the financial markets. 
Instead, a public ledger replaces the banks, and the entire decentralized network reduces costs and increases transaction speed.
Features of this new economy include so-called "smart contracts" and non-fungible tokens ("NFTs"). Many analysts see DeFi as a transformational change to the future of finance.
The potential for disruption has led to massive demand from companies looking for employees who understand blockchain technology.
But the rush for talent is creating significant issues for companies of all sizes.
One of the main problems is that it's difficult to find people who can lead new initiatives. Often this is because there are no "veterans" in the space since the industry is so young.
The article points out that a key area both startups and established firms can focus on is looking internally and investing heavily in training their existing workforce for the future.
Human capital will be the key to success in the economy of the future... 
One of the best ways for a company to adapt to a changing future is to invest in itself.
Beyond investing in research and development, companies need to understand the importance of human capital management. 
By identifying potential within their own ranks and investing properly in development, companies can position themselves for tremendous success. 
Insperity (NSP) is helping companies manage their talent.
The $5 billion company offers solutions from handling human resources to pay and benefits to help companies manage training and development.
Through its workforce optimization and synchronization solutions, Insperity also offers performance-management programs that help companies big and small to identify and invest in talent. 
Considering how important human capital is becoming for companies, you might assume that Insperity is extremely profitable. And yet, as-reported metrics show a return on assets ("ROA") of only 8%.
A quick glance at The Altimeter – which shows users easily digestible grades to rank stocks on their real financials – shows the real value of the business. 
Uniform Accounting underscores the reality that Insperity offers a critical service to companies of all sizes.
The company's impressive Uniform ROA of 32% last year and its forecast for 31% this year help Insperity earn an "A" grade for Earning Power.
Its strong and generally stable earnings also give Insperity a solid "B" grade for total performance.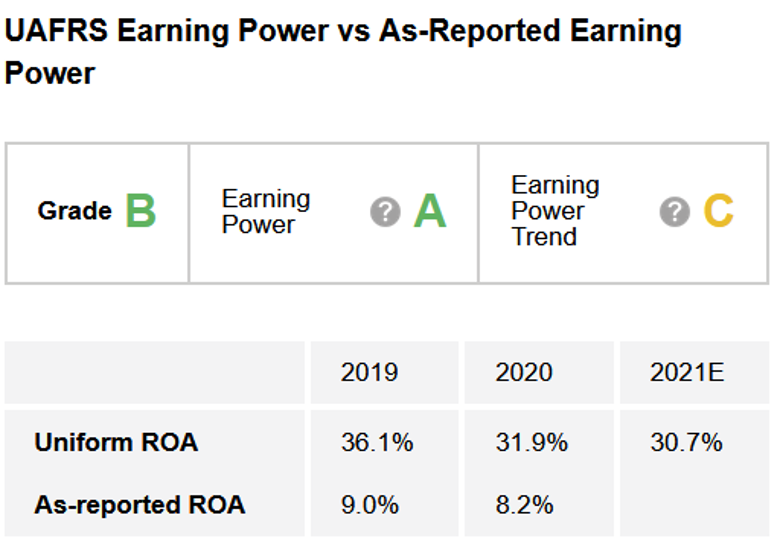 The company's performance highlights the benefits of being part of such an important industry with strong future tailwinds in the years ahead.
So, is NSP a buy?
Of course, we don't just buy companies based on strong performance and future tailwinds alone. We also need to see if the market is already pricing them in.
Altimeter subscribers can click here to see how Insperity is valued based on Uniform Accounting... and if the market already understands the potential of a fundamental shift in demand for human capital management.
Applying our Uniform Accounting framework to more than 4,500 companies, we identify our top recommendations in our Hidden Alpha newsletter each month.
To learn more about Hidden Alpha – and how to gain access to our latest research for 75% off the normal price – click here. 
Regards,
Rob Spivey
November 18, 2021