This Food Producer's 25 Supply-Chain Solutions Aren't Enough
Thursday, September 15, 2022
After more than 90 years in business, General Mills (GIS) probably thought it had seen it all...
Until the 2021 supply-chain delays came along.
The company is one of the world's largest food producers. You've almost certainly purchased its products, which range from Cheerios to Yoplait yogurt and even Blue Buffalo dog food.
But last year, you'd have been hard-pressed to find one of its most popular brands in stores – Totino's pizza rolls.
Pizza rolls might seem like a simple snack, but they're surprisingly complex. In fact, the popular food requires 21 ingredients. So when supply-chain shortages made many of those ingredients scarce, General Mills had to get creative...
Rather than sit by and miss out on millions of dollars in sales, the company got to work to find a new solution (and a new pizza roll).
It put together a team of scientists and supply-chain experts to determine what substitute ingredients would work in a pinch when the originals were hard to find.
It's tougher than it sounds. Changing ingredients can also change everything from shelf life to nutrition content. But their efforts were a resounding success... General Mills now has 25 different ways to make the same pizza rolls.
Today, you wouldn't even know that there were any problems to begin with.
General Mills set itself apart from the competition by expertly navigating this hurdle...
But while its solution was innovative, its returns leave something to be desired.
The company has historically produced an as-reported return on assets ("ROA") below 10%. That number has hovered within the 6% to 7% range since 2018. These are markedly pedestrian returns.
Of course, at Altimetry, we know better than to take the as-reported numbers at face value. But while Uniform ROA is significantly higher, it has also stagnated.
As you can see in the following chart, Uniform ROA spiked to 25% in 2018 – and stayed there. All of General Mills' efforts through fiscal year 2022 (which ended in May) have only kept returns in place.
Take a look...

Our Altimeter tool – which provides easily digestible grades to rank stocks on their real financials – allows us to understand market expectations at a glance.
The Altimeter gives General Mills a "C" for Earnings Expectations. That tells us the company's returns will remain stagnant compared to expectations.
Even worse, the market has no idea. As-reported metrics make it look like General Mills trades for a 19 times price-to-earnings (P/E) ratio... below the 20 times market average. In reality, its Uniform P/E ratio is 26 times.
This overvalued business gets a "D" Valuations grade in the Altimeter.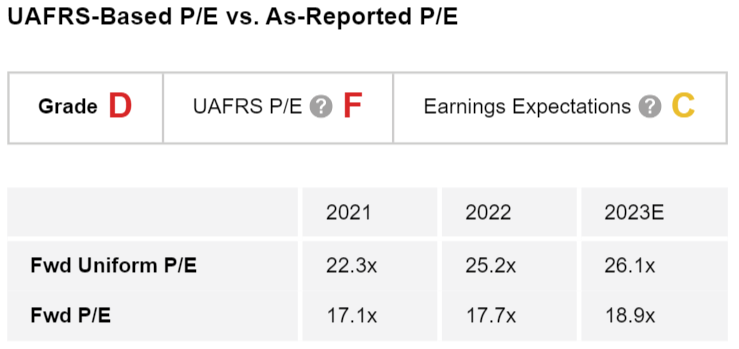 General Mills' approach to supply-chain problems was impressive. But after nine decades in business, this consumer-staples giant is out of runway. And any negative surprises could weigh on the stock... making this an investment that's not worth the risk.
Regards,
Rob Spivey
September 15, 2022