This Health Care Stock Is Shaking Up the Industry With Its Tech Platform
Thursday, November 11, 2021
Private Equity firms are looking to consolidate health care providers...  
One company that has a great pulse on what's going on in the land of private equity ("PE") and venture capital ("VC") is PitchBook Data.
PitchBook operates a Software as a Service ("SaaS") business in the capital markets space. It helps investors get a better sense of mergers and acquisitions (M&A) that are shaping the future of many industries. 
The company also provides data and research on several private businesses through its newsletters and reports – what it says about the market is closely followed.
We found it interesting that PitchBook recently published a report focused on PE firms looking to consolidate in the health care provider industry.
The report highlights that the health care provider industry is highly fragmented, and therefore ripe for consolidation. That means PE firms see an opportunity for lowering costs by increasing scale. 
The industry needs optimizing, as many smaller players struggle to keep up with Medicare and the big health maintenance organization plans, commonly referred to as HMOs.
To make matters worse, many health care providers aren't good at collecting revenue for the services they provide.
Many will not be well-positioned for success, thanks to the changes rocking the industry.
Big changes are coming to health care...
One of the biggest changes coming to disrupt health care providers is the idea of moving from traditional fee-for-service systems to what is known as "value-based care." 
Fee-for-service is the typical model where health care providers are paid based on the operations they perform. This model incentivizes filling as many beds and performing as many procedures as possible, leading to more billing and higher health care costs overall.
Value-based care works by seeing providers paid based on the outcomes they produce. This approach focuses on prioritizing patients, and it's designed to reduce costs and maximize quality.
It's not just PE firms that have caught wind of the potential for consolidation in the value-based area of the healthcare space.
Public companies also understand how providing better health care solutions can help improve the profitability of physician practices and unlock tremendous value.
One such company is Apollo Medical Holdings (AMEH), which operates a value-based care platform for physicians that helps deliver quality care for patients.
Apollo Medical has a distinct edge over the PE firms. Rather than acquiring physician networks, the company uses the technology platform for "all care" providers to share in this innovation and consolidation.
A glance at The Altimeter – which shows users easily digestible grades to rank stocks on their real financials – suggests that Apollo Medical's strategy is paying off. 
The company earns an "A" grade for Earning Power thanks to its strong Uniform return on assets ("ROA"). Last year, returns stood at 55%, almost 8 times higher than what as-reported metrics suggest. 
Meanwhile, its "C" grade for Earning Power Trend reflects a slight decline in profitability from extremely high levels over the past few years. This isn't a cause for concern, though, as Uniform ROA is expected to more than double to roughly 123% this year. 
On the whole, Apollo Medical's "B" grade for overall performance is a strong reflection of just how much value its technology platform provides.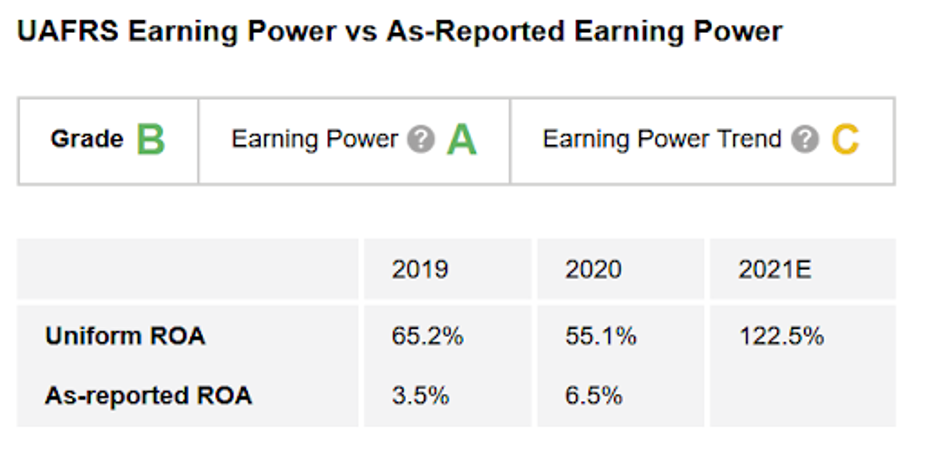 With the transition from a fee-for-service health care model to a value-based approach still in its early stages, Apollo Medical could see Uniform ROA inflect even higher in the years to come, as its network continues to enable physicians to deliver quality care to patients.
Does this mean AMEH stock is a buy?
Of course, we don't just buy companies based on performance alone. We also need to consider valuations as well. 
Altimeter subscribers can click here to see how Apollo Medical is valued based on Uniform Accounting... and if the market has already picked up on how this innovative health care management company is poised to benefit from looming health care disruption.
As subscribers to Altimetry's Hidden Alpha newsletter are aware, we just recommended a big health care stock in another area of the industry primed for disruption... cancer treatment. 
Our latest recommendation stands to nearly double its stock price from where it stands today. In fact, the average return among its more than 25 open recommendations in the Hidden Alpha portfolio is 42%... and four of these stock picks have triple-digit gains.
Plus, as a bonus, you'll also get complimentary access to Timetable Investor. Our Timetable Investor readers receive first access to our thoughts on the markets and the economy as a whole. These are market ideas and insights you won't find anywhere else...
Learn how you can get a year of Hidden Alpha for 75% off the normal price – by clicking right here.
Regards,
Rob Spivey
November 11, 2021