This Iconic Department Store Chain Is on the Ropes
Thursday, October 28, 2021
Macy's and Amazon are going to war this holiday shopping season...
With Black Friday less than a month away, this year's holiday shopping season is upon us... with a few caveats.
There are worries that persistent supply chain disruptions could leave retailers with empty shelves come December.
These concerns have been evidenced by backlogs at ports around the country, with massive shipping containers queuing in line for weeks just to deliver their cargo.
However, anyone solely focused on the supply disruptions may be missing another important story of this year's holiday shopping season... the brewing battle between Macy's (M) and online-shopping giant Amazon (AMZN).
The demise of the department store is a long-running theme. Macy's is under intense pressure from off-price retailers like TJ Maxx (TJX) and online titans like Amazon.
Yet, this battle between the longtime retailer and Amazon is not over the consumer's wallet but rather for a symbolic piece of advertising space. Across the street from Macy's flagship Herald Square location in New York City, the largest department store in the U.S, is a famous Macy's billboard.
For six decades, the billboard's owner Kaufman Realty has rented the location out to Macy's, which uses it as a backdrop for its most famous store and its renowned Thanksgiving Day parade.
Now Amazon is trying to move in and plaster its "smile" logo right over the red Macy's star, signifying its victory in transforming how and where people shop.
But Macy's is having none of it, taking Amazon to court and fighting tooth and nail to highlight how the billboard takeover damages its brand.
Despite the effort, the largest U.S. department store chain is still on the ropes...
It's understandable why Macy's would be so sensitive over this direct attack, not only on its brand, but also on the crown jewel of its ailing department store empire.
After all, the value of the Herald Square real estate alone has been tagged at $3 billion to $4 billion, roughly 25% to 30% of Macy's total enterprise value of $12 billion.
But Macy's has yet another reason to worry about Amazon stepping directly on its turf.
A quick look at The Altimeter – which shows users easily digestible grades to rank stocks on their real financials – tells us that Macy's last fiscal year was a tough one. Uniform return on assets ("ROA") fell slightly negative during the pandemic as few were shopping in department stores.
While better than distorted as-reported metrics suggest, it is still quite a poor performance compared with companies that benefitted from a surge in online shopping during the height of the pandemic.
For Macy's to escape being left in the dust, the company needs to see Uniform ROA rebound this holiday season. Thankfully for management, Wall Street analysts are in fact forecasting this to occur.
Yet, estimates are for Uniform ROA to return to meager 7% levels, only slightly higher than the average cost of capital in the U.S.
With earnings per share ("EPS") oscillating from positive to negative in recent years, Macy's still earns a "C" grade for Earning Power Trend.
If Amazon truly disrupts Macy's department store business, the company's Uniform ROA could dip below the average cost of capital levels, giving investors and management plenty of cause for concern about the future of the business.
A further fall in profitability could turn Macy's current "D" grade for overall performance into a worst-in-class "F" grade in the not-so-distant future.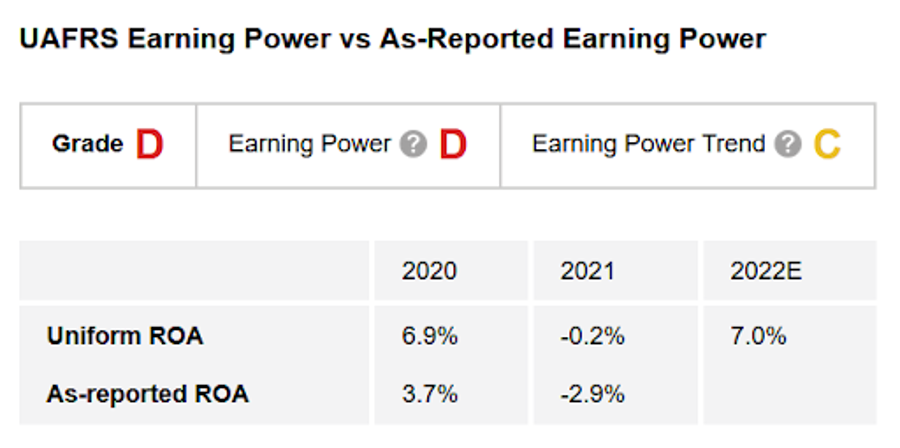 With its legal battles and compounding pressures from changing consumer behavior and the overall competitive environment, Macy's could see Uniform ROA and earnings growth fall even further. It had weak profitability to begin with, which could create serious problems for the company in the future.
Does this mean Macy's is a good short?
The market is well aware of the structural challenges upending Macy's old-economy business, meaning it's likely not a screaming short.
To know for sure, though, we need to look at the department store giant's valuations to see if the market has already priced in potential fallout from the Amazon spat and negative expectations around future profitability.
If you're subscribed to The Altimeter, you can click here to see how Macy's is valued based on Uniform Accounting... and if the market has already picked up on what a massive Amazon logo on the corner of Herald Square would mean for Macy's future.
While Macy's as a large-cap stock might not be a screaming buy, there are other large companies with hidden value – not realized by most investors and much of Wall Street.
Each month, in our Altimetry's Hidden Alpha service, we share our favorite large-cap stock pick that still has the opportunity for big gains. So far, the average return among our open stock recommendations has yielded 43%, with some gains as high as 200%.
To learn more about this recommendation and gain instant access to Hidden Alpha and the full portfolio of open recommendations, click here.
Regards,
Joel Litman
October 28, 2021