This Medical Tech Firm Is Far More Profitable Than Wall Street's Numbers Suggest
Sometimes success is just about being in the right place at the right time, whether intentionally or by accident…
One of my guilty pleasures when I have a free moment is reading sports and entertainment site The Ringer. Just last week, I saw a great article that broke down the massive number of successful sports journalists that have emerged from Boston in the past 20 years.
What did most of them have in common? They were lucky enough to be covering football when the New England Patriots – under coach Bill Belichick and quarterback Tom Brady – began their 20-year dynasty. Tom E. Curran, Bill Simmons, Ian Rapoport, and countless others have been pushed into the national spotlight and have had incredibly successful careers. 
This has happened even as the sports journalism industry as a whole has come under massive pressure – with newspapers closing down or reducing coverage, local TV news consolidation, and even the all-powerful ESPN has had its struggles.
But this successful wave of sports journalists wasn't because there happened to be a bunch of great writers in Boston and not anywhere else in the U.S. It was due to the fact that constantly being in the spotlight raised their profiles enough for them to get opportunities to succeed. And it's great to see they're grounded enough to realize it, as most interviewed in the article would gladly admit.
We'd love to hear your stories about when you happened to be in the right place at the right time in your life and career – send an e-mail to [email protected]. Later this week, to bring some levity in the midst of all the coronavirus news flow, we'll share some of our favorites – to remind us all that life doesn't always hand you lemons.
My wife works in the health care industry…
She's a great resource to help give me context about certain aspects of the industry.
Her background is in nursing, and she was once a cardiac nurse at NewYork-Presbyterian Hospital. She worked in the surgical stepdown unit, which cared for patients after they had a catheter or other cardiac operation. Catheters have many functions, and one is to help open up a blood vessel – stabilizing blood flow and preventing heart attacks.
While a catheter is often sufficient on its own, some situations call for a more active intervention like open-heart surgery. This is an incredibly difficult procedure, and the top heart surgeons are in high demand.
In addition to requiring a huge amount of skill and knowledge to complete, heart operations also require an immense amount of technology.
The artificial heart valve was only created in the early 1950s by Charles Hufnagel, and it wasn't until 1960 when the first commercially viable heart valve was implanted into a human.
While Hufnagel is credited as the creator of the first artificial valve, surgeon Albert Starr and engineer Miles "Lowell" Edwards weren't far behind.
Their "Starr-Edwards" valves were valued for their longevity. Patients receiving Hufnagel valves failed to live longer than three months after the surgery, while some of the original Starr-Edwards valves were still in operation as recently as 2010.
Because of their early success, Starr and Edwards were able to scale their Edwards Laboratories business and continuously innovate for cardiovascular surgeries. The company evolved over the decades… and in 2000 was listed on the New York Stock Exchange as Edwards Lifesciences (EW).
Today, the company is still primarily focused on artificial heart valves and monitoring equipment.
It's a mature business after all these years, and it's no surprise that Edwards Lifesciences has fairly stable returns. On an as-reported basis, the company's return on assets ("ROA") has remained stable around 10% to 13% for the past decade.

These are solid returns, but they're not so impressive. Corporate-average ROAs are currently around 10% to 12%, meaning Edwards Lifesciences doesn't stand out.
That said, the company's valuations are well above market averages. While market-average price-to-earnings (P/E) ratios are around 20, Edwards Lifesciences trades for around 30 times. Take a look…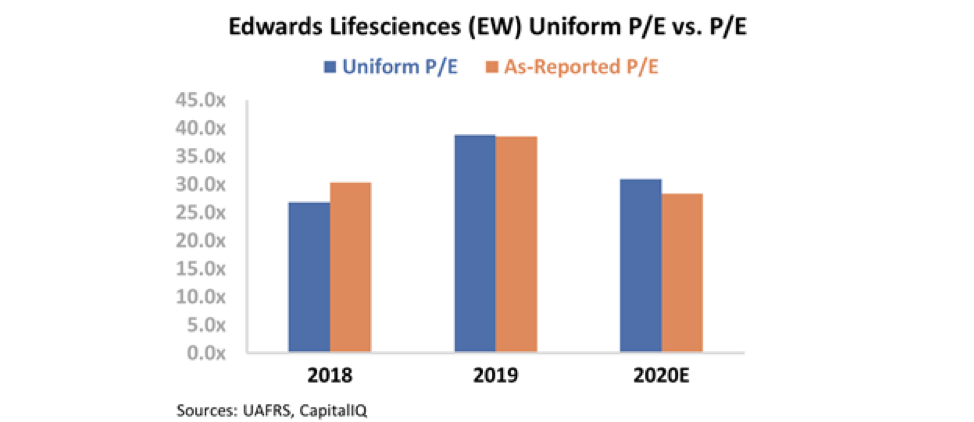 At these valuation levels, the market is pricing in bullish expectations for Edwards Lifesciences. Investors expect some combination of significant ROA expansion and continued growth to justify such strong valuations.
While Edwards Lifesciences' as-reported ROA looks stable, the market may be seeing something different…
It's true that a big part of the business is still rooted in artificial heart valves, but the company hasn't stayed dormant over the past 60 years. 
As we mentioned, Edwards Lifesciences is an innovator – it's constantly researching new breakthroughs, buying smaller companies with interesting prospects, and growing its assets.
In fact, when my wife worked at NewYork-Presbyterian, her unit was on the front lines of developing processes for post-surgical care for a new Edward Lifesciences procedure – the transcatheter aortic valve replacement ("TAVR").
It's easy for as-reported metrics to miss out on the impact of Edwards Lifesciences' growth and investment. 
Traditional accounting statements treat investments in research and development (R&D) as expenses on the income statement, and they punish businesses that make large amounts of acquisitions by requiring them to carry non-operating goodwill on the balance sheet. 
These misleading items can make companies look less profitable than they actually are, and they can even distort profitability trends.
This is exactly the case for Edwards Lifesciences… The company has actually done a great job of growing its business and its profitability at the same time. Not only has Edwards Lifesciences grown by 4% to 23% in each of the past 10 years, but it has also grown its ROA from levels less than 20% prior to 2015 to 24%-plus since then…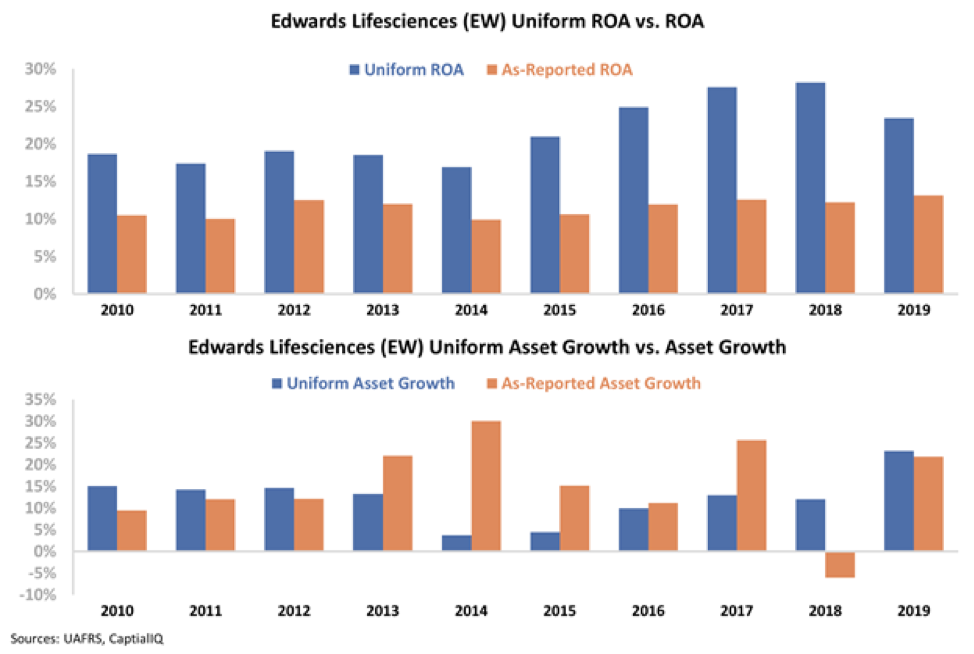 This is what the market is pricing in with Edwards Lifesciences' current Uniform P/E ratio of more than 30… The company is growing and innovating – and investors are rewarding it.
Don't let as-reported metrics mislead you into thinking innovative companies are weak-return businesses.
Regards, 
Rob Spivey
March 24, 2020