This Pharma Giant's Breakthrough Drug Is Under Fire
Thursday, January 13, 2022
Alzheimer's treatment hangs in the balance...
The Food and Drug Administration ("FDA") sent shockwaves through the medical world when it approved Aduhelm, a revolutionary new treatment for Alzheimer's disease.
Historically, Alzheimer's disease has been considered untreatable, making any type of drug a breakthrough. But many experts aren't sold on Aduhelm. Clinical trials of the monoclonal antibody show it carries significant safety risks alongside a lack of tangible benefits. 
Patients taking the drug require regular magnetic resonance imaging ("MRI") scans to monitor side effects, such as brain swelling and bleeding. 
With Aduhelm's adverse side effects, many wondered if the FDA approved this drug because of its relationship with Aduhelm's manufacturer Biogen (BIIB). 
Aduhelm is also an expensive treatment. Even after Biogen slashed prices following weak sales, a year of Aduhelm treatments costs around $28,000. 
Normally, Medicare will pay for any FDA-approved drug. But the safety concerns and the fiscal impact of approving the treatment and how it could impact Medicare's budget mean there is a strong debate whether it will fall under Medicare Part B pharmaceutical coverage. 
It's currently proposed to be covered with restrictions, specifically for patients enrolled in a randomized study. 
But it isn't just Medicare asking these questions. The EU's main drug regulator also recommends not to approve the drug for treatment, similar to Canadian policymakers. 
Even several U.S. hospital groups with significant influence, including Mass General Brigham in Boston and the Cleveland Clinic, among others, are not approving the treatment.  
This news is dire for Biogen after what seemed like a big win...
For drug developers like Biogen, this news is a decade-defining event for the firm.
Drug manufacturers operate by sinking huge sums of money into research and development (R&D) costs on several drugs in their pipeline. Then they hope to recoup these large initial investments with a long production of a successful drug. 
To understand how much the successful rollout of Aduhelm meant for Biogen means turning to Uniform Accounting. 
Looking at The Altimeter – which shows users easily digestible grades to rank stocks on their real financials – it shows Biogen's dire straits. 
As-reported metrics show a business with little to lose, as metrics bounce between average levels. Meanwhile, Uniform Accounting underscores that profitability is already under pressure for the drugmaker. 
The Altimeter shows that the company generated a strong Uniform return on assets ("ROA") of 27% in 2019, before falling to 25% in 2020. This earns the company a "C" for Earnings Power. 
However, with the stumbling launch of Aduhelm in 2021, Uniform returns are expected to collapse to just 13% last year, less than half of 2019 levels. This earns the company an "F" for Earnings Power Trend and an overall "D" grade for Performance.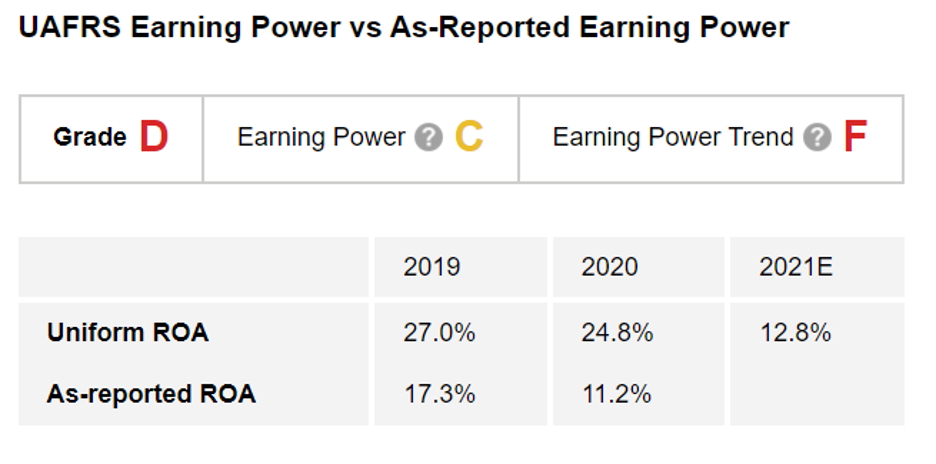 The company's performance highlights the precarious knife's edge for drug development. Investors looking to buy into the space need to follow all companies' products, as just one failed start can spell troubled times ahead... 
Does this mean investors should avoid Biogen at all costs? 
Of course, we don't just buy companies based on strong historical performance and avoid those going through tough times. We also need to see if the market is already pricing them in, and Biogen may be undervalued if the market expects returns to fall even further than 13%. 
Altimeter subscribers can click here to see how Biogen is valued based on Uniform Accounting... and if the market is excessively bearish, or if the story is being correctly priced. 
Using The Altimeter, you can see how Biogen's grades compare with other large pharma companies – such as Bristol-Myers Squibb (BMY), AbbVie (ABBV) or Pfizer (PFE), and whether these heavyweights are overvalued. In fact, The Altimeter includes grades on nearly 5,000 U.S.-listed companies. 
And for a short time, you can test out The Altimeter to see if it's right for you. 
Run through your favorite stock ideas in The Altimeter and see how they rate – and you can home in on the ones that could help you generate a strong return in 2022... 
Get the info about this risk-free trial by clicking here.
Regards, 
Rob Spivey
January 13, 2022