This Popular Internet Travel Company Made a Deal With 'Goliath'... And Its Returns Are Sinking Fast
Across the globe, thought leaders are talking about how embracing working from home ('WFH') is the new norm...
You can always rely on Harvard Business School ("HBS") to be at the forefront of thought leadership on changes in the workplace.
It has recently published several think pieces on how businesses and employees are adapting to the WFH lifestyle, and how this is going to affect companies and society as a whole going forward.
One key point that HBS makes is that this is likely to be a sustained shift in corporate culture. It isn't going to reverse when the pandemic calms.
Here at Altimetry, we agree. The coronavirus pandemic has accelerated a major shift in society that was already building long before the virus struck... and the investment opportunities will be massive. 
In our upcoming issue of Altimetry's Hidden Alpha publishing next Monday, we're introducing a new theme: "Your Home, Your Castle." We'll be highlighting the companies that will benefit in the longer term as people all spend more time at home – both for work and for play. 
To sign up and make sure you get access to our full issue – and the entire portfolio of recommendations – when it publishes, click here.
I've previously discussed how valuable my vacuum repair job was...
And that's not meant to be sarcastic. In the April 9 Altimetry Daily Authority, I mentioned that one of my first jobs was a brief stint in vacuum repair. 
The technical repair skills have been somewhat handy throughout my life, but the real value came when I began a consulting engagement with Hoover.
Not only were our clients impressed with my better-than-average knowledge of vacuum parts, but they had the benefit of hiring a consultant with actual industry experience.
This became a valuable asset for me almost instantly. While I was consulting for Hoover, the company brought me onto a large project related to a potential deal with discount retailer Walmart (WMT).
Walmart potentially wanted Hoover to manufacture an exclusive line of private-label vacuums.
It sounded like a good opportunity. Walmart was a dominant player, and this had the potential to turn into a big part of the business.
Still, it was putting a lot of faith in one retailer...
If Hoover turned the offer down, it was worried Walmart would retaliate by reducing its order volume or trying to partner with another vacuum brand.
However, if Hoover agreed to make the private label, it knew those vacuums would be of similar quality to its other brands at a much lower price point.
The company feared that a private-label brand could destroy the economic moat it had built with its name-brand products, effectively cannibalizing its own business.
Eventually, Hoover decided against the private label.
Despite Walmart's "Goliath" status, Hoover had enough brand recognition that it felt saying no was the lesser of two evils.
In hindsight, that was a great decision. Walmart never pushed Hoover out of its stores, nor did it threaten Hoover's economic moats.
I'm certain this was the right decision... In our research, we've seen what happens when a "Hoover" takes the deal with a "Walmart." 
In this case, it was a tech-based travel company striking a deal with one of the titans of the Internet.
Of course, I'm talking about Expedia (EXPE). 
Like any smart Internet company, Expedia wanted to give itself the largest distribution network possible as it started up. And in the early years of its existence, the answer was clear... 
One company had the distribution capabilities to turbocharge an online business: Google, now known as Alphabet (GOOGL).
When looking at Expedia's historical profitability, it appeared that the company had less to lose than Hoover did.
To start, while Expedia had success as an online travel broker in the late 1990s and early 2000s, there was still significant competition for consumer "eyeballs".
Partnering with Google meant the chance to rapidly pick up volume, which is a huge driver for Internet companies.
On an as-reported basis, we can see that Expedia's returns weren't particularly strong to begin with, but that Google's distribution helped drive stronger profitability. Expedia's return on assets ("ROA") expanded from just 3% in 2005 to 5% by 2012. Take a look...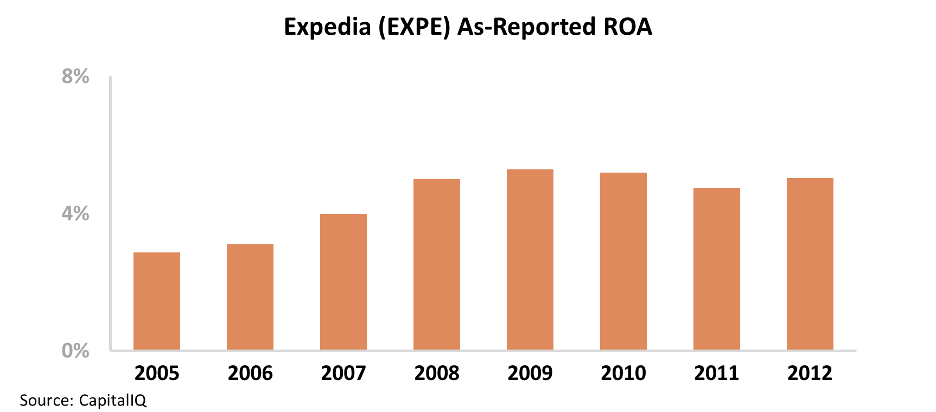 This makes it look as though Google's distribution was mutually beneficial. However, in reality, Google did to Expedia exactly what Hoover feared with Walmart...
When we look at Expedia using our Uniform Accounting metrics, we can see that Google's distribution did in fact help jump-start returns, but that quickly changed...
For its first four years after being spun out from holding company IAC, Expedia managed Uniform ROAs of 50%-plus. Google was aware of this success, and it wanted a piece of the action.
Given that Google controlled Expedia's distribution, all of Expedia's customers really were Google's customers first. So Google decided to flip the switch and became something of a competitor to Expedia. 
This pattern is easily visible when looking at Expedia's Uniform ROA, which declined from a peak of 77% in 2005 to 24% in 2012.

Furthermore, this trend never really stopped. Through Expedia's most recent fiscal year, its Uniform ROA has fallen to just 11% – an all-time low.

This shows the perils Hoover wanted to avoid in action... and shows just how misleading as-reported financial metrics can be.
And it also highlights that as Google doesn't show any plans to slow down its competition – which has significantly disrupted Expedia's returns – investors should expect Expedia's returns to continue to decline. That's bad news for the travel company's business... and its stock.
Regards,
Joel Litman
April 28, 2020