This Real Estate Company Just Struck Post-Pandemic Gold
The past two years have been rough on real estate investment trusts ("REITs")...
Commercial REITs have suffered from COVID-19-induced trends. These businesses can't contend with weaker office and hotel demand and the acceleration toward online shopping.
Hybrid work has forced these REITs to change rapidly – or risk getting left behind.
But some commercial REITs have done well since the pandemic began.
Supply chains are strained. Folks are ordering goods directly to their homes. That's why logistics companies in particular have managed surprisingly well.
Prologis (PLD) is one of those companies...
The largest industrial REIT, Prologis mixes commercial real estate and logistics. You can think of it as the "king of the warehouse world." This REIT owns approximately 1 billion square feet of warehouses globally.
Prologis has gotten so big by acquiring other warehouses. And its acquisition spree shows no signs of slowing down... Last month, Prologis set its sights on Duke Realty (DRE). It offered to pay $24 billion for the pure-play industrial REIT.
Duke's board had no interest in Prologis' bid, even though the buyout offer was almost 15% higher than the company's current market cap.
But Prologis wouldn't take no for an answer. Three days ago, it upped its bid to $26 billion. At that point, Duke couldn't refuse.
Duke turned down the first offer for good reason...
Management knows warehouse demand isn't slowing down. Giant companies like Amazon (AMZN), Home Depot (HD), and FedEx (FDX) need more warehouses than ever to store and fulfill growing online orders.
Duke Realty services 160 million square feet in 19 major U.S. logistics markets. The company is perfectly positioned to ride out the multiyear tailwinds of the e-commerce boom.
That's why Prologis pushed so hard to acquire the company.
But using the Altimeter, we can learn a lot about the Duke Realty deal…
Regular readers know the Altimeter shows users simple grades to rank stocks on their real financials. We can use this to see Duke is a strong performer.
Looking at the Altimeter, it's obvious why Prologis went after Duke. The company's return on assets ("ROA") is ramping up...
Uniform ROA was around 3% in 2020 and 2021. In 2022, though, it's expected to double. That will bring it near cost of capital.
Earnings are expected to rise from 2021 levels as well. As such, Duke Realty gets an "A" Earning Power Trend grade. And it earns a "B" grade overall.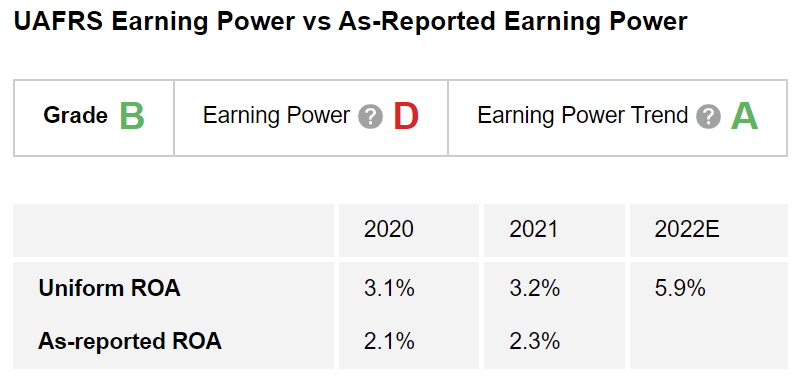 Warehouses are becoming more important, so it's no surprise Prologis has been snapping up companies like Duke Realty. But we can't assess the deal based on Duke's performance data alone. There's one more key factor... valuations.
Duke's stock is down 22% from last year's highs. But that alone doesn't mean Prologis got a discount.
Using the Altimeter, we can see what Duke's current valuations suggest about performance.
The company's Uniform price-to-earnings (P/E) ratio is double the market average, giving it an "F" grade. Meanwhile, its Earnings Expectations are only average earnings expectations, leading to a "C" grade. That means Duke Realty gets a "D" overall.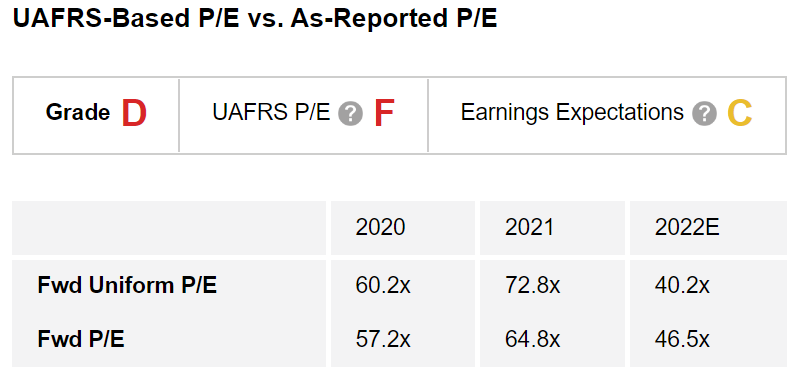 Thanks to the Altimeter, we can see at a glance that despite Duke's improving returns, the market is already pricing in a huge premium for the company.
The Altimeter provides grades like this for more than 5,000 different companies across a variety of industries. If you're interested in how Duke Realty stacks up, click here to subscribe to the Altimeter today.
Regards,
Rob Spivey
June 16, 2022