Securities Analyzed
AAPL
ADSK
AMZN
FB
GOOGL
NFLX
This SaaS Company Will Win Big If Biden's Infrastructure Bill Passes
Thursday, October 7, 2021
Securities Analyzed
AAPL
ADSK
AMZN
FB
GOOGL
NFLX
President Joe Biden's economic ambitions hang in the balance...
The decision to postpone the $1 trillion infrastructure vote dealt a blow to a piece of Biden's economic platform.
House Democrats delayed the vote last week after progressive members of the party dug in their heels. Progressives wanted more social policy solidified in the multitrillion-dollar part of the Biden administration's agenda before supporting the bipartisan infrastructure legislation.
Now Sen. Chuck Schumer of New York aims to pass the bipartisan infrastructure bill by the end of October. 
But the momentum for the bipartisan infrastructure package is losing steam amid the flurry of other news circulating in Washington. 
From the withdrawal disaster in Afghanistan to the crisis at the southern border and a potential government default, the attention of Congress seemed to be on anything but roads and bridges. 
Even with President Biden recently signing a stopgap measure to fund the government through Dec. 3, talks between moderate Democrats and their farther left colleagues still appear to be coming apart at the seams.
If the talks do break down, it would be an unfortunate turn of events for much-needed infrastructure spending and the economic benefit it would entail for the broader economy.
It's not just construction equipment and materials firms that benefit from infrastructure spending...
If the spending bill eventually makes it through the House and onto President Biden's desk, there are plenty of other businesses besides the typical infrastructure names that will reap the rewards. 
One of these companies is Autodesk (ADSK), a 3D design, engineering, and entertainment software business that has become a champion of the Software as a Service ("SaaS") revolution.
Altimeter Weekly subscribers will recognize Autodesk as one of the members of DIVAS, a set of five companies we think could power the market higher over the next decade.
Companies categorized as DIVAS have the potential to deliver massive returns and move the markets higher over the coming decade. They're the likely successors to the "FAANG" stocks – Facebook (FB), Amazon (AMZN), Apple (AAPL), Netflix (NFLX), and Google parent company Alphabet (GOOGL) – that have powered the multiyear bull market higher. 
Since we first identified the group in December 2019, it has significantly outperformed the market, gaining roughly 75% compared with the market's 47%.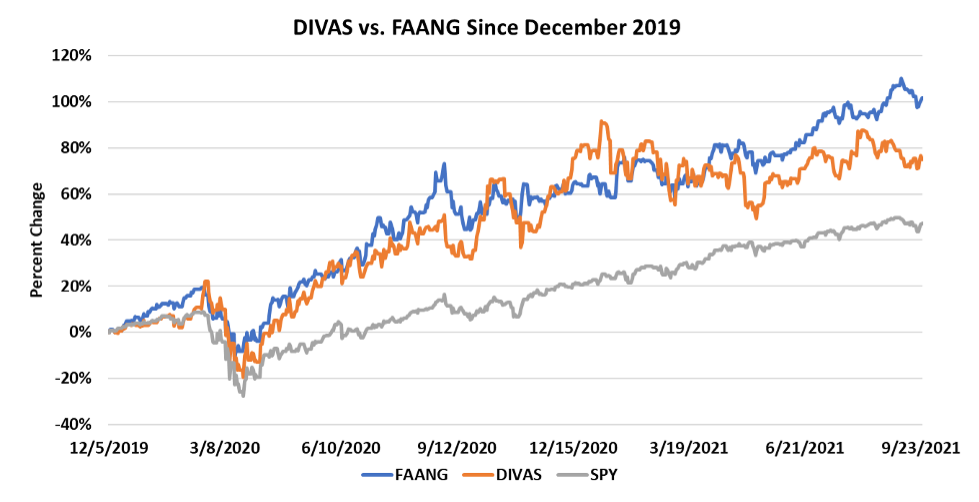 Autodesk's growth hinges on the success of infrastructure talks...
It's not just because the company's legacy AutoCAD software will fluctuate depending on aggregate demand in the economy, which more government spending will boost... Autodesk's BIM 360 and Revit software products are also core solutions for many engineering and construction firms. 
BIM 360 is so powerful, and it is becoming government-mandated in certain geographies for developers looking to construct buildings and other infrastructure for government agencies.
Any increase in infrastructure spending is a catalyst for Autodesk's business. Thanks to the company's successful transition to a SaaS model in 2016, customers who use its products become locked in, boosting profitability and sending Uniform return on assets ("ROA") soaring.
However, looking at as-reported metrics, it appears Autodesk only marginally improved its profitability since switching to a higher recurring revenue business model. This is because the arcane accounting rules as-reported numbers are based on a distorted economic reality.
By utilizing Uniform Accounting – which adjusts for these distortions – The Altimeter shows users easily digestible grades to rank stocks based on their real financials.
As The Altimeter highlights, Autodesk generated a powerful 37% ROA in the year ended January 2020. 
While Autodesk's returns dipped to around 24% in 2021 due to pandemic-driven spending reductions, forecasts for 2022 see ROA rising to impressive 50% levels as the SaaS flywheel begins to reengage.
Due to its impressive business model and strong tailwinds, Autodesk earns an "A" grade across the board for performance, even though as-reported metrics paint a different picture.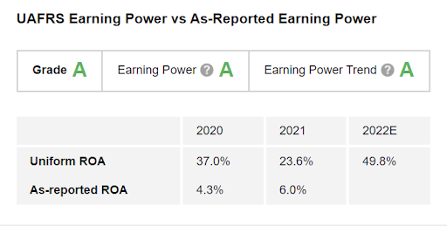 Does this mean Autodesk stock is a buy?
Of course, we don't just buy companies based on performance alone. We want to look at valuations as well.
At Altimetry, our team makes more than 130 adjustments to a company's income statement, balance sheet, and cash flow statement. By eliminating the discrepancies, we determine the real earnings, assets, liabilities, and many other important metrics. 
Readers who are subscribed to The Altimeter can click here to see how Autodesk is valued based on Uniform Accounting... and if the $60 billion company's SaaS business model is truly worth its salt.
In fact, we apply this type of analysis to more than 4,500 companies. Using our Uniform Accounting analysis, we've selected more than 20 great large-cap stock recommendations in our Altimetry's Hidden Alpha newsletter. 
To learn more about Hidden Alpha – and how to gain access to our recent October issue – click here.
Regards, 
Joel Litman
October 7, 2021