This Thriving Medical Equipment Company Offers a Valuable Lesson About Microcaps
Wednesday, October 13, 2021
The top 10 companies in the S&P 500 Index today may look a lot different a decade from now...
In yesterday's Altimetry Daily Authority, we discussed our view that the microcap space is a compelling investment universe because many catalysts can send these stocks soaring.
These catalysts are not just fundamental tailwinds. But the simple fact that additions to indexes, such as the Russell 2000, put microcap companies on the radars of big institutional investors. This can bring a rush of investment dollars and give tiny stocks an attractive short-term pop.
However, the real reason microcap stocks can be so compelling isn't just the potential of short-term price gains. Microcaps can be such massive multibagger ideas in the long term.
Here at Altimetry, we're focused on finding companies with outsized market opportunities that are only just beginning to be realized. In other words, the sort of companies that will outperform over the next decade or even longer.
It's not unheard of to have rags-to-riches stories about companies that start as microcaps and then become household names that dominate the S&P 500.
One year ago, when we analyzed the U.S. megacap universe, there were 100 companies with a market capitalization of more than $50 billion. Among those 100 names, nearly half had at one point been valued at less than $1 billion since 2000.
What's even more telling is among those 47 names that were once microcaps, 10 have made the transition to megacaps since 2000. This means the blue-chip companies investors own today aren't as indestructible as they may seem. At some point, these companies were tiny firms that few understood.
The biggest winners of the past were those who dominated once-niche market trends, leading their earnings to explode and stock prices to follow...
A great example of a company that successfully followed the microcap transition is Intuitive Surgical (ISRG), an innovative maker of robotic surgical equipment.
In February 2003, Intuitive Surgical sported a market capitalization of barely $100 million based entirely on the premise of its promising technology.
At the time, the company was trying to revolutionize the fields of urology and gynecology by introducing precision surgical machines to urologists and OB-GYNs.
This was an unproven technology, which sought to take the scalpel out of the hands of a trained doctor and instead provide them with a machine they could control to perform the required surgery.
If successful in perfecting the technology, Intuitive Surgical believed it could expand its use cases beyond just urology and gynecology, transforming the entire surgery industry in the process.
Initially, the market was skeptical, seeing a company with high potential yet little tangible results. But eventually, the fundamentals began to take off.
In 2003, Uniform return on assets ("ROA") improved from negative 17% to negative 2%. The following year, Intuitive Surgical began steadily gaining traction as demand for its flagship da Vinci Surgical System took off. While revenue only grew from $92 million to $138 million, Uniform ROA shot up from negative 2% to 19%, despite as-reported metrics showing only a marginal improvement to 4%.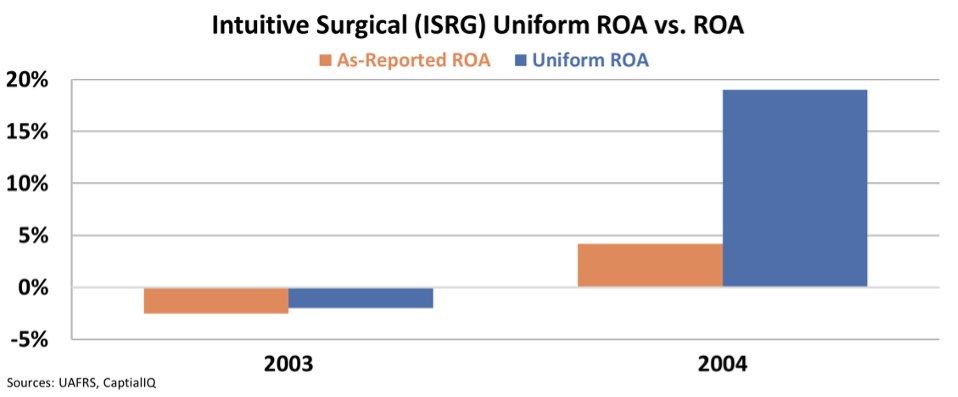 Once Intuitive Surgical's emerging technology took hold, it was almost impossible for it to let go. With real earnings rocketing higher, the stock price followed, rising from $2.51 in 2003 to $13.34 in 2005. Today, the company generates more than $5 billion in annual revenue and maintains a stock price of around $325. That's after the stock's recent 3-for-1 split that took effect on Oct. 5. Previously, the stock traded around $1,000 per share.

A passive $10,000 investment in Intuitive Surgical back when it was a tiny, unproven microcap with great potential would now be worth more than $4 million – that demonstrates the power of microcap investing.
It's much easier for a $100 million company to become a $1 billion-plus company than a $100 billion company to become a $1 trillion company. That's why we focus so heavily on researching up-and-coming names. Because they begin so small, discovering just one great emerging business that meets its potential can transform your savings forever.
Right now, we've identified a situation just like Intuitive Surgical, where an innovative company is developing a nascent technology that is about to take off...
At Altimetry, we've identified a tiny but powerful cybersecurity company that you should be watching. And if you get early with this cyber stock... you could be sitting on gains as high as 380% by Dec. 31.
Major household names, like Paypal (PYPL) and Mastercard (MA), are pouring into this company for its fraud protection services. And thanks to its one-of-kind proprietary technology, it's now cornering 98% of the identity protection market.
But this microcap stock is still flying under the radar, and most investors don't know about it yet...
Check out my brand-new video presentation where I detail this upcoming cyber stock in full – you can watch it now by clicking here.
Regards,
Joel Litman
October 13, 2021