Two Aerospace Titans Have Different Reasons for Needing the Government Support They Both Receive
Wednesday, October 28, 2020
Boeing (BA) and Paris-based Airbus (AIR.PA) have seen a long and heated rivalry throughout the decades…
To understand why these companies have been foes for so long, we must look at their history. William E. Boeing founded his namesake firm back in 1916. After countless acquisitions through the 1920s and '30s, Boeing became the leader in the global airplane supplier space. Throughout most of this period, the company's only competitors were other U.S. firms.
In 1967, the young European Union saw Boeing's market dominance and wanted to strengthen its position in the aerospace industry. As a result, the governments of France, Germany, the U.K., and Spain started a joint venture to create Airbus.
The new company soon gained significant market share. Initially, Airbus found success in Europe… then moved to Asia and Africa. However, it had a difficult time trying to break into the U.S. as Boeing and Lockheed – which later became Lockheed Martin (LMT) – continued to dominate the American market. 
This all changed in 1978. Airbus gave multiple U.S. airlines a free six-month trial for its planes. Since then, the company has continued to expand in the U.S. and around the world. As Airbus has grown, so has its rivalry with Boeing. 
Today, these two companies make up more than 90% of the global aerospace marketplace… and the stakes are higher than ever for them to solidify their market positions. Their constant fighting has kept the World Trade Organization ("WTO") busy for almost two decades.
Both companies have accused the other of receiving unfair subsidies from their home government… but the truth is that Boeing and Airbus receive regular government help. Boeing consistently wins large U.S. government contracts at favorable rates. Meanwhile, European governments aid Airbus as well.
Recently, the WTO declared another ruling in the longstanding battle. As The Economist explained, the global organization has allowed the European Union to impose $4 billion worth of tariffs on American goods annually.
This ruling is the latest in a long string of escalation. However, neither government is likely to back off now. It's not just about prestige… Boeing and Airbus are both huge employers in their home countries.
They're also major exporters and bring in massive amounts of foreign currency revenue. This means they will continue to receive aid… despite any short-term setbacks.
This may be important for Boeing in particular, as the company hasn't had a pleasant couple of recent years…
In October 2018, one of its 737 MAX planes crashed off the coast of Jakarta in Indonesia, killing all 189 passengers and crew members. The investigation was still ongoing when a similar 737 MAX crash occurred in Ethiopia in March 2019. 
After these incidents, countries around the world grounded all 737 MAX aircraft… and Boeing was hit hard. Not only did the company lose its title as "largest aircraft maker" to Airbus, but BA shares cratered – falling 25% from the March crash to the end of 2019. Take a look…
This year hasn't been much better for Boeing, either. The recent WTO ruling will continue to hurt the company… and the coronavirus pandemic has crushed demand for new aircraft.
Given all the negative headlines, investors might assume Boeing has a greater need for government subsidies than Airbus. 
However, as-reported metrics make it seem like Boeing and Airbus both need help. Over the past five years, neither firm has seen a return on assets ("ROA") greater than 6%. In 2019, Airbus had a ROA of 1% while Boeing had a ROA of negative 1%. Take a look…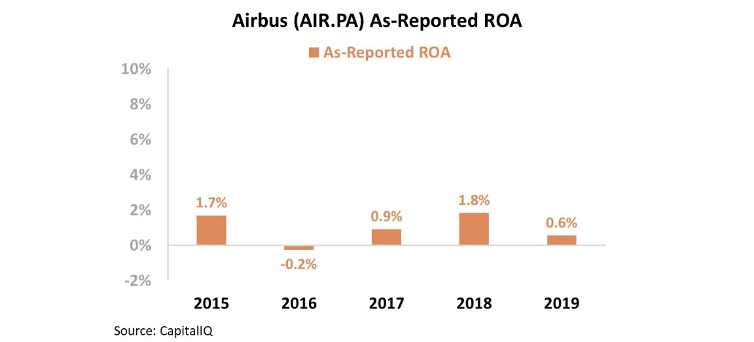 However, GAAP accounting is unable to properly show either company's profitability. This is due to the complexities related to plane research and development, inventory, and other issues.
For Boeing, interest expenses and other distortions are suppressing profitability metrics. 
Through the power of Uniform Accounting, we can see that Airbus is the far weaker company. Its profitability is volatile and rarely rises above cost-of-capital levels. 
On the other hand, prior to last year, Boeing has seen consistent improvements in profitability. Other than in 2019, the company's Uniform ROA has been above cost-of-capital levels for more than a decade. Additionally, Boeing's ROA was greater than that of Airbus every year from 2004 to 2018. 
In 2018, the last year before external events hurt Boeing's profitability, the firm had a 20% Uniform ROA. Airbus only had a 9% Uniform ROA the same year.
One of the reasons for the difference in profitability has to do with priorities. Boeing's goal is to maximize shareholder value, so the company runs an "asset light" business. This allows it to sustain profits and not let booms and busts in airline demand dictate performance.
Airbus doesn't have this same commitment to shareholder profits, thanks to its largest shareholders. European governments are still the company's largest owners… The French and German governments each own 11% of Airbus, and Spain owns 4%.
This means Airbus needs to focus on keeping people employed, since this is a high priority these European governments care about. Profits aren't Airbus' only goal. 
Without using Uniform Accounting and understanding the company's stakeholders, investors may let recent headlines dictate which stock they think is better. 
By using Uniform metrics, it's clear Boeing can produce superior returns. However, its recent performance has diverged from historical averages… and that may lead to continued conflict for the two aerospace giants.
Regards,
Rob Spivey
October 28, 2020