Unlocking Huge Returns in Small Stocks
Data-storage company Western Digital (WDC) is splitting up – but it may be too little, too late...
Western Digital is one of the world's largest semiconductor makers. Its chips go in everything from smartphones to satellites.
In early May, activist investor Elliott Investment Management called for the company to break up its businesses.
You see, Western Digital has both a solid-state drive ("SSD") business and a traditional hard drive business. In recent years, it has struggled to focus on both at the same time.
SSD devices have revolutionized the world because of their portability. Also called "flash storage," these devices are the reason smartphones have such impressive memory capacity. As the future of storage, SSDs are the most profitable part of the business.
That's why Elliott is pushing for Western Digital to split. That way, the company can put its energy into the booming SSD storage business without its sluggish hard drive business holding it back.
Just last week, Western Digital announced it would consider strategic alternatives. Elliott could be getting what it wanted soon.
But Elliott may have already missed the boat by betting on such a large company...
Elliott thinks a breakup could help unlock the full value of the SSD business. That's true... but the legacy business may not be the only problem.
That's because the semiconductor industry is competitive – and Western Digital is already a massive $16 billion company. It's hard to unlock huge returns in such a large business.
But if Elliott bought into a smaller company exposed to these trends, it could magnify its gains.
We saw an opportunity like this in our Altimetry's Hidden Alpha monthly advisory right before the pandemic...
Lam Research (LRCX) creates the active components that make semiconductors work. The company then sells this wafer-fabrication equipment to semiconductor companies.
In doing so, Lam Research is exposed to the whole memory-storage business.
In February 2020, we saw that Lam Research was well-positioned within the semiconductor industry. And we noticed that its Uniform return on assets ("ROA") was much stronger than the as-reported metrics showed.
That's why we urged Hidden Alpha subscribers to buy the stock. Between February 2020 and June 2021, we rode Lam Research to a 112% gain.
And people who got in earlier could have booked even more impressive returns...
Investors paying attention to the flash-storage industry's potential as early as October 2002 could have bought Lam Research for as little as $6.72 per share. At the time, it had a tiny $840 million market cap.
Back then, it didn't need to become a behemoth to make investors big money.
The stock has averaged a 25% annual return since 2002. Since then, it's up an incredible 6,900%. The stock trades for more than $470 per share today.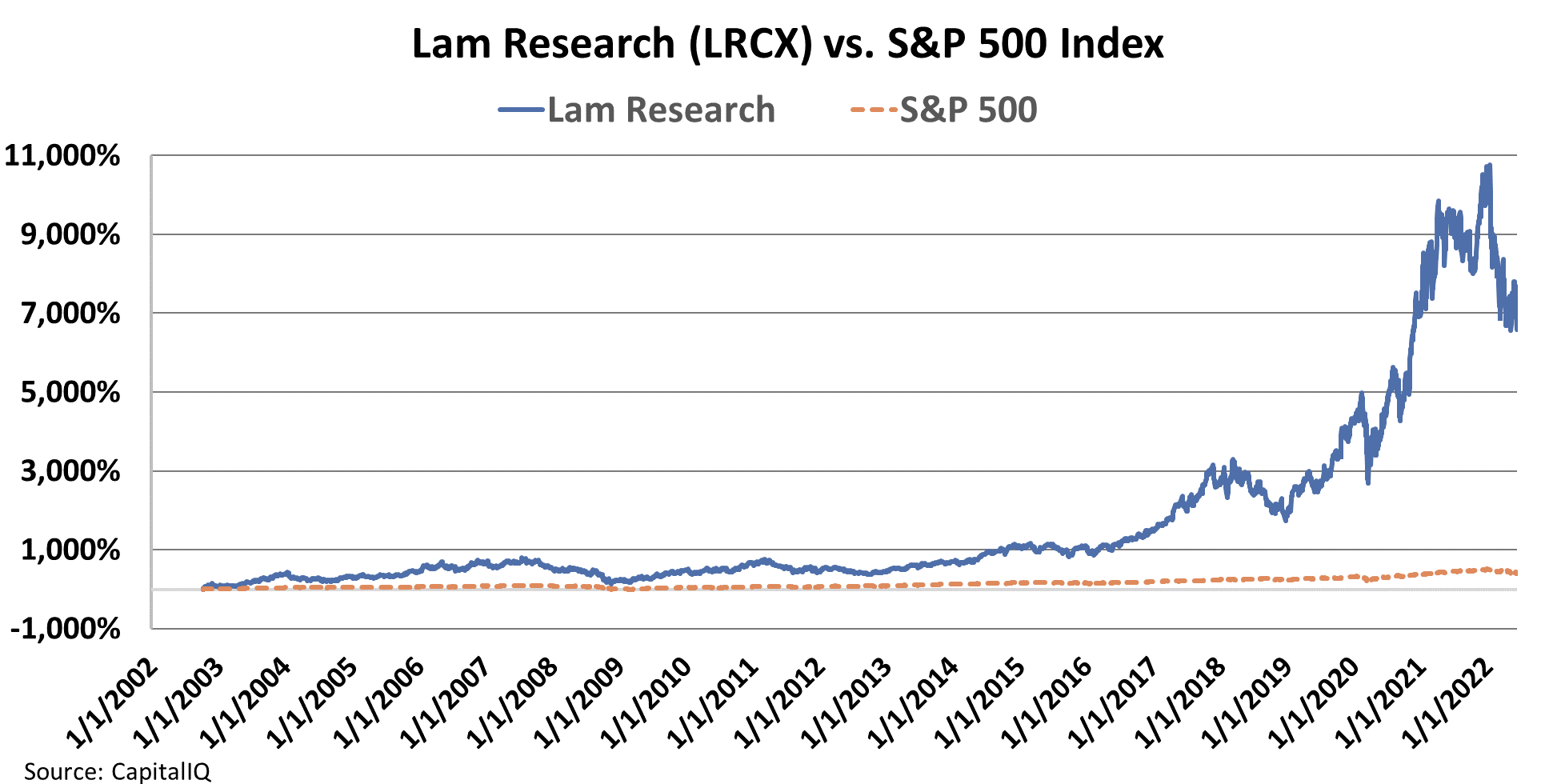 When you invest in a megacap stock, the right trend can lead to significant stock appreciation. But if you can find a microcap right before a massive wave hits, it can generate life-changing gains.
We recently identified a company with this kind of upside potential...
It's one of our favorite tiny companies... a misunderstood auto-parts maker that has fallen off the market's radar. But one of the greatest investors of the past four decades is taking notice today – and so are we.
We believe this stock could start exploding higher any day now. So we just released a brand-new research report for our Microcap Confidential subscribers, detailing everything you need to know about this exceptional opportunity.
Right now, you can claim instant access for 50% off the regular price... Plus a separate report detailing the top 10 stocks to avoid right now. Get all the details right here.
Best,
Rob Spivey
June 14, 2022